HCD Rising Star: Brian Henks
---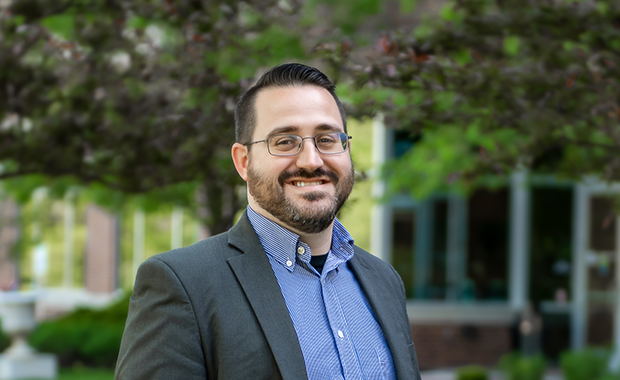 Hoefer Welker
Brian Henks, medical planner/senior associate, Hoefer Welker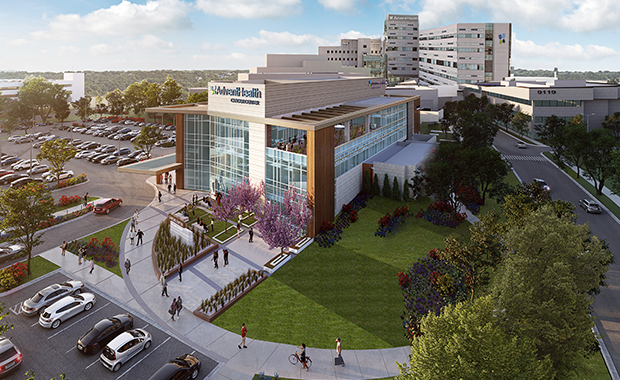 Hoefer Welker
AdventHealth Cancer Center
---
Brian Henks discovered his passion for healthcare through medical planning. While pursuing a Master of Architecture degree at the University of Illinois Urbana-Champaign, he dedicated his extracurricular time to pursuing independent studies, extra classes, and research on architectural trends in healthcare to understand the industry from the ground up. After graduating in 2016, he joined Hoefer Welker where he spent five years of close mentorship working alongside Hoefer Welker's lead medical planner before absorbing the responsibilities of the role in 2020.
Since then, he's taken up the charge of medical planning for some of the firm's most impactful healthcare projects, including an inpatient and outpatient facility for Eglin Air Force Base in Okaloosa County, Fla.; the Sage Memorial Hospital, a critical access care facility for Navajo reservation residents in Ganado, Ariz.; and an emergency department at St. Francis Hospital in Grand Island, Neb., where he's tasked with keeping the hospital's operations running while improving overall flow. He kicked off 2022 stepping into the role of medical planner for the AdventHealth Cancer Center in Merriam, Kan., a 70,000-square-foot, three-story facility with various departments of care for cancer patients.
Equipped with an evidence-based design accreditation and certification, Henks also is deeply involved in the AIA Academy of Architecture for Health, Code and Standards Committee, a role where he delivers regulatory and compliance knowledge to other professionals. Additionally, he's participated in several knowledge-serving events about health codes and safety in medical planning, through which he has become not only a leader within the firm but the industry as a whole.
His certification and knowledge of building health codes, permits, and licensure help ensure that a design meets and enhances the safety standards in place. As stated in his nomination, "With a genuine passion for understanding the medical field, Henks brings an inquisitive mindset to every project he leads."
Path to healthcare design: I've been blessed to have a series of great mentors who introduced me to the industry. They encouraged me to think deeply about how design can contribute to positive experiences and patient outcomes in healthcare. What I love most about designing healthcare facilities is the feeling of making a positive impact in the communities we serve.
Describe your design approach: Active listening refined into vision, translated into a thoughtful, collaborative solution.
On your desk now: Currently, I have several projects with CommonSpirit/CHI, including the Family Health Center in Omaha, Neb., which is in design development; the Trinity Neighborhood Hospital in St. Clairsville, Ohio; and the St. Francis Emergency Department renovation in Grand Island, Neb., which is under construction. Additional client work includes a variety of projects in construction, including Sage Memorial Hospital in Ganado, Ariz.; the Lakemary Center Psychiatric Residential Treatment Facility in Paola, Kan.; and the AdventHealth Cancer Center in Merriam, Kan. Finally, I'm in conceptual design on two primary care clinics in Kansas for Intermountain Health.
Most rewarding project to date: Determining a most rewarding project is kind of like being asked to choose your favorite child. However, like so many others, my family has been shaken by cancer, so the AdventHealth Cancer Center in in Merriam, Kan., holds special meaning to me. During the design process, I had the honor to sit with dozens of specialized caregivers representing a wide range of oncological services and listen to their stories, needs, hopes, and pains. The opportunity to serve and support their life-giving work has been a great privilege.
What success means to you: As a planner, I tend to favor function over form, so I define success most often within my projects as creating spaces that effectively support the work and healing of the occupants. I believe the facility should function as a member of the care team rather than an obstacle the care team must overcome. Furthermore, it's important to work with the client and the project team to define success for the project from multiple perspectives.
Industry challenge on your radar: I expect that the rising trend away from hospital-based care toward physician groups, ambulatory surgery centers, virtual care, etc., will represent a significant challenge for the building design and construction community in coming years. Building codes and statutes continue to further divide healthcare settings. Our inpatient and outpatient code landscape for healthcare projects has become increasingly regulated and restrictive in recent years. We must work closely with our clients and licensing authorities to define level-of-care and life-safety expectations early in the design process when a project may remove service lines from their traditional settings.
Must-have skill for healthcare designers today: Empathy. Unlike many designed environments, healthcare spaces are generally encountered by people during the most difficult times of their lives. Be it pain, emotional turmoil, life-changing or life-threatening illness, or, in the case of caregivers, stressful work environments. We who specialize in healthcare facilities must empathize with these life experiences as we progress the design.
New pandemic-inspired work habit: As a medical planner, I've had to adapt my methods of communicating design discussions to virtual settings. Particularly with meetings where some are in-person and some virtual, markups must be done on screen to ensure all can follow the conversation.  To that end, I've become intimately familiar with the available tools and shortcuts of Bluebeam that allow quick information gathering and diagramming of design options. While PowerPoint or other software may appear more presentable, I've found that clients and user groups have more interactive collaboration when they can see the conversation being translated into diagrams and plans in front of them.
Anne DiNardo is executive editor of Healthcare Design. She can be reached at anne.dinardo@emeraldx.com.