HCD Rising Star: Brian Schaller
---
Credit: HDR Inc.
Brian Schaller, AIA, NCARB, Senior Project Designer, HDR (Los Angeles)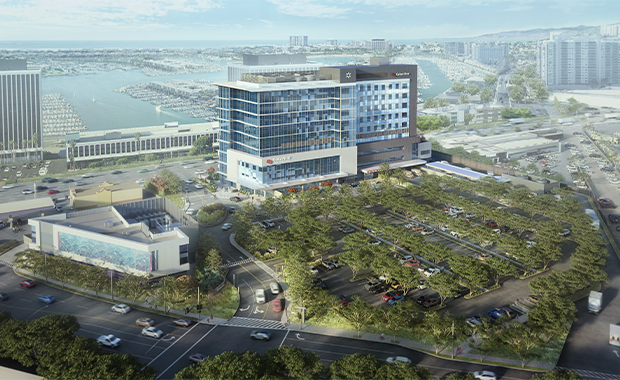 Credit: HDR Inc.
Cedars-Sinai Marina del Rey Hospital
---
Brian Schaller, AIA, NCARB, Senior Project Designer, HDR (Los Angeles)
Brian Schaller joined the New York City office of HDR in 2012, and then moved to the Los Angeles office in 2014, where he worked for a couple of years before leaving to join a smaller firm. This experience gave him the opportunity to work on projects with a quicker turnaround and thereby learn more about the different phases and construction administration. But he wanted to realign his career back into healthcare, where he appreciated how design efforts can have an important impact on patient outcomes.
He returned to the HDR Los Angeles studio in 2017 and has become one of the key design leaders in the firm within a short time.
Within that time, he's contributed greatly to key projects for HDR, including an Intermountain Healthcare medical clinic in Las Vegas and the University of California San Francisco Helen Diller Medical Center at Parnassus Heights, in San Francisco. Currently, he's leading the design of the Primary Children's Wasatch Canyon Behavioral Health Hospital in Salt Lake City. Working on this pediatric behavioral health center required sensitivity to the unique needs of children on the neurodiversity spectrum.
Schaller's approach has led to innovative solutions like one design feature using framed window openings following the "ROYGBIV" order that dance across the façades in an undulating pattern. This approach not only adds a visually appealing element to the design but also serves a functional purpose by providing an intuitive pattern.
By reducing randomness in the design, it helps minimize potential negative stimulation for patients who may find chaotic or unpredictable environments distressing. Instead, it creates a welcoming and nonintimidating environment for all pediatric patients on the neurodiversity spectrum and their families. This has involved a deep understanding of how the children perceive and interact with their surroundings, and the result is a space that is approachable, calming, and supportive.
He's also become a trusted partner and leader for healthcare projects, bringing creativity and innovation to help clients better understand design ideas and make important decisions. For example, during the Cedars-Sinai Marina Del Rey Hospital replacement project, in Marina del Rey, Calif., he saw an opportunity to use architectural animations to advance the design of the hospital. Typically, animations are a final design deliverable once the work is done. Here, he realized the impact animations would have for the client, and the opportunity animations afford in helping clients make difficult decisions.
Outside the office, he's active in the AIA LA Chapter and its healthcare group, the nonprofit Build Out Alliance, USGBC-LA Building Decarbonization Committee, and is an organizer for the annual Healthcare Design Forum in downtown Los Angeles. Finally, Schaller was also a key team member of BIONICA, the future concept that won Healthcare Design's 2022 Breaking Through competition, which challenged people to think beyond what's currently possible.
Through his work, Schaller is making an impact by bringing ideas to the table that ask clients to think differently and try new approaches and concepts, helping advance the healthcare design sector.
Path to healthcare design: My journey began with my college thesis on architectural healing environments. Delving into creating spaces for people in their most vulnerable state fascinated me. It's intriguing how spaces wield the potential to facilitate healing, all while maintaining an unassuming presence. The way design covertly contributes to the healing process is a captivating realm I'm committed to unraveling and exploring.
Describe you design approach: Sculpting spaces for healing: where design is also medicine.
On your desk now: I'm currently immersed in a pediatric behavioral health project just outside Salt Lake City. During my upbringing, I assisted my now-retired teacher mom with her summer teaching programs, becoming deeply involved in the realm of children and gaining valuable insight into the way they perceive the world. Balancing whimsy and practicality, I'm on a mission to channel imagination while nurturing the well-being for the diversity of patients that will experience this campus. It's design with a dash of playfulness and a serious impact.
Most rewarding project to date: A career highlight was the Cedars-Sinai Marina del Rey Hospital project in Marina del Rey, Calif. Amid the intricacies of a site adjacent to the very hospital it replaced, we reveled in orchestrating elegance within extreme complexity. Imagine a fully operational hospital, bustling with ambulances, surgery, and imaging services, functioning smoothly just feet from the construction site of its replacement tower. This complex project required meticulous planning, unwavering safety measures, and a deep commitment to patient care. The result? A design that seamlessly harmonized innovation and necessity, with the new tower's exterior resembling a tranquil ocean wave, enhancing the hospital's healing ambiance. Proud doesn't begin to cover it.
What success means to you: Success in healthcare design is when every corridor navigated, every room entered, elicits a sense of serenity. It's when the architecture fades into the background, letting healing and hope take center stage. Imagine if our designs had Yelp reviews—five stars for calm, tranquility, and a touch of magic. That's the success I strive for with every project, creating places where well-being and design hold hands and dance.
Industry challenge on your radar: In the coming year, I'm keen on our industry embracing adaptable spaces. Let's make rooms as versatile as a Swiss Army knife, ensuring they effortlessly cater to evolving needs. Considering evolving technology, AI, environmental shifts, and global changes, the imperative remains: Our designs must inherently prioritize adaptability. A space that can go from exam room to meditation oasis? Now that's design magic worth mastering.
Must-have skill for healthcare designers today: Today, we must wield the art of empathy as our superpower. Understanding the patient journey isn't just about floor plans; it's about crafting spaces that whisper healing – that's the universal language every healthcare designer should be fluent in. I am deeply appreciative of having a companion like my husband, whose steadfast reminders of the importance of our industry's work consistently guide me back to a broader perspective and reinforce the reasons behind our daily efforts, ultimately enhancing my capacity for empathy as an architect.
For more on the 2023 HCD Rising Stars, read here.