HCD Rising Star: Gozde Yildirim
---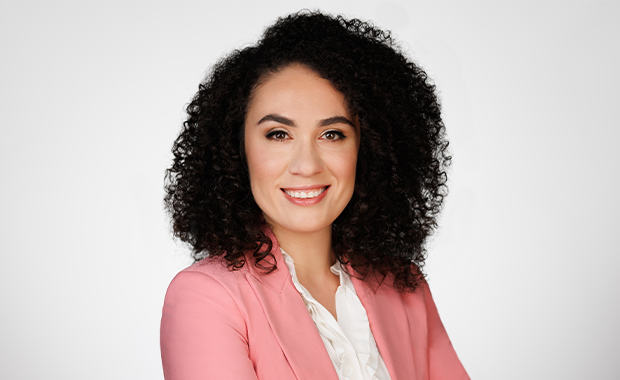 Credit: HOK
Gozde Yildirim, Associate AIA, LEED Green Associate, MBA, Senior Design Professional, HOK (Washington, D.C.)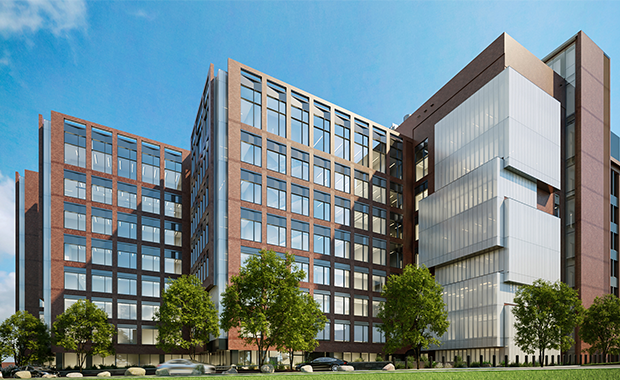 Credit: HOK
National Institutes of Health Surgery, Radiology and Lab Medicine Building
---
Gozde Yildirim, Associate AIA, LEED Green Associate, MBA, Senior Design Professional, HOK (Washington, D.C.)
Gozde Yildirim received her bachelor's degree in architecture from Beykent University in Istanbul, and moved to the U.S. after receiving a scholarship from Miami University, in Oxford, Ohio, where she completed her master's degree in architecture in 2015.
Following graduation, she worked on the Turkish Ministry of Health's Ikitelli Integrated Health Campus as a medical planner, a hospital project developed to resolve bed shortages by encouraging public-private partnerships to establish public hospitals. This project exposed Yildirim to the complexity and purpose of healthcare architecture—taking care of people—and she decided to focus her career on healthcare design, joining HOK in 2017.
She's since gone on to earn a Master of Business Administration with a focus on healthcare management while working full-time at HOK. With this degree, she developed business management and marketing skills, which she has integrated with her architectural knowledge.
During the past five years, she's worked on a variety of complex medical and healthcare facilities from large-scale hospitals to cancer research centers. From 2021-2022, she served as senior design professional and building information modeling (BIM) coordinator on the Cedar Hill Regional Medical Center in Washington, D.C.
Her work included documenting the hospital building core and shell and interiors, coordinating with the consultants and engineering team, and making sure that project documents were consistent across disciplines.
She led the BIM workflow by creating guidelines to standardize model development, reinforcing these procedures among her team, and resolving coordination issues across more than 10 architectural and consultant Revit models using BIM360 tools. The Cedar Hill Regional Medical Center is scheduled to open in 2024 and Gozde is currently one of the project construction administration leads for HOK.
For the National Institutes of Health Surgery, Radiology and Lab Medicine Building, which included 545,000 square feet of new surgical suits, labs, and offices, Yildirim was involved from programing and planning through the final bridging documents by assisting in the design development, modification, and review of medical planning concepts and solutions.
With direction from the senior medical planner, she led the production of the general radiology and imaging services and Department of Perioperative Medicine test-fit floor plans, operational flow diagrams, and major horizontal and vertical circulation patterns. These design studies were later used in the project feasibility report to validate the program with the user teams.
In addition to her project contributions, Yildirim aspires to be a leader who empowers a diverse cross-section of professionals within the healthcare industry. She's an instructor at the Architecture is Free Foundation where she mentors architecture students and provides portfolio critiques and is involved in the greater healthcare design community, serving on the Equity Committee by Women Inspiring Emerging Leaders in Design (WIELD) and in the Women in Healthcare Washington, D.C. chapter.
She's poised to become a leader in the industry not only because of her commitment to healthcare design to improve patient outcomes and empower communities, but also her well-rounded experience in complete project delivery.
Path to healthcare design: My first project after completing my master's in architecture was the Turkish Ministry of Health's Ikitelli Integrated Health Campus, the largest hospital complex in Europe with a 2,682-bed capacity. The project aimed to resolve bed shortages in Istanbul and improve health services for over 15 million people. It exposed me to the complexity of healthcare architecture and its mission of caring for people, which I appreciated. I am grateful for that experience because it led me to focus my career on healthcare design. My goal is to continue making a positive impact within the built environment by delivering quality care and empowering communities.
Describe your design approach: Human-centered, inclusive, empathetic, open-minded, and inquisitive.
On your desk now: The Cedar Hill Regional Medical Center, which will provide essential inpatient and behavioral health services to the residents of an underserved section of Washington, D.C. My responsibilities have included assisting with developing design solutions and details, documenting the hospital building core elements and interiors, and delivering consistent project documents across disciplines. I also led the BIM workflow by resolving coordination issues across more than 10 architectural and consultant Revit models. This improved the overall quality and accuracy of the project's delivery. It is an honor to work on this project and create opportunities for equitable healthcare access for the community.
What success means to you: Success for me is creating my own opportunities, paving my own unique career path, and using my voice and leadership to encourage other women in the healthcare design industry to do the same.
Industry challenge on your radar: The healthcare design industry struggles with diversity. Recognizing that diversity is necessary is not enough to create a just and inclusive culture in a work environment. I believe great leadership requires advocating strongly for the betterment of everyone and promoting the fact that greater diversity enriches all our lives. Actively supporting and providing mentorship opportunities to minority, young professionals early in their design careers is crucial to break this cycle. With this goal in mind, I joined the Architecture Is Free Foundation where I mentor and provide portfolio critiques for architecture students who may not have access to in-person educational resources.
Must-have skill for healthcare designers today: The ability to listen and understand the community—its people, culture and needs­­­­—before finding a solution. Community input often sheds light on problems or solutions that design professionals might otherwise miss. Thus, engaging the community brings a deeply meaningful element to the planning and design process by addressing the unique concerns of each project.
For more on the 2023 HCD Rising Stars, read here.