HCD Rising Star: Sophia Skemp
---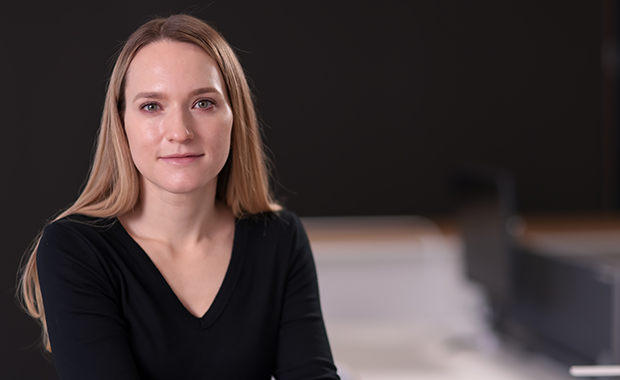 Brandon Stengel, FarmKid Studios
Sophia Skemp, medical planner, BWBR (St. Paul, Minn.)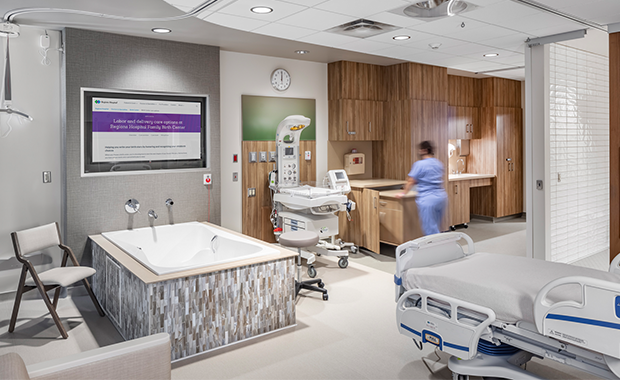 Brandon Stengel, FarmKid Studios
Family Birth Center at Regions Hospital
---
Early in her career, Sophia Skemp served as an intern at BWBR for the first phase of a master campus plan for Hennepin Healthcare, a new ambulatory clinic and specialty care center. Skemp participated in hundreds of meetings with clinic leadership, physicians, and other key stakeholders during the design process—an experience that sparked an interest for her in healthcare architecture and planning.
Afterwards, she began working with one of the firm's most senior planners to help design and plan projects both large and small. This mentorship opportunity quickly evolved into a design partnership lasting over two years as she gained more experience. In 2018, she was promoted to medical planner, where she funnels her passion for design research and her empathetic design approach to work with project teams to create innovative and equitable design solutions.
Besides her work with Hennepin Healthcare, she has helped plan and design projects for other health systems including the Mayo Clinic, HealthPartners, Avera Health, and Marshfield Clinic.  These projects include everything from new clinics to the renovation of a Level 1 Trauma Center and two Critical Access Hospital replacement facilities. She also provided planning for the Family Birth Center at Regions Hospital. During the design process, she conducted interactive workshops with clinicians in full-scale room mock-ups of the proposed design, ensuring that devices, equipment, and supplies were correctly located within the spaces. In March 2020, Skemp began facilitating an internal think tank of healthcare architects, planners, and operational specialists researching how the design industry can better support healthcare organizations adapt their facilities in response to Covid-19. This led to her co-creating BWBR's Scenario Planning concept, an operations-focused process for helping organizations identify gaps in their facilities and preparations to respond at an enterprise level to a variety of adverse events. She has shared this knowledge through co-authoring the white paper, co-hosting a podcast, and co-presenting the concept at industry events.
Additionally, Skemp is dedicated to the importance of design research to improve healthcare environments. She co-authored an article on an exploratory study for a child-adolescent mental health inpatient unit, which was published in the HERD Journal. Currently, she's working on a post-occupancy study of the recently completed Family Birth Center at Regions Hospital. This study focuses on examining the processes involved with leading change throughout the design and occupancy of a new facility, acknowledging the impact of design on culture, care processes, and the patient experience.
Path to healthcare design: What initially drew me to design was the impact an environment can have on a person. Well-designed spaces can elicit feelings of calm, clarity, and inspiration. They can be celebratory and comforting. However, it wasn't until architecture school that my interests shifted specifically to healthcare. I remember listening to a presentation on natural light and the decreasing effect it can have on the length of a patient's stay. Learning about the healing impact an environment can have on people and applying this to patient care settings, where people are at their most vulnerable, inspired my career trajectory into healthcare design.
Describe your design approach: Design is a dialogue. Be equal parts advisor and listener.
On your desk now: I'm a co-investigator on an ongoing post-occupancy study for the Family Birth Center at Regions Hospital in Saint Paul, Minn., studying the impact of change management strategies during the design process on building success. Additionally, I'm working with Mayo Clinic on several projects, including a multiphase project stemming from the expansion of emergency services, an infusion clinic, and master planning efforts. Working with the same client on simultaneous projects has allowed me to deeply understand their facility and, hopefully, become their trusted advisor.
Most rewarding project to date: The Clinic and Specialty Center for Hennepin Healthcare, a Level 1 trauma center in downtown Minneapolis. The team was tasked with consolidating 26 clinics previously dispersed throughout the campus into one new building. As one of my first projects out of grad school, this proved to be a crash course in healthcare design and a catalyst into an interest in medical planning. After hundreds of collaborative design meetings with staff over the project span, the end result is a building that functions effectively for all clinics and connects cohesively with the main hospital.
What success means to you: With regards to a project, success can be measured based on the level of collaboration during the design process, not only between the architect and client, but also with consultants and internal team members. You cannot design on an island and expect to achieve the best possible outcome for patients, family, and staff. On a personal level, I think success can be measured by the level of trust your clients and colleagues have in you, and that's what I strive for on each project
Industry challenge on your radar: Improving healthcare access for vulnerable communities is an urgent challenge that the design industry must continue to address. Improving infrastructure limitations to enhance telehealth access, organizing pop-up clinics or testing sites within communities, and implementing remote patient monitoring and home care are some design solutions that are showing promise, and I'm excited to be part of future innovations.
Must-have skill for healthcare designers today: The ability to design holistically at any scale. From room layout to department layout to the building and site—everything is connected. Even though your team may be tasked with remodeling one department, that one department needs to flow well with adjacent departments, staff, patients, and public. Taking the time to be curious, ask questions, and listen is essential. It can be tempting, especially with a tight schedule, to copy/paste designs from one project to another and keep moving. But if you don't take the time to listen, you lose the opportunity for improvement.
New pandemic-inspired work habit: In some cases, I think the virtual work environment has allowed for more interactive design meetings and more equitable participation. It's been invaluable to hone my ability to digitally edit a drawing on the fly while leading meetings remotely, as it helps clearly communicate design intent and allow more interactive client feedback.
Anne DiNardo is executive editor of Healthcare Design. She can be reached at anne.dinardo@emeraldx.com.