HCD Rising Star: Y Pham
---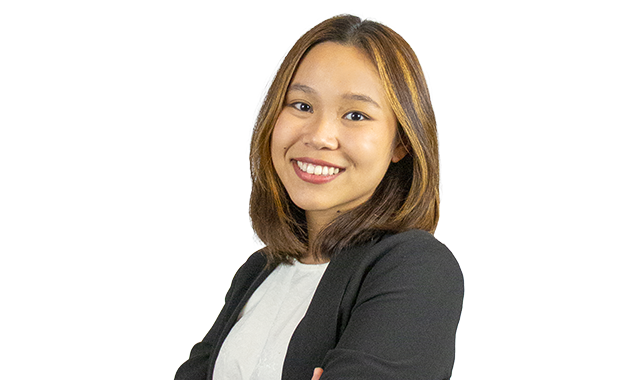 © SmithGroup
Y Pham, interior designer, Smith Group (San Francisco)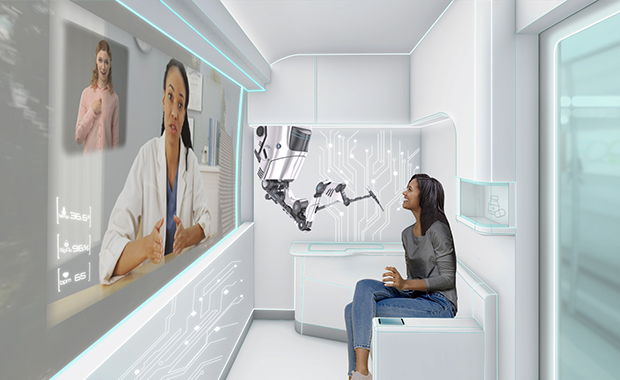 © SmithGroup
Fare2Care design concept, care pod
---
With an academic background in biological sciences and architecture, Y Pham's diverse interests have come together in a career path in interior design. Over the last two and a half years working at Smith Group, Pham has contributed greatly to the firm's architectural work and culture. She has brought her talents and insight to specialty outpatient and oncology clinics for Kaiser Permanente, UCSF Medical Center, and John Muir Health.
Additionally, in 2020, she was one of six people across the 1,300-person firm to receive a Smith Group Exploration Grant. This grant supports a six-month period of self-directed study and innovation, which Pham used to develop an approach to interpret principles for designing spaces that support users with autism. In her final summary report, she expressed her hope that this approach to designing for autism also unlocks potential guidelines for other sensitivity designs. The vision and rigor she applied to understand how to advocate, design, and build better facilities for an under-recognized population encapsulates her capacity for big-picture thinking.
Other recent work includes co-authoring with Dr. Mardelle Shepley at Cornell University and others a peer-reviewed research paper titled "Staff and Resident Perceptions of Mental and Behavioral Health Environments," published in the journal Building Research & Information. A key contribution by Pham was in finding an easily comprehensible and compelling way to communicate the complex research methodology. She subsequently presented on the topic with Dr. Shepley at the 2021 Healthcare Design Conference + Expo, during which the speakers introduced a focused survey tool that the research team developed to capture patients' assessment of the importance and effectiveness of designed environmental attributes.
Outside her projects, she continually contributes efforts that advance the firmwide practice, including a post-occupancy evaluation study across multiple projects on the effectiveness of the on-stage/off-stage model in clinic design.
As noted in her nomination, "Y has the determination to tackle the goals we want to achieve in the healthcare environment and has a true grasp on the solutions and frameworks to do better work. She makes her research methodology accessible and inclusive, and she has a clear way of articulating the "why" behind it all. Y's impressive achievements have already pushed the  collective conversation forward about how to craft meaningful design that respond to individuals in a human and holistic way."
Path to healthcare design: I've always had an interest in the creative arts and started college as a fine arts student, but realized painting alone was not enough for me. I want my work to not only touch people but also becomes a part of their life. Through circumstances and a not-so-subtle push from my family, I became fascinated with biology and pursued life science research. Ultimately, medicines were not my path (sorry, mom and dad), but it taught me to care and think critically, and it drove me to pursue healthcare design.
Describe your design approach: Human-centric, evidence-based, big-picture storytelling.
On your desk now: I'm currently in construction administration for a cancer center and collaborating on medical planning for a new outpatient center. I'm also writing up a report on my exploration of how interior architypes can help bridge the communication gap between design for autism research and design practice.
Most rewarding project to date: Collaborating on Smith Group's Fare2Care concept for the Healthcare Design Breaking Through conceptual design competition. The opportunity gave me the freedom to lead and leap outside of what's traditionally expected from architecture designers. As patient experiences continue to transcend beyond the physical space, we applied design thinking to ensure and enhance equitable access to primary care in the future given the present infrastructure. It's also special to me because the patient personas were built upon my past research and patients with whom I have met. I like that our futuristic design has real people behind it.
What success means to you: Success is when you did not get there alone. The best and most elegant work comes from an accumulation of knowledge, intelligence, and experience shared across different disciplines, generations, and individual experts.
Industry challenge on your radar: Deeper integration of smart technology and artificial intelligence is inevitable to streamline clinical care. As designers, we learn to strategize for structural flexibility to adopt new technologies as they advance and evolve in the future. However helpful those tools can be, they raise the challenge of maintaining the human touch and communicating trust in healthcare design. To balance automation without invasion of privacy, human interaction should remain central in the design development, while technology should be used to aid the experience.
Must-have skill for healthcare designers today: To be able to adapt and be comfortable with changes. We move very cautiously in our field, as needed, but we shouldn't let it be the enemy of innovation. It's easy to lose yourself in project workload, but I encourage fellow designers to continue to share and listen to findings and lessons learned within the community and outside of the discipline. We're problem solvers, and you never know where the inspiration may come for ingenious solutions.
New pandemic-inspired work habit: I consciously practice being thankful instead apologetic when I need professional support or help. It's easy to feel disconnected from your team during a remote/hybrid workplace, which can lead to miscommunication or lack thereof. I learned to determine which question to ask via different media to effectively spend my and my colleague's time. Small practices like saying "thank you" instead of "sorry" can shift your mindset to be more positive and productive when approaching a challenge, especially for young professionals from diverse cultural backgrounds.
Anne DiNardo is executive editor of Healthcare Design. She can be reached at anne.dinardo@emeraldx.com.