January Online Focus: Patient Experience
---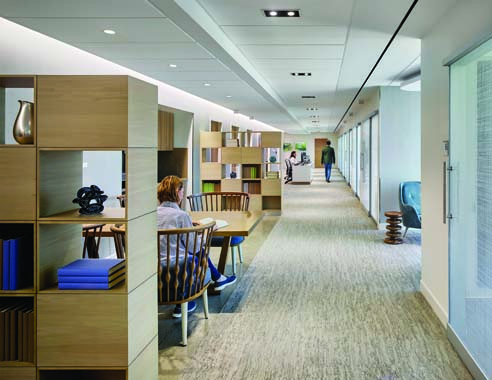 HALKIN/MASON PHOTOGRAPHY
Efforts were made to give patients and families a sense of choice within the clinical setting at Memorial Sloan Kettering Bergen in Montvale, N.J.,, including private and public waiting areas.
---
It's no secret that improving patient experience is on the top of the priority list for most providers. Even just last year, Healthcare Design's biennial A/E/C Survey found that 55 percent of responding healthcare architecture/engineering/construction firms reported improving patient experience/satisfaction as the most common client objective shaping new projects in 2017.
While that much is clear, how experience is delivered via design varies greatly. Projects may include light-filled public spaces offering cafés and retail, waiting areas that support privacy and socialization as well as deliver the ability to plug in and work, or patient rooms that give patients the ability to personalize their space all while providing ample room for family.
Below, find recent articles from Healthcare Design that offer examples of the different solutions being introduced via design to answer the ongoing quest for a better patient experience.
Breaking Through Finalist: Hello Care
Two finalist projects made it to the on-stage finale of Healthcare Design's Breaking Through conceptual design competition. Meet the runner-up here, which delivers improved access and a better patient experience.
Virtual Reality
The rise in telemedicine services demands new care spaces that ensure quality and accurate diagnoses.
Planning Healthcare Interiors Through Journey Mapping
Journey mapping is an important tool in healthcare design, offering the power to build empathy between building users and those creating spaces for them.
Daring Transformation: Memorial Sloan Kettering Bergen
The cancer center turned an existing office building into a modern cancer center, earning it top honors in IIDA's 2018 Healthcare Design Awards.
FIRST LOOK: Cincinnati Children's Hospital Medical Center
An addition and renovation on its existing campus in Cincinnati will add 225 critical care beds, an expanded ED, and improved family and staff spaces.
New Arrival: BC Children's Hospital And BC Women's Hospital + Health Centre
BC Children's Hospital and BC Women's Hospital + Health Centre builds a new acute care center designed to improve care delivery and support future healthcare needs.
HCD Expo Keynote: Breaking Down The Barriers To Joy
Ingrid Fetell Lee, designer and founder of The Aesthetics of Joy, shared how design can be a means to spread joy and enrich the lives of patients, staff, and visitors at the 2018 HCD Expo.
HCD Expo Keynote: Brave New World of Patient Engagement
Susan B. Frampton, president of Planetree International, delivered the closing keynote presentation at the HCD Expo & Conference in Phoenix.
Photo Tour: Koman Family Outpatient Pavilion
CO Architects' design for the Koman Family Outpatient Pavilion unites previously disparate facilities into a new model of healthcare delivery within an academic setting
Great Expectations: Designing The Brand Experience
Establishing experiential consistency across facility locations can help build trust and establish brand authenticity.
2018 Design Showcase Award of Merit: Rising To The Top
University of Iowa Stead Family Children's Hospital earns an Award of Merit for taking patient experience to new heights.
Getting A Feel For Empathetic Design
Empathetic design is an evolving process that's being enhanced by new digital tools that offer a deeper look inside user experience.
The Case For Experience Design
Investing in patient satisfaction can drive brand loyalty, mitigate risks, and give an organization a competitive edge.
Making Bold Moves In Healthcare Aesthetics
Client demand for visual branding and growing product options are inspiring a redefinition of healthcare aesthetics.
A Fresh Approach
Entering a new market for Nemours/Alfred I. duPont Hospital for Children came with the opportunity to refine existing outpatient operations and create a site-specific design solution.