Tailoring Mental Health Design To Young Adult Patients
---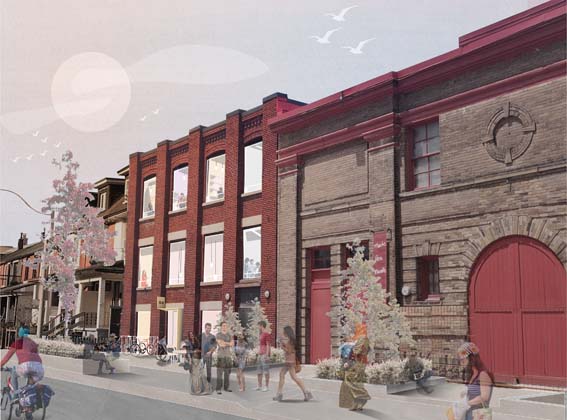 Stantec
The home of the new Stella's Place is a former candy-making factory built and is expected to open in late 2021.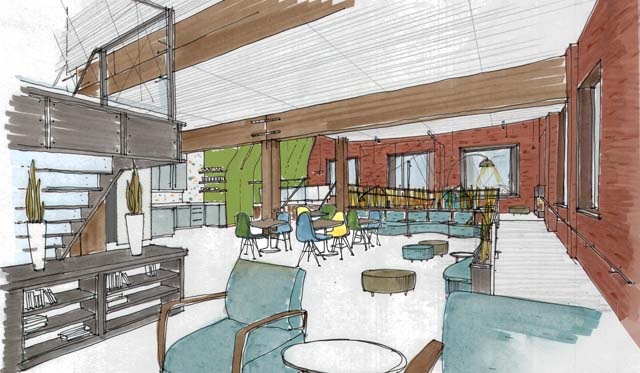 Stantec
The café space will welcome visitors upon arrival with plenty of seating among the exposed brick and wood structure.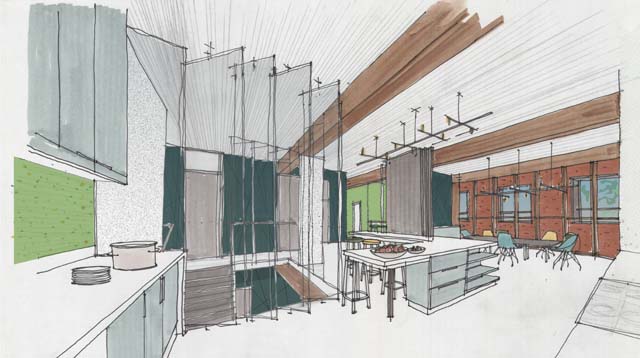 Stantec
An operable partition will allow a group room to open up onto the adjacent kitchen for events or classes.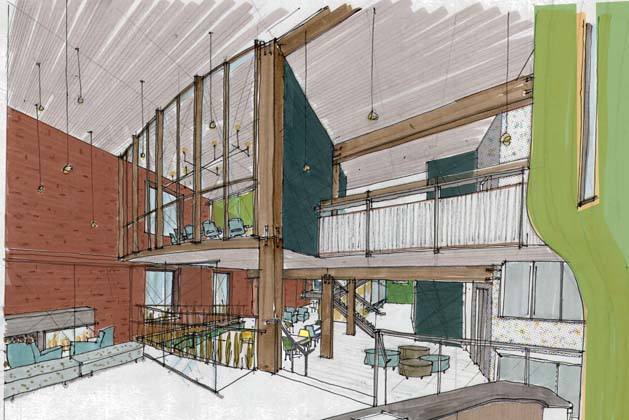 Stantec
The double-height reception area allows light to penetrate further into the building.
---
World Mental Health Day, recognized on October 10, takes on a more powerful meaning this year as we continue to face the COVID-19 pandemic. Now more than ever, people are becoming attuned to their individual mental health needs and the importance of having access to help. The National Alliance of Mental Health tells us that 1 in 5 people experience mental illness each year and that suicide is the second leading cause of death among people ages 10-34. The high risk of this age group means young adults need care tailored specifically to them.
Stella's Place, a mental health support center in Toronto for people ages 16-29, identified the gap in age-appropriate care and set out to address it. After years of success in helping countless youth, Stella's Place will move in late 2021 from a small, renovated office to a purpose-built facility in a former candy factory built in 1912. The opportunity to start from scratch in an empty building brought an opportunity to design a mental healthcare space that provides comfort, safety, and support for this particular age group.
Here are four strategies Stantec employed in the planning and design of the new center that are applicable to other mental health care projects for young adults:
Gather first-hand input early: The most valuable design advice comes from the occupants themselves. For Stella's Place, we held several visioning sessions with young adults early in the process to learn what they wanted in their new building. Some of the answers surprised us and ultimately had a significant influence on how the design was shaped. For instance, we were focused on curating common spaces around fostering a social environment but learned that many users find places for a quiet moment alone equally important.
Don't be afraid to be bold: One of the early project goals was to create a non-clinical, non-institutional environment by designing a space that is vibrant and fun and will energize and inspire. For these young adults, establishing a sense of calm doesn't always mean muted tones and textures. A sense of safety and comfort comes from a sense of belonging, and they want to see their bright personalities reflected in their surroundings.
Design for the many, not the few: This cohort of young adults was outspoken that inclusive design is essential. No longer can designers create spaces for the "average" person. A good exercise during the planning and design is to walk through the space as a person representing different segments of the population, such as a person with visual impairments, a person who is obese, someone who experiences social anxiety, or who has a physical disability. This experience will allow the project team to consider all occupants in the design and recognize for how their needs differ from others.
Leave room for the users to make it their own: The former location for Stella's Place was beloved by the staff and participants because they had made it their own over the years. The project team plans to bring several of those elements, including brightly colored walls adorned with participants' art, local custom-made furniture, and cozy bean bag chairs, to the new space. The organization also plans to display a large Pride flag directly behind the check-in desk to communicate to visitors that they've entered a place that advocates for inclusivity. Mental health spaces for youth need to allow for self-expression and creativity to happen and encouraging opportunities for users to make their mark will strengthen the personal connection to the surrounding space.
Stantec received a great deal of feedback from our visioning sessions, but none resonated more than the simple comment, "It feels good to be heard." Listening is one of the cornerstones of quality care and that's exactly how we approached this design. The result is a space that's designed to meet the needs of young adults and help them along in their mental health journeys.
Robyn Whitwham, M.Arch, OAA, MRAIC, WELL AP, is an architect at Stantec (Toronto). She can be reached at robyn.whitwham@stantec.com.