Refreshing Women's Health By Design
---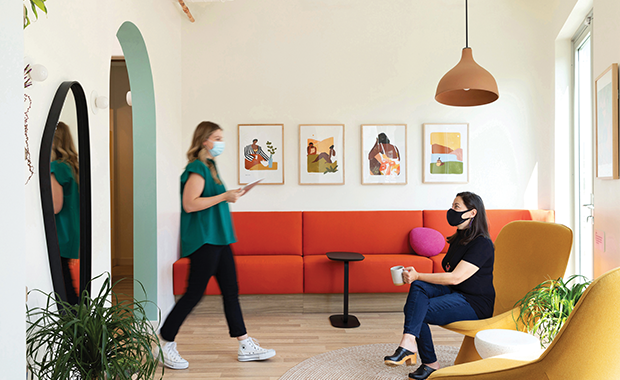 Monica Wang
Tia Los Angeles: Tia clinics offer a lounge-like waiting area that includes furnishings in uplifting colors, pendant lights, live plants, and local artwork.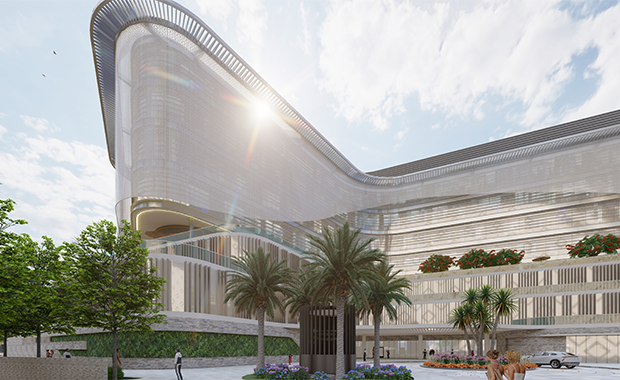 Marco Graziano
IKM Architecture and the Morgan Group incorporated curved forms and an exterior "lace veil" resembling a mashrabiya pattern into the design for a large confidential women's hospital being planned in United Arab Emirates.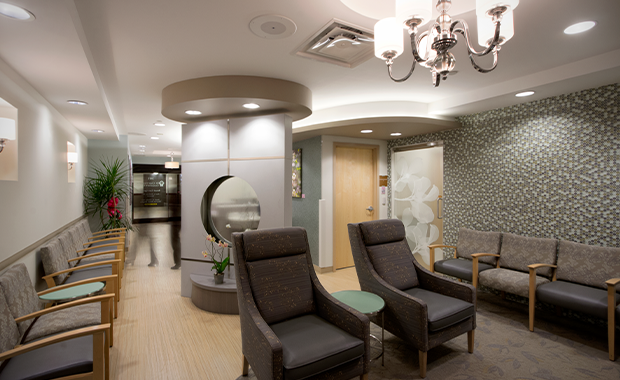 Adam Warner
St. Clair Breast Center: For the waiting area at St. Clair Breast Center in Bethel Park, Pa., IKM Architecture layered in organic forms, a variety of textures and patterns, and muted colors to add a feminine touch to the space.
Courtesy of ZGF
University Health Women's and Children's Hospital: For the new University Health Women's and Children's Hospital in San Antonio, ZGF Architects conducted daylight studies to orient the 14-story building on campus to maximize natural light and views, including in the main lobby (shown) and patient rooms.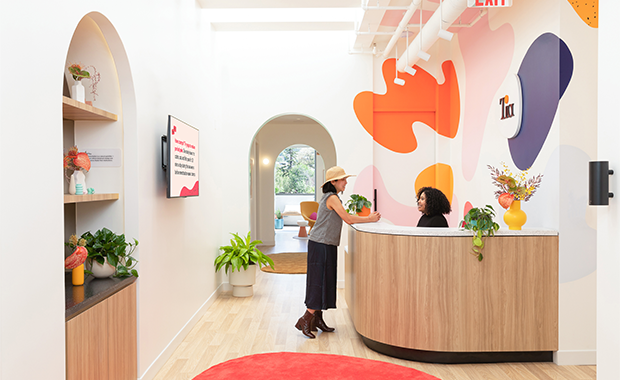 Monica Wang
Tia Los Angeles: A colorful reception area features skylights and a graphic mural by a local female artist at Tia's Los Angeles clinic, designed by Alda Ly Architecture.
Monica Wang
Tia Los Angeles: Each of four consultation rooms at the Tia clinic in Los Angeles has a different color palette to create a more personalized experience for patients, while a patient closet is provided for storing a provided robe and patients' personal items during examinations.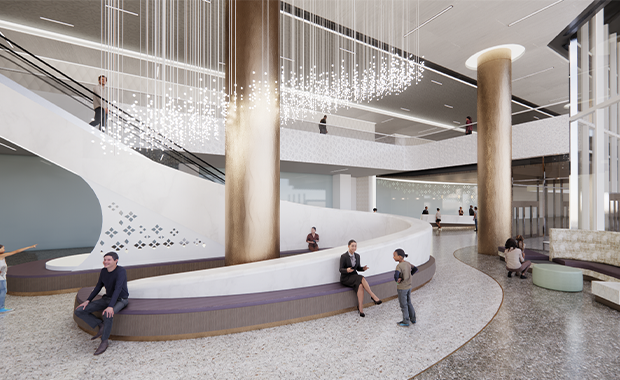 IKM: Angela Ranalli, Brian Karcher, Steven Stauffer
For a confidential women's hospital in United Arab Emirates, IKM Architecture is featuring elegant finishes, a neutral color palette, geometric patterns, and rich textures to create an inviting setting.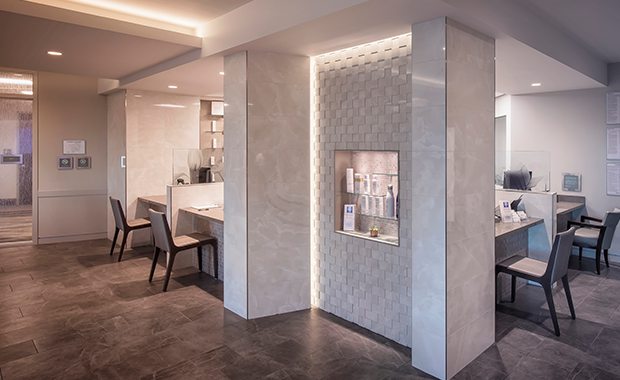 IKM: Adam Warner
Dr. Obagi Skin Care Practice: Finishes were selected to provide a calming and sophisticated environment for the reception area at Dr. Obagi Skin Care Practice at the University of Pittsburgh Medical Center in Wexford, Pa., designed by IKM Architecture. The side-lit tile wall adds texture and a pattern of shadow that contributes to a feel of luxury.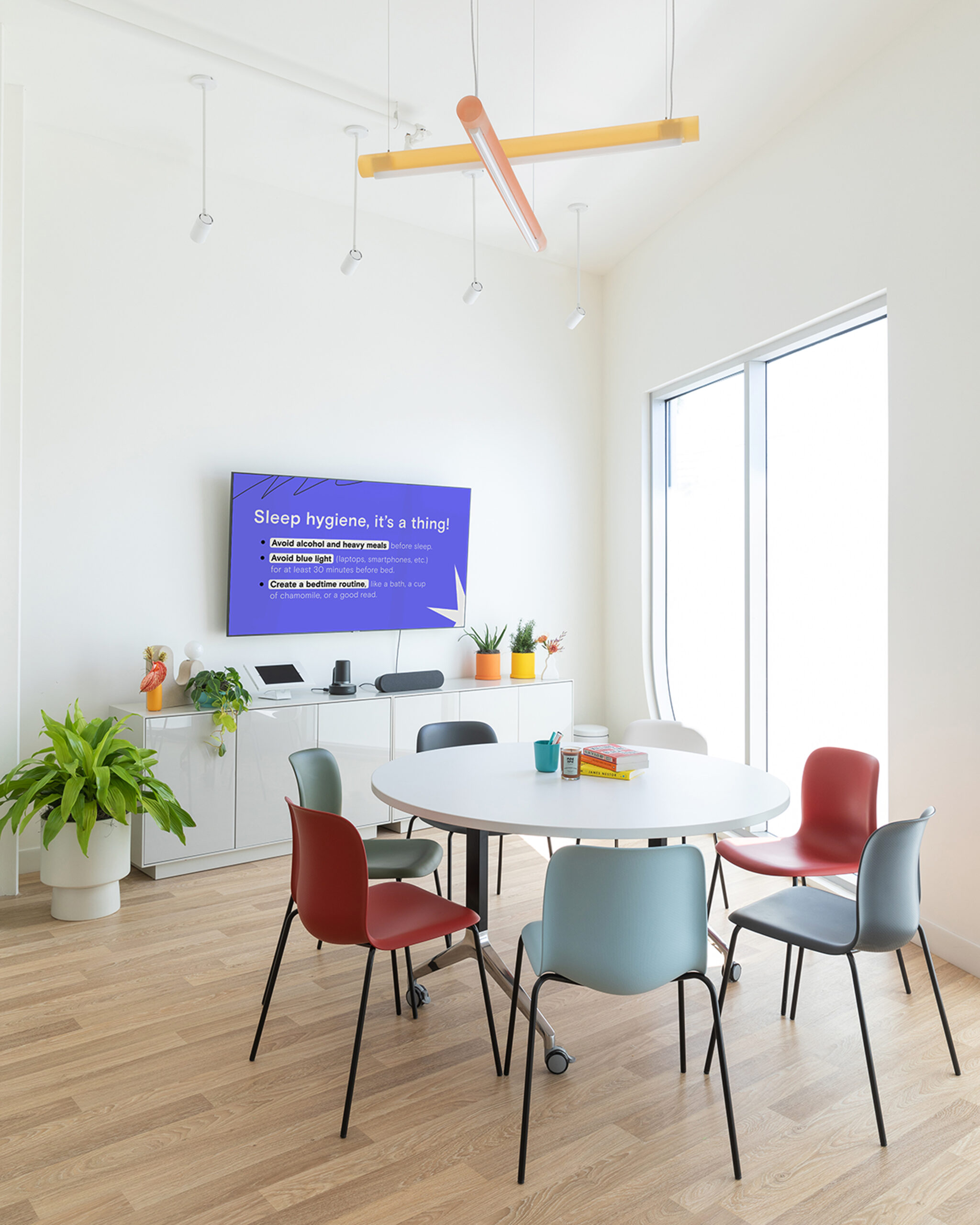 Monica Wang
Tia Los Angeles: Located in Los Angeles' Silver Lake neighborhood, the 3,000-square foot Tia LA clinic was designed by Alda Ly Architecture as both a care environment and a community hub, with classroom space (shown here) for different programming.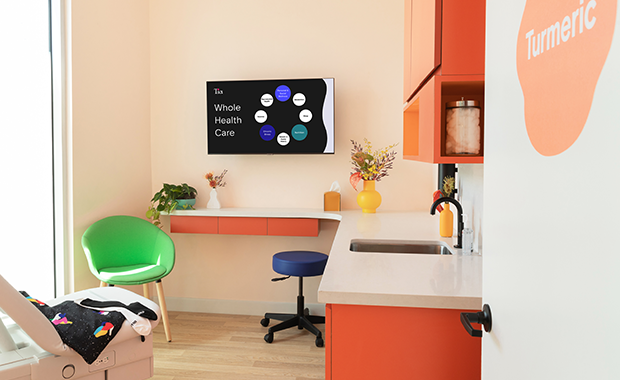 Monica Wang
Tia Los Angeles: Where possible, exam rooms at Tia's clinic in Los Angeles feature natural light via windows and strategically placed window vinyls and curtains.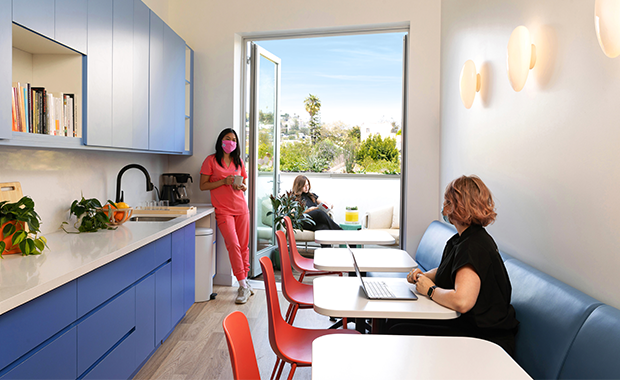 Monica Wang
Tia Los Angeles: In Tia's Los Angeles clinic, staff have a centralized workstation near the exam rooms as well as a lounge (shown here) with outdoor patio.
Monica Wang
Tia Los Angeles: TIA's Los Angeles clinic, designed by Alda Ly Architecture, includes an outdoor terrace off the waiting area where patients can sit before their appointment.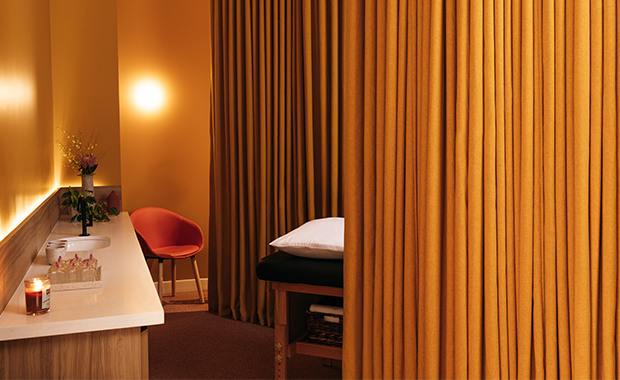 Monica Wang
Tia Los Angeles: Bold and distinct colors and materials are used throughout as an extension of the Tia's brand identity as well as a way to highlight destinations, including in the wellness room (shown here).
---
Two years after launching as an app for women to find information on topics ranging from primary care to reproductive health, healthcare startup Tia set out in 2019 to open its first clinic location in New York's Flatiron District. The vision was to blend virtual and in-person care under a membership-based model that offers primary care, gynecology, and mental health services as well as wellness practices like acupuncture and pelvic floor physical therapy.
As part of that effort, Allie Ball, vice president of creative at Tia, says the organization decided to integrate its growing patient community into some of the decision making about what that physical environment and experience would look and feel like.
One piece of feedback heard was how the lack of a space, other than the floor or a chair, to store belongings and undergarments during an exam made patients uncomfortable and stressed. "Anything that makes women feel self-conscious in this moment is just going to detract from the quality of care that they're going to get," Ball says. In response, the organization incorporated a dedicated patient closet within exam rooms that's separate from the provider area and offers a place where patients can store their things.
That architectural detail, as well as a variety of personal touches such as a lounge-like waiting area to help put patients at ease before appointments and custom-designed robes and socks to make them more comfortable during, were part of an approach the team hoped would encourage women to want to come back.
"It was important to Tia that we create a space that patients are drawn to so that they're more encouraged to stay on top of their health," says Alda Ly, founder and principal of Alda Ly Architecture (ALA; New York), which worked with Tia on continuing its rollout. The two teamed up on the 3,000-square-foot location in Los Angeles' Silver Lake neighborhood opened in April 2021 as well as a location in Phoenix.
The approach is emblematic of a broader change taking place within women's healthcare. "We like to say, 'we're not small men,' yet a lot of healthcare practices have been designed or treated us like such," Ball says. "At Tia, we try to do the opposite and think about what a woman would want to feel comfortable in their experience."
Similarly, a variety of other healthcare startups and boutique clinics have popped up on the healthcare landscape to cater specifically to younger women's health and wellness, says Sheila Cahnman, president at JumpGarden Consulting LLC (Chicago). Such examples include Kindbody, which offers fertility, gynecology, and wellness services via more than 10 clinic locations and online services, and Parsley Health, a membership-based holistic healthcare company with services ranging from digestive issues and hormonal health to fertility and mental health.
Cahnman, who recently conducted research on women's health for a client, also found there are more comprehensive centers being delivered that offer services tailored to the spectrum of women's health for all ages. "I think healthcare organizations realize now that women's needs are different and that if they market it that way, it can serve the community's needs while also being lucrative," she says.
Creating one-stop women's care
Such comprehensive centers serve as a central hub for female patients to have access to a full range of healthcare professionals and services rather than within a more general healthcare setting. Housing components such as diagnostic imaging, medical spa, and education spaces such as demonstration kitchens, Cahnman says these one-stop-shop solutions provide convenience to women as well as help increase access to care in proximity to where patients live.
"The whole idea is that women could come to these centers and get everything they need health-wise, and they're not running around to separate care locations," she says.
One recent example is the new 14-story University Health Women's and Children's Hospital in San Antonio, which will be the only hospital in South Texas exclusively focused on the unique needs of women when it opens in 2023. Designed by ZGF Architects in association with Marmon Mok, the 698,000-square-foot facility includes expanded gynecological oncology care, a women's urgent care center, labor and delivery suite with 20 private rooms and its own waiting area, postpartum rooms, and a fully staffed "Mother's Place" on the first floor with five lactation rooms.
Mitra Memari, a partner at ZGF Architects (Los Angeles), says the layout of the building, specifically, considers its core patient population and its needs. For example, Memari says labor and delivery rooms are on the third floor for ease of access, with dedicated elevators that take patients directly to that floor. Additionally, the community's desire for a variety of birthing services led to the decision to design four of the birthing rooms with bathtubs to support water births while the hospital also will allow midwives to deliver children at the facility when it opens.
"There are some cultures where midwives are the only way to go, and respecting that was the right approach and shows we really did care about that in this space," she says.
Design details for women's health
Project teams are also showing special attention to women through interior design details and architectural features such as muted colors and a high level of detail in patterns and textures, which women tend to gravitate toward, says Tami Greene, principal at IKM Architecture (Pittsburgh). "It's one more layer on top of the care they receive and the staff that they interact with and wraps those patients with an experience that's customized to them," she says.
For a project at St. Clair Breast Center in Bethel Park, Penn., Greene says she incorporated textured mosaic tiles and a wallcovering with a subtle reflective pattern next to a variety of light sources, including recessed pendant fixtures and wall sconces, to create a play of light. "It's those subtle details that add a little bit to the space and bring that feminine feel," she says.
Tia's aim to make women feel special is rooted in its mission to educate and empower patients to make healthcare decisions that feel right for them—and it's evident in the interiors approach for Tia's in-person clinics (currently in New York, Los Angeles, and Phoenix, with a San Francisco location coming soon).
For example, "fun fact" signage and digital screens throughout the clinics display women's health tips and information about how women's bodies work, while a classroom in each location hosts a variety of programming from yoga classes to community mental health sessions. "We really elevate the idea of education to the patient, so much so that you see it quite literally throughout the clinic," Ball says.
Central to that experience is a hospitality-driven setting that favors warm, distinct colors and graphics that are an extension of Tia's brand identity. "A big goal was to make the space feel joyful and uplifting but also calming and like a space where people can relax and refresh," says Marissa Feddema, director of architecture at ALA.
For the Los Angeles clinic, Feddema says the design team also maximized skylights and introduced an outdoor terrace to bring an abundance of natural light into the setting and help patients and staff feel connected to the outside.
Furthermore, Ball says Tia works to integrate a sense of community into its spaces. "When we first started doing clinics, we were really shooting for a repeatability factor," she says. "But we recognized how healthcare is really a local business." As a result, the provider now works to integrate local artwork into its spaces as one way of reflecting the community outside.
Meanwhile, Greene says there's opportunity to speak to female patients on building exteriors, as well. For a large confidential women's hospital being planned in United Arab Emirates, she says the design features a curved building shape and an exterior "lace veil" resembling a mashrabiya pattern, which ties into local architecture while also serving as a screening element for the patient rooms.
Spaces unique to women
As more healthcare organizations focus on catering to women's care needs, Feddema hopes patients will feel more empowered to talk about their specific health issues. "There's something to be said for having a place where you can ask those awkward questions, where there's no stigma, and it feels really unique to women," she says.
Ball agrees that broader change is afoot. "We deeply believe the view [of women's healthcare] is changing, that it isn't going to be taboo anymore or second tier; it's actually going to be pretty core to healthcare at large," she says.
Anne DiNardo is executive editor of Healthcare Design. She can be reached at anne.dinardo@emeraldX.com.