Re-Thinking Emergency Department Design
---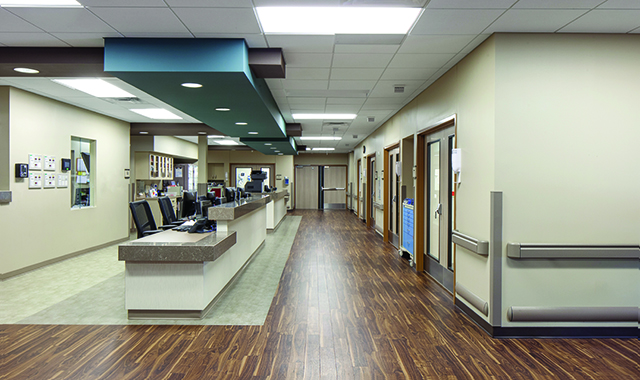 Corgan
A hallway in Texas Health Presbyterian's freestanding ED in Rockwall, Texas, is lined with alcoves to provide staff quick access to supply carts—keeping supplies within reach without intruding on walkways.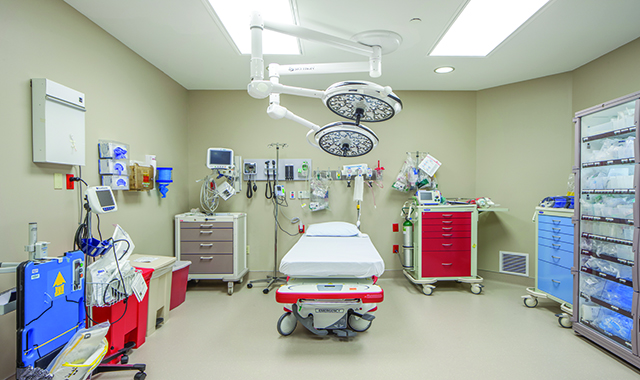 Corgan
Color-coded carts at the Texas Health Presbyterian freestanding ED help staff easily differentiate between them and customize rooms for different procedures and uses.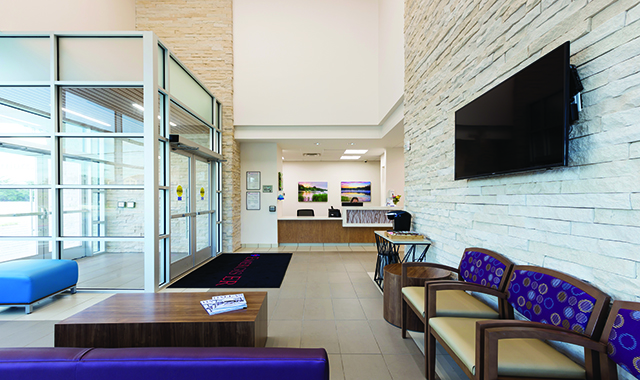 Corgan
The bright and airy waiting space at Emergis ER in Dallas features different seating options for patients and their families.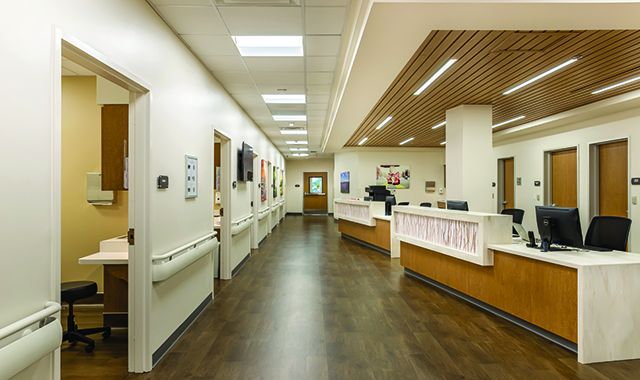 Corgan
The angled nurses' stations at Emergis ER add visual interest while providing added space for families to check in with nurses without blocking the corridor or staff circulation areas.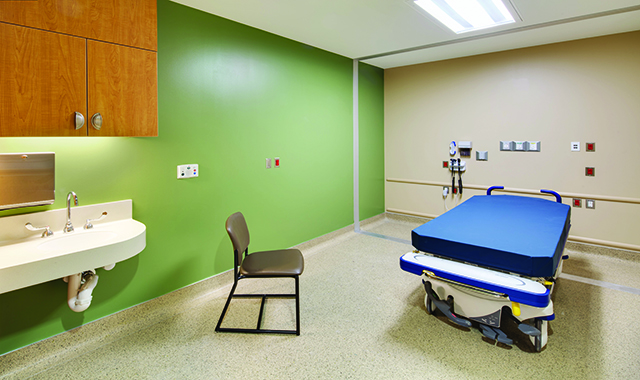 Corgan
The adaptable universal ED rooms at Parkland Hospital in Dallas have limited built-ins and can be quickly and easily customized with supply carts for a variety of procedures and treatment needs.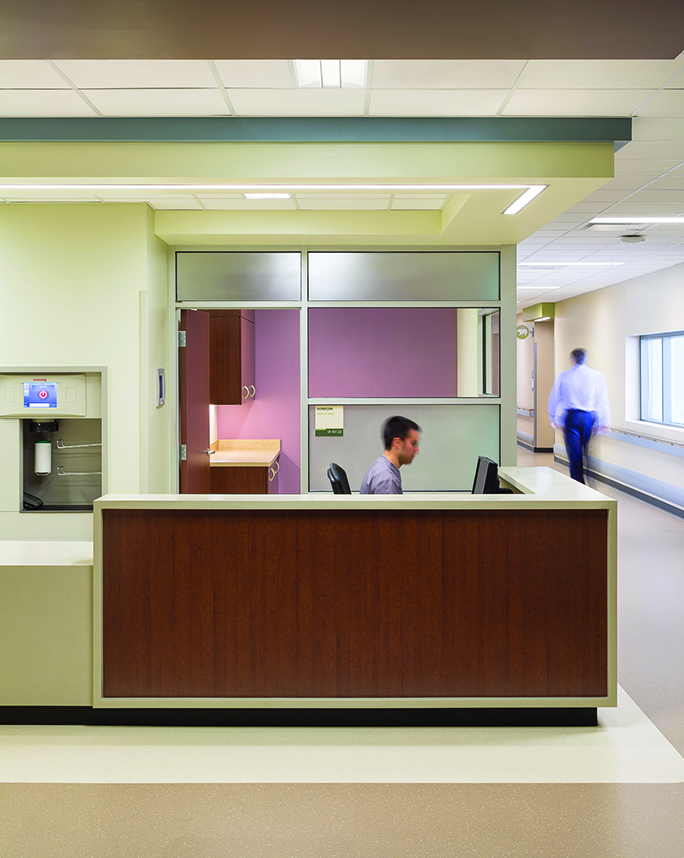 Corgan
Collaboration rooms in the ED at Parkland Hospital are designed with glass walls so staff can have private conversations while remaining visible and accessible to the care team.
---
Emergency department pain points
The feelings associated with overcrowding, being shuffled from one area to another, and the uncertainty of what's next are common pain points for patients visiting emergency departments (EDs). However, it's long wait times that are the primary patient complaint, according to the American College of Emergency Physicians, significantly impacting patient satisfaction and outcomes.
As emergency patient volumes continue to increase and existing facilities operate at or near capacity, eliminating the frustrations associated with ED visits isn't getting any easier.
New operational models have been introduced but only incrementally moved the needle, so now healthcare organizations are looking to designers for practical solutions to these frustrations, with three primary areas of focus.
Technology in the emergency department
The chief culprit behind long wait times is the time spent triaging and diagnosing patients. Typically, a clinically trained triage nurse assesses a patient's condition using the emergency severity index (ESI) triage scale to determine how quickly he or she must be treated. Advances in technology such as data-driven decision tools combined with a nurse's clinical expertise, standardized protocols, and artificial intelligence improve the accuracy of this process, but also save time by more accurately determining patients within the ESI scale.
As data empowers staff to identify, evaluate, and diagnose patients more quickly, the future ED will need to incorporate spaces that allow staff to manage patient volumes more efficiently. For example, small rooms with chairs rather than large rooms with stretchers can be used to fast-track patients with less severe issues—freeing up treatment rooms and beds for more acute cases.
Rooms for lower-acuity patients not only help achieve a quicker throughput, but help EDs utilize spaces for the more complex cases they were intended to treat. In-room monitors and cameras in the exam rooms should be considered to accommodate telemedicine consultations for mental health and other specialties, which can reduce the time patients must wait for consults and improve follow-up care.
With the advent of wearable and injectable technology, the design of future EDs should also consider a larger number of triage spaces or the addition of kiosk interfaces to download or view data, from heart rates to blood glucose histories, that patients bring with them on their devices. Data from these wearable devices can help staff make better, more informed decisions about patient care.
The technology can also help better direct patients to the appropriate treatment facility For example, low-risk patients could be told to seek treatment at an urgent care or physician's office, helping to reduce the strain on ambulances and EDs, while high-risk patients can be alerted to head to the ED or another medical facility in time for interventions prior to a heart attack or other episodic event.
(For more trends in Emergency and Urgent Care design from Healthcare Design, go here.)
ED modularity and flexibility
In the highly unpredictable environment of the ED, modularity as a Lean solution can add much-needed consistency and uniformity on both a micro and macro level to improve staff functionality, ease navigation, and reduce errors. For example, uniform pods or standardized unit layouts for equipment and supplies help providers identify processes that add value and opportunities to cut waste on a repeatable scale.
On a macro level, universal rooms can alleviate the scheduling nightmare and long wait times that are a product of specialized rooms. Where specialized rooms may be limited to certain procedures or be prohibitive in space or equipment, universal rooms offer standardized spaces that are flexible to accommodate the needs of any given patient and the department as a whole. Universal rooms also prevent unnecessary patient moves from one room to another, cut room turnover time, and, in many cases, allow exams and treatments to be completed in one room.
The use of supply carts can further streamline day-to-day operations and reduce time spent hunting and gathering supplies. Micro-level modularity keeps supplies readily available for staff and in the same place in every room. While it's difficult to use built-in casework to house all the supplies that will be needed for every possible ED treatment and procedure, supply carts can be customized for several specialties and more efficiently stocked, allowing better inventory control and reducing waste from expired products.
For this model to work best, cart alcoves should be located near the exam and treatment rooms to allow materials to be pulled into rooms as patients arrive. Planners should include supply zones with nearby spaces to temporarily house carts for restocking and provide access to power for equipment that needs charging or emergency power. While not new to the industry, supply carts are increasingly recognized for their demonstrated success in driving efficiency and adaptability to operational changes—offering more customizable options in anticipation of a stronger demand in EDs.
Healthcare staff engagement and satisfaction
The ED is one of the most stressful healthcare settings for physicians and nurses, who are at risk of fatigue and burnout due to the nature of their work and environment. Studies have indicated that providing opportunities for staff socialization, communication, and collaboration improves engagement, which can lead to increased patient satisfaction. Conversely, poor communication has been shown to contribute to lower quality care.
To support better, more effective communication and collaboration, staff work zones need to be designed to encourage conversation without compromising privacy or disrupting patients by using sound mitigation strategies, including white noise and sound-absorbing materials in the ceiling, walls, and flooring.
Dedicated areas or small rooms that break up the high noise associated with the open bullpen design of traditional EDs and provide space for confidential conversations that maintain HIPAA compliance are also important. Partial walls, glass panels, sliding doors, and proximity to nurses' stations allow staff to balance private conversations while maintaining approachability and availability for colleagues and patient monitoring. Call-back alcoves offer space for staff to return phone calls rather than assigning nurses to a desk or conceding privacy by handling calls in an open environment.
Smartly integrated elements for social connections, staff respite, and collaboration within the unit provide intuitive, more personal opportunities for regular, seamless communication needed for improving staff and patient satisfaction. Multiple touchdown spots and options for collaboration and engagement improve communication and response times—ultimately supporting a faster throughput and better patient outcomes.
Patient expectations for emergency care
While changes in ED design, including universal rooms, fast-track approaches, and supply carts, can help improve throughput and care coordination to reduce wait times, there are several other factors that need to be addressed to further improve the ED experience. For example, more transparent communications through text and electronic messaging boards in waiting rooms using patient ID numbers can more accurately inform patients and families about expected wait times, location, and progress in the system, helping relieve anxiety and manage expectations.
And, while the wait time will be shorter, facilities can create a more pleasant experience while patients and families are there, using warmer finishes and hospitality elements, such as a variety of seating options in waiting areas, access to outdoor spaces, food and retail amenities, and places to plug in and work.
Ultimately, by focusing on strategic, forward-thinking approaches to care delivery, technology, and the patient experience, facilities can create a better, more efficient future ED.
Tina Larsen, EDAC, AIA, LEED AP, is managing principal at Corgan (Dallas). She can be reached at tina.larsen@corgan.com.