Support Network
---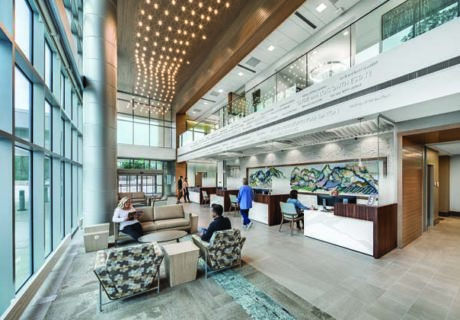 ---
As cancer care progresses to provide more comprehensive services under one roof, facilities are rethinking their layouts and treatment spaces to streamline diagnosis and treatment services while offering patients more choice in how they receive care. Abundant daylight, views of the outdoors, and natural materials are being used to infuse these spaces with a sense of warmth and calming to further support patients as well as those involved in their care—both staff and family members. Healthcare Design presents this roundup of cancer care projects to highlight some of the recent efforts supporting this transformation.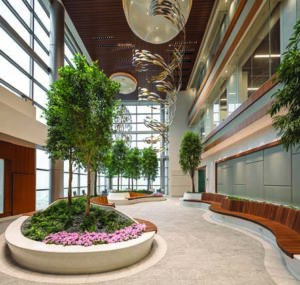 Parkview Cancer Institute, Fort Wayne, Ind.
Parkview Cancer Institute in Fort Wayne, Ind., is a standalone outpatient cancer facility designed to minimize the feeling of being in a hospital while still providing expert care. Project design firm HKS (Dallas) relied on patient feedback for the design of the project, completed in June 2018. This includes "care pods" comprising exam and consultation space where specialists come to the patient in a single appointment, eliminating the need to go back and forth between various offices and locations. A three-story indoor garden off the lobby houses natural vegetation and two large hanging art installations inspired by leaves blowing through the wind, with glass balconies above offering views to the setting for patients in the infusion area and treatment spaces. To improve care delivery, a separate entrance and registration area is designed for radiation patients to make their visits more efficient, while a dedicated room with advanced technology allows the care team to meet either in person or wirelessly to discuss a patient's case and develop a comprehensive treatment plan.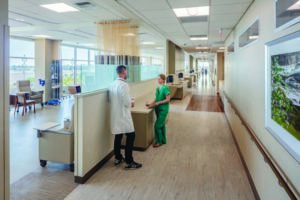 Clovis Community Cancer Institute, Clovis, Calif.
Opening in July 2018, Clovis Community Cancer Institute in Clovis, Calif., offers a comprehensive cancer center with exam rooms, a 53-chair infusion center, MRI, CT, PET CT, and linear accelerators alongside research and lab spaces. During design of the 95,000-square-foot project, the team, including architecture and interior design firm SmithGroup (San Francisco) with associate architect Muratore Associates (Fresno, Calif.), interviewed physicians, nurses, staff, and patients, determining that open treatment spaces would support the center's communal culture and help foster the social support networks that informally develop during infusion treatments. As a result, infusion treatments are delivered in social spaces with four- or eight-chair arrangements so patients face one another to facilitate conversations. In order to keep these larger spaces still feeling comfortable and not overwhelming, the clinical staff support infrastructure is located outside the treatment space, with sinks, supply drawers, waste receptacles, sharps containers, etc., just out of eyesight of patients seated in an infusion chair.
The Phillips Family Cancer Center, Southampton, N.Y.
Stony Brook Southampton Hospital's Phillips Family Cancer Center, part of the Stony Brook University Cancer Center in Southampton, N.Y., provides radiation therapy and medical oncology services. The design team, including Blaze Makoid Architecture (Bridgehampton, N.Y.) and contractor EW Howell Construction Group (Plainview, N.Y.), took inspiration from the site's history as a potato barn, incorporating a long, rectangular and pitched roof and composite wood plank siding that's reminiscent of aged cedar on the exterior of the 13,800-square-foot, two-level building, which was completed in May 2019. The radiation treatment area is located on the ground floor, incorporating a 22,000-pound leaded cantilevered concrete door and prefabricated leaded concrete walls in the vault. On the second-floor infusion area, a cathedral ceiling features skylights above 12 individual treatment stations with glass dividers depicting soothing images of waving dune grasses between the stations.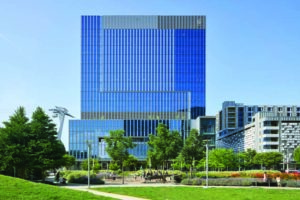 Knight Cancer Institute at Oregon Health & Science University, Center for Health & Healing Building 2, Portland, Ore.
The Knight Cancer Institute, completed in May 2019, provides oncology clinics, infusion, and clinical trials on the upper six floors of the 15-story Oregon Health & Science University, Center for Health & Healing Building 2 in Portland, Ore. Designed by ZGF, the institute's interior design reflects a patient- and family-centered care environment with private infusion bays to provide relief from noise. A mix of semiprivate and open-bay patient treatment areas maximize natural light and views, patient choice and privacy, and caregiver line of sight. To evoke feelings of comfort and stability for visiting patients and family, designers created an uplifting effect with strong vertical elements on the exterior, defined by a blue-gray glass curtain wall that mirrors the sky and surrounding buildings.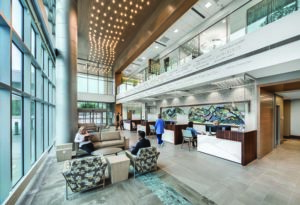 Peeples Cancer Institute, Hamilton Medical Center, Dalton, Ga.
The new 60,000-square-foot Peeples Cancer Institute, which opened in January, consolidates previously disjointed services at Hamilton Medical Center—including medical oncology, radiation oncology, outpatient infusion, and breast and diagnostic imaging services—in a new freestanding, four-story building on campus. The design team, including ESa (Nashville, Tenn.), took inspiration from hospitality design to create an environment that inspires healing and provides access to daylight and outside views. Additionally, familiar materials and textures are used in modern yet timeless ways, such as warm wood accents used throughout to anchor desks or create portals to patient areas as well as stacked stone to add depth and interest to high-profile areas. A family area with a fireplace, bistro, reflection room, rooftop terrace, public plaza/garden space, exterior water feature, and a private boutique for wig fittings add to the soothing atmosphere.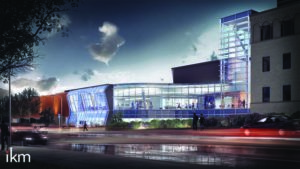 Allegheny Health Network Academic Cancer Center at Allegheny General Hospital, Pittsburgh
The Allegheny Health Network Academic Cancer Center at Allegheny General Hospital, an $80 million, 90,000-square-foot facility expected to open in spring 2020, is part of a $2 billion capital investment strategy by Highmark Health and Allegheny Health Network (AHN) to enhance access and expand the depth and breadth of clinical services available to patients across Western Pennsylvania. The four-story cancer center, designed by IKM Inc. (Pittsburgh), will comprise a split-level arrangement, with two floors below ground and two above to align the new cancer center with adjacent floors and programs in the existing hospital. Primary spaces will include three new linear accelerators, a CT simulator, 47 infusion bays, 30 exam rooms, a community education and conference center, and telemedicine spaces.