Using Experiential Design To Improve The Patient Experience
---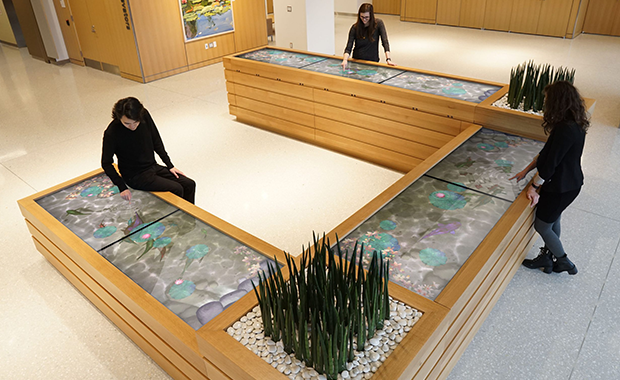 Images Courtesy of C&G Partners
Memorial Sloan Kettering installed an interactive koi pond in the sixth-floor lobby of its David H. Koch Center in New York to provide a space where patients and caregivers can relax and find comfort.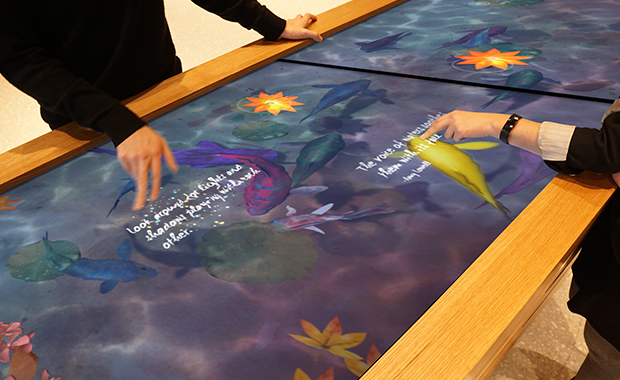 Images Courtesy of C&G Partners
Within the 200-square-foot virtual pond display, digital fish react to human presence and touch by swimming up to people while encouraging messages are displayed on the screen to further personalize the experience.
---
What do you think of when you hear the words "experiential design"? You may not know what that is, but you've probably seen it. Experience design looks beyond the function and aesthetic of the physical environment and delves into its meaning, its narrative, its reasons for existing in the first place. It conveys that "story" in a way the public can understand.
Within the healthcare design industry, Raj Kottamasu, an experience designer at Memorial Sloan Kettering (MSK) Cancer Center, Strategy & Innovation Team, which has deployed several experiential projects, defines the approach as "designing beyond the delivery of care."
This strikes a chord as health is just one component of who we are. Even at the doctor's office, or an infusion clinic, we are more than a patient. We have needs, desires, aspirations, stray thoughts, creativity, worries, passions—all of which should be addressed or recognized within the healthcare experience, creating a holistic healing environment that looks beyond the ailments of the patient and looks toward the things that enrich a person's life.
An interactive experience in the sixth-floor lobby of MSK's David H. Koch Center in New York illustrates this concept. Here, the healthcare organization installed an interactive Koi Pond experience designed to relax, comfort, and inspire patients and their caregivers.
Benefits of positive distraction in the clinical environment
While relatively modest in size, the 200-square-foot display has a big impact: The koi swimming in the virtual pond respond to human presence and touch and swim up to people while encouraging messages are displayed on the screen to further personalize the experience.
Jonathan Alger, managing partner of C&G Partners (New York City), which designed the Koi Pond with Phillip Tiongson of graphic and interactive design firm Potion Design (Brooklyn, N.Y.), says the benefits of positive distractions in clinical settings have been known for a while now. "Traditionally, these have been views of nature or enjoyable art," says Alger. "Now we're seeing an evolution from these purely physical types to 'phygital' ones like the interactive koi pond, which combine physical and digital. But the basic underlying principles of both approaches are the same: positive distractions, often with naturalistic themes, all with the goal of improving the clinical experience."
Creating these features in the  built environment, however, is not without its challenges. For example, stringent cleaning protocols and attainable maintenance procedures, such as ensuring components are easily accessible, value engineering the hardware components to make them easier to maintain over time, and training the staff to maintain the installations, played into the design of the koi pond.
What does experiential design mean for healthcare designers?
As more healthcare systems look to adopt these elements within their facilities, what does this mean for healthcare designers? More technology, for one, and not just screens on a wall. Expect to see demand for more sensors, facial recognition, dynamic lighting systems, interactive touchscreens, dynamic content, and more.
Additionally, in the future patients may be asked to give providers more data beyond their physical health to include things like artwork preferences, hobbies, and careers. This information will then be used to allow a healthcare visit to be personalized in a way that allows patients to leave happier and more informed than before.
Experiential design represents a shift in the design of health spaces, where these environments can be centered around the human patient without compromising design and function. The healthcare design industry needs to talk about the ideal patient experience, what the patient experience looks like today, and how we can leverage design more holistically to bridge that gap.
D. Villella is principal at D. Villella Design (New York) and can be reached at dan.f.villella@gmail.com.