PHOTO TOUR: Gulf Coast Medical Center Skilled Nursing Unit
---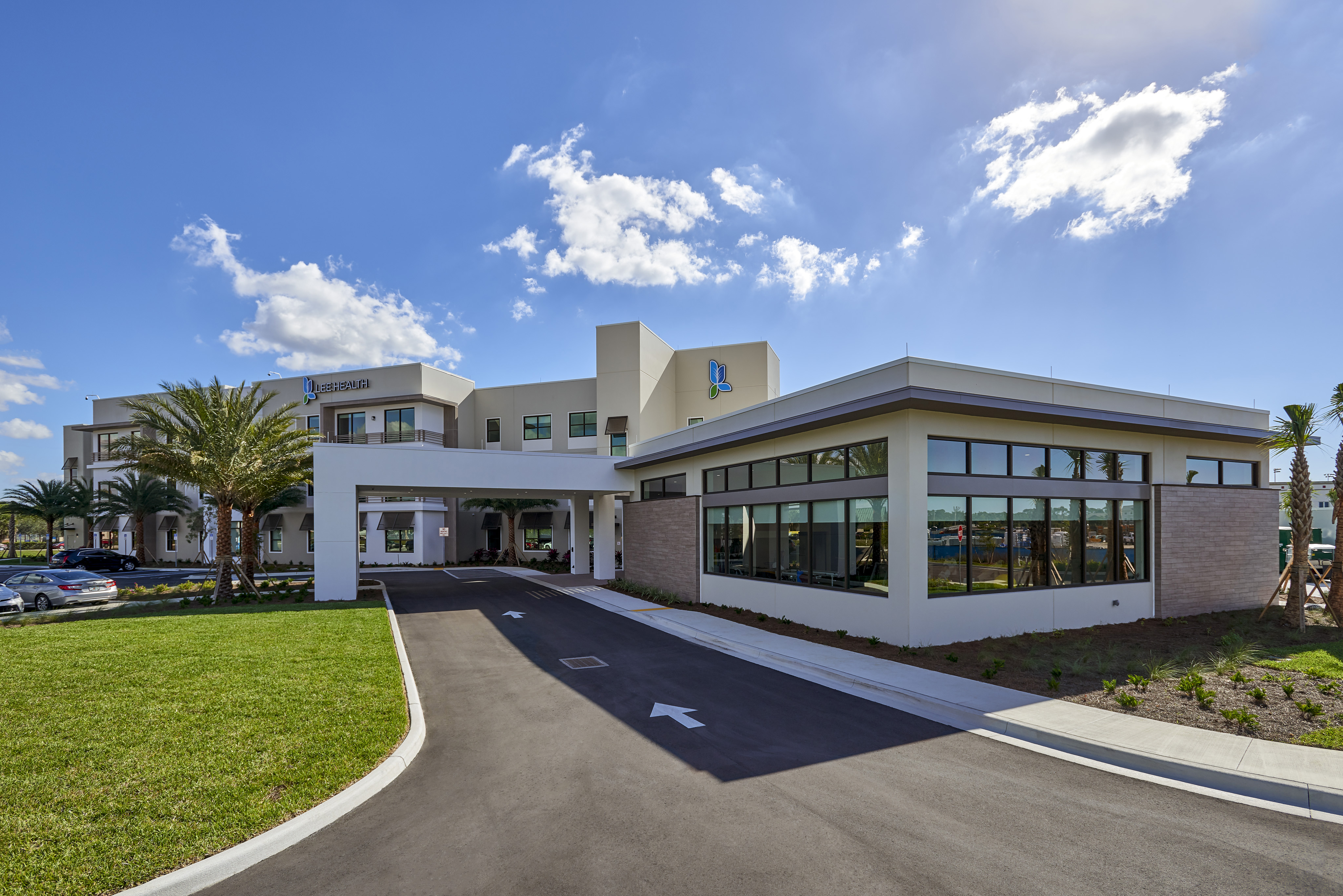 Stuart Gobey, Island Studio Productions
The landscape was specifically planned to complement the modern building architecture through plant selections, including ornamental grasses and flowering native shrubs, that are suggestive of a resort-style setting rather than a medical facility.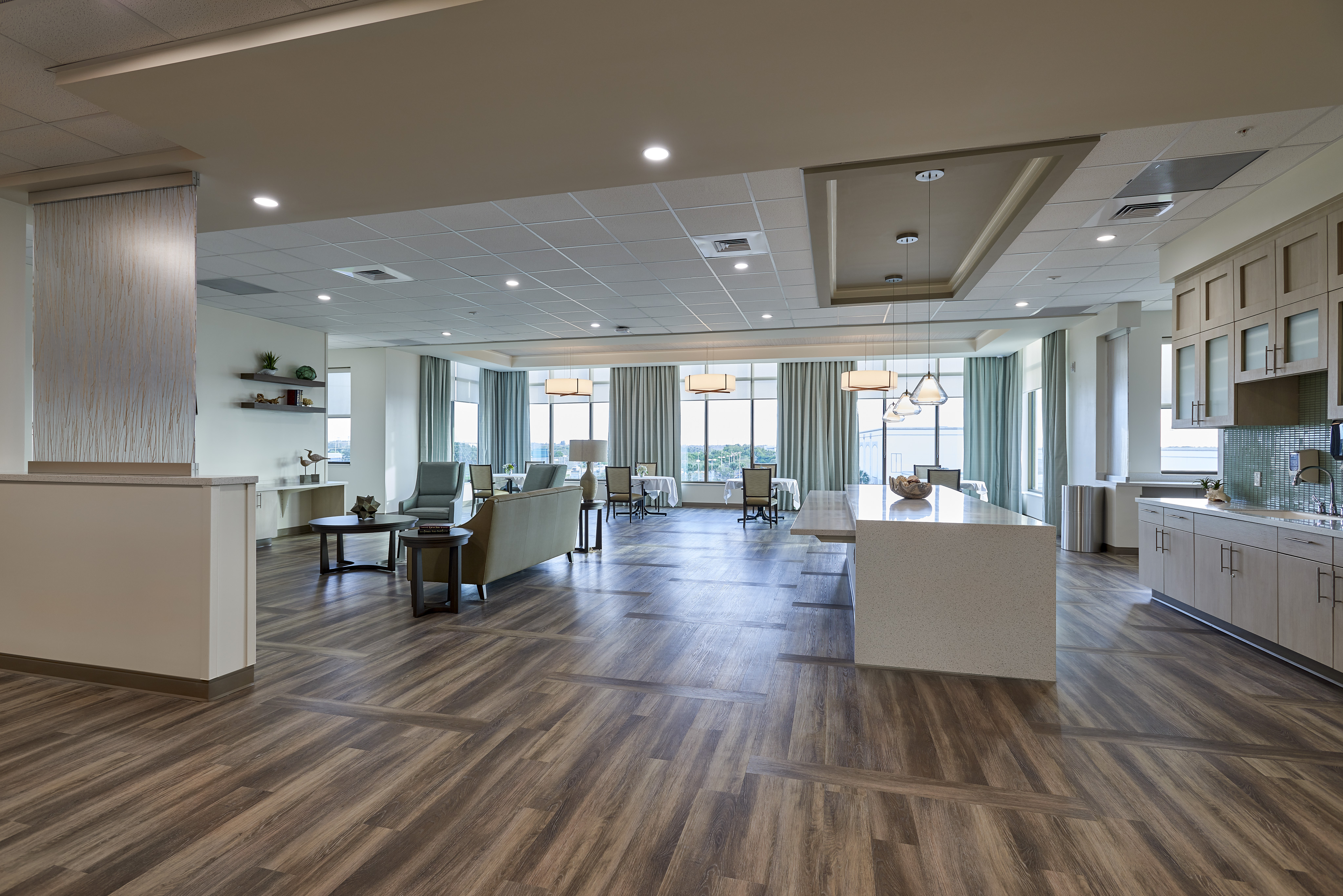 Stuart Gobey, Island Studio Productions
Each inpatient unit has an open-concept kitchen, living room, and dining area, which provides an area for patients to prepare meals with visiting family and friends.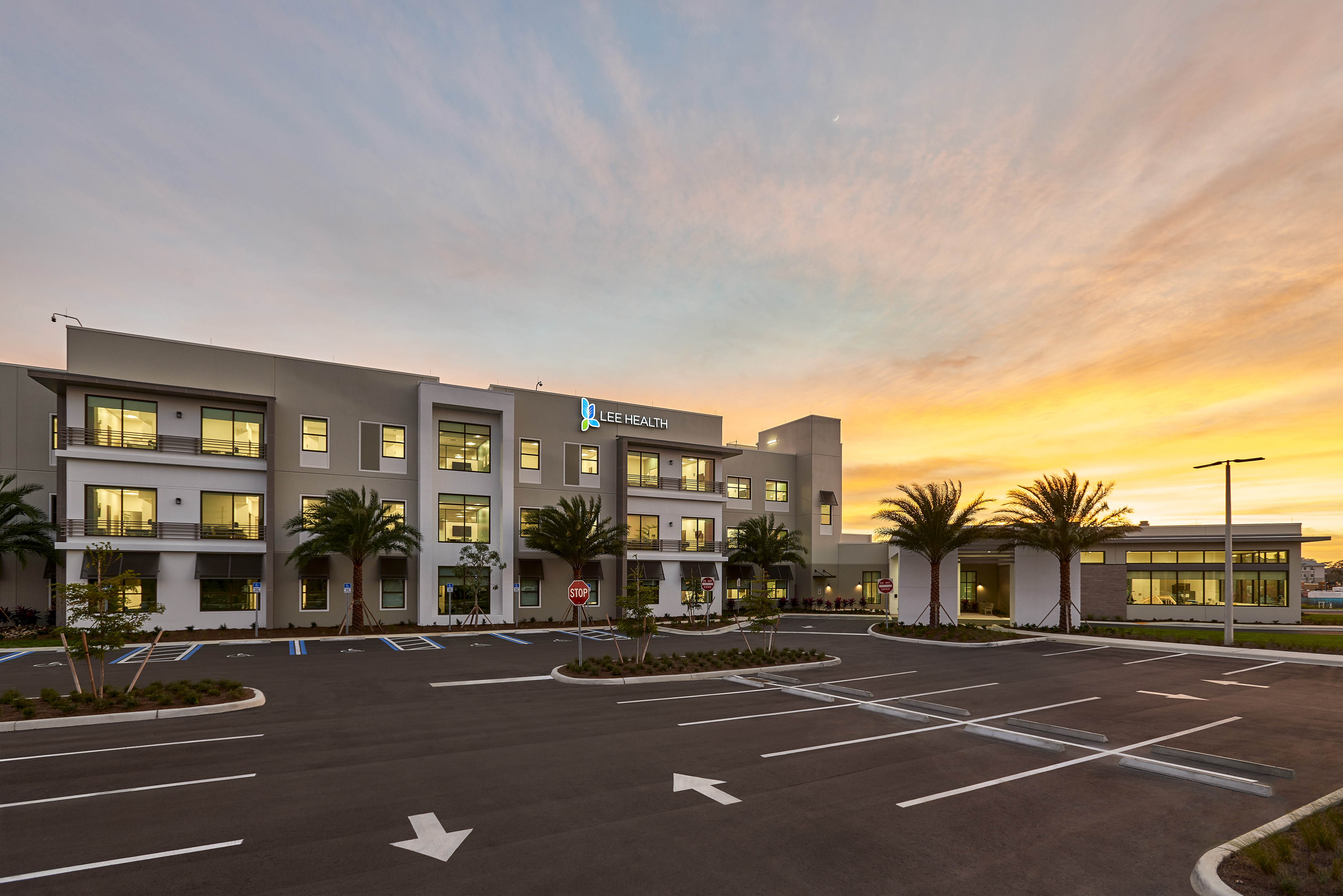 Stuart Gobey, Island Studio Productions
Stevens Construction worked with the design team and client during pre-construction on several cost-saving suggestions, including tilt-wall construction and a chilled water air conditioning system. The casting slabs used to pour the panels during the tilt-wall process were recycled and used for site stabilization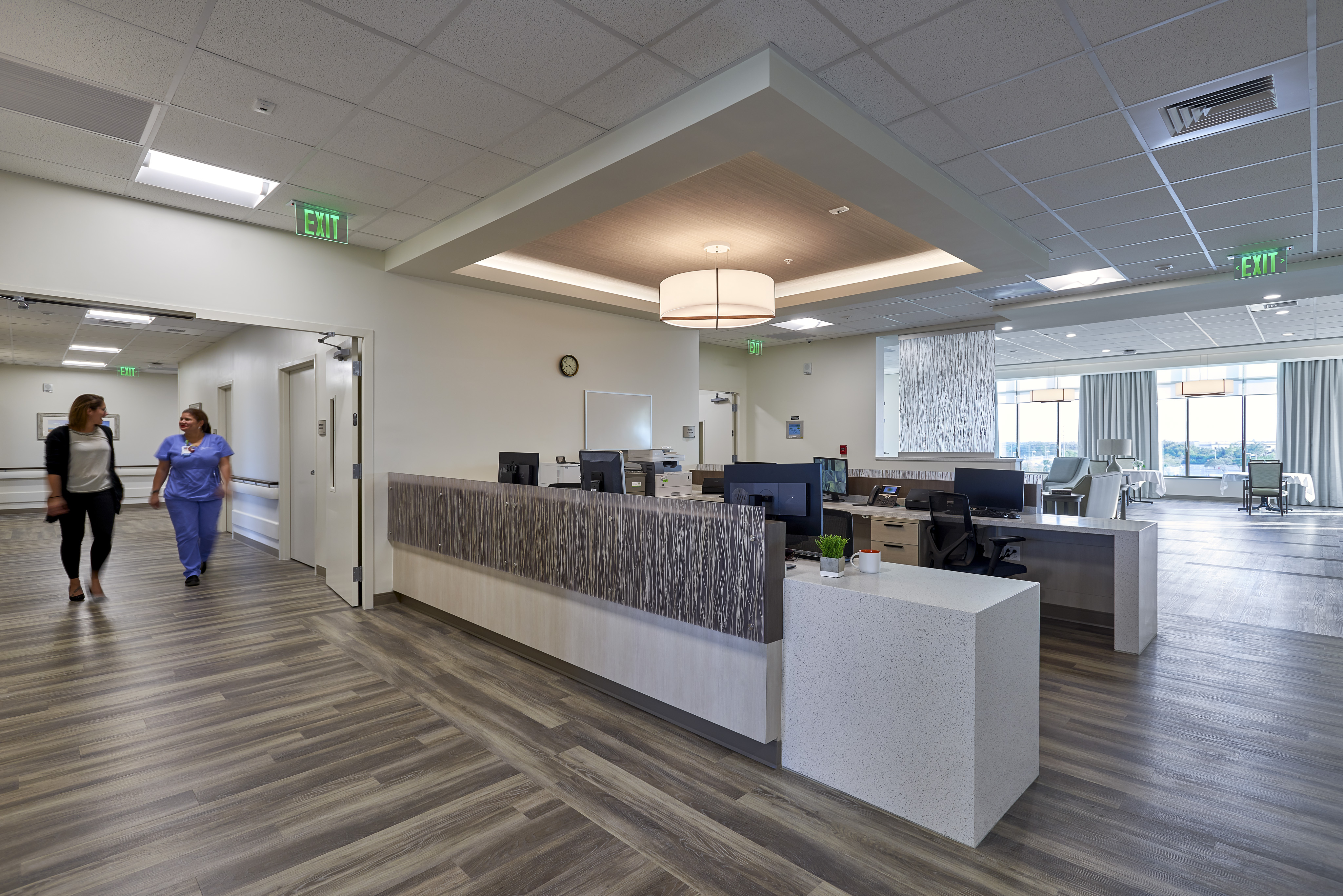 Stuart Gobey, Island Studio Productions
Each patient floor has a central nursing station and an open layout designed to encourage patients to move throughout the floor, with bench-rest stops strategically placed throughout each floor.
Stuart Gobey, Island Studio Productions
Each of the 75 private patient rooms has an expansive window, private bath with roll-in accessibility, and convenient access to the dining room and therapy gym.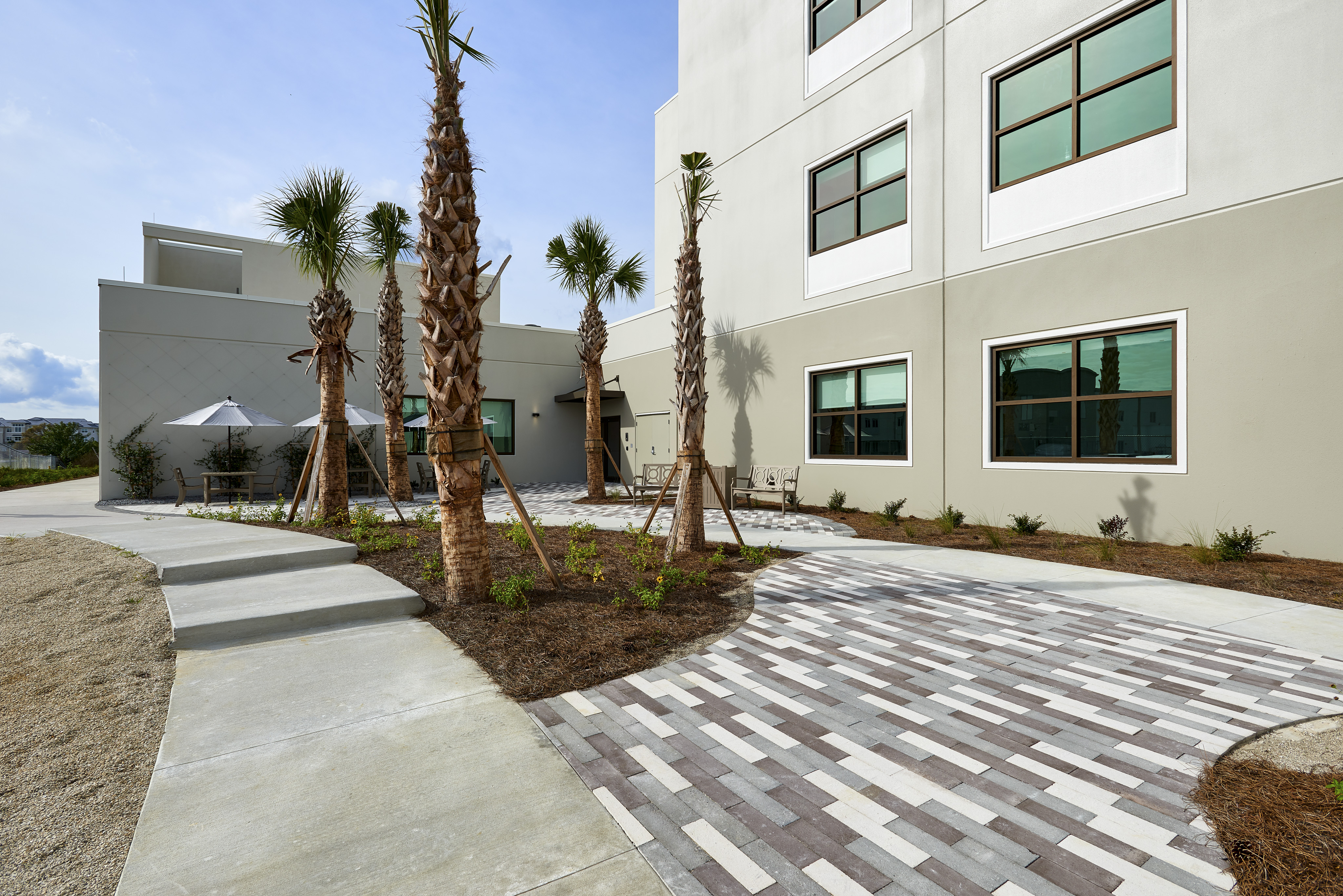 Stuart Gobey, Island Studio Productions
The outdoor spaces of the skilled nursing unit include common obstacles such as stairs, ramps, and myriad of loose and fixed landscape walking surfaces to prepare patients for real-world situations. Strategically placed seating and viewing areas and an interactive ADA accessible gardening area further support the physical and mental health for all levels of patient rehabilitation.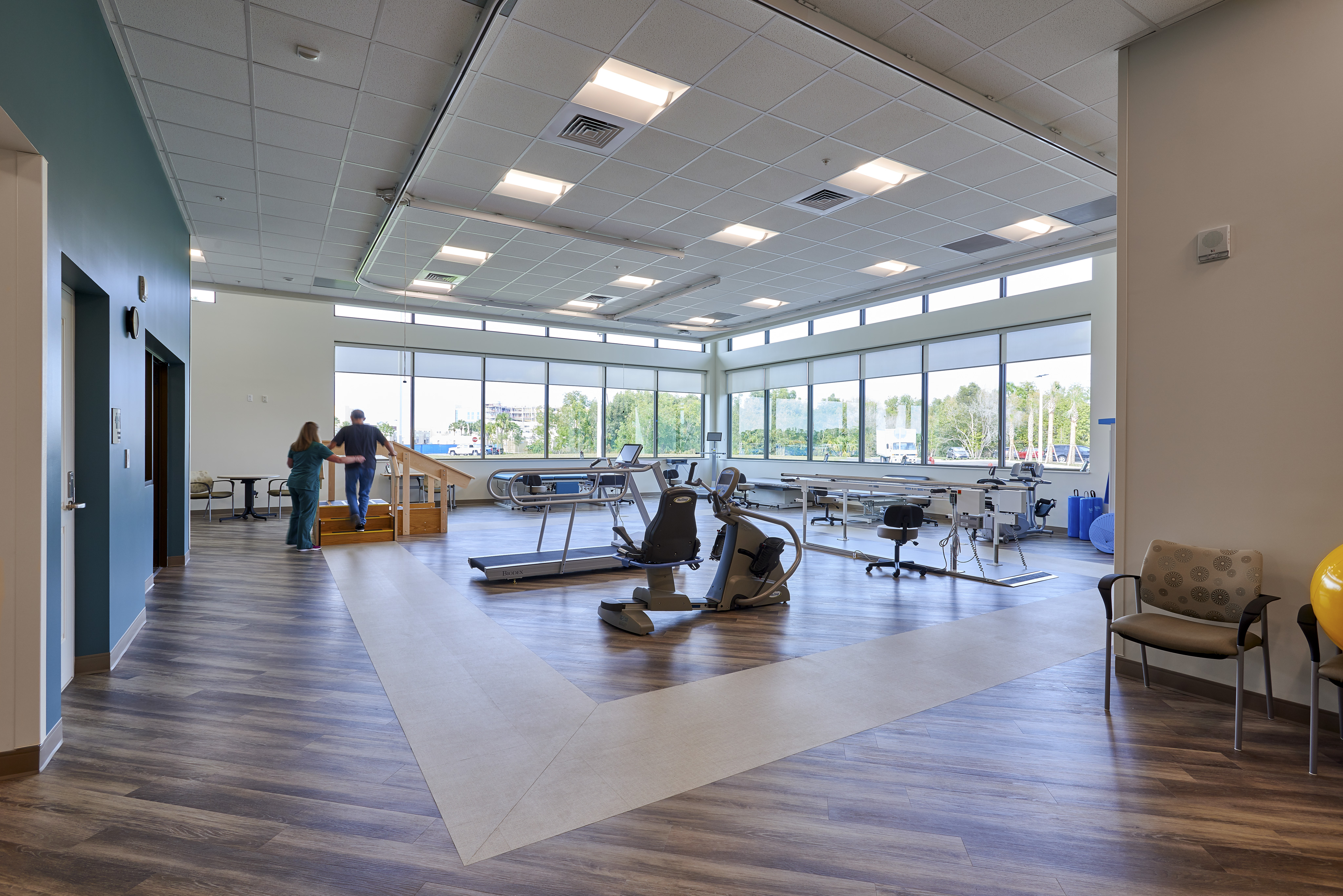 Stuart Gobey, Island Studio Productions
A 3,000-square-foot physical therapy gym with state-of-the-art technology and equipment promotes healing and recovery.
---
Lee Health opened the Gulf Coast Medical Center Skilled Nursing Unit in Fort Myers, Fla., in January 2019 to provide post-acute services for patients needing short-term medical recovery and rehabilitation as part of its care continuum. The three-story, 75-bed facility was constructed by Stevens Construction (Fort Myers) and designed by Studio+ (Fort Myers).
Each floor features an open concept living room, kitchen, nurse station, and 25 private patient beds with convenient access to the occupational and physical therapy rooms. One of the main design objectives was to provide flexibility, with patient rooms designed to accommodate rehabilitation, skilled nursing, and senior care patients. The facility's 3,000-square-foot therapy gym incorporates the latest in technology and equipment that can eventually serve patients needing outpatient care.
With its close proximity to Gulf Coast Medical Center, the skilled nursing unit has emergency access to the hospital and shares resources with the facility to reduce the cost of care. For example, food is delivered from the hospital each day and prepared via the skilled nursing unit's warming kitchen.
Inspired by the surrounding landscape including nearby driftwood sculptures, the interior finishes and furniture selection include washed woods to bring warmth and texture, blue and white colors that mimic the Gulf and ocean waters, and homelike furnishings that bring calmness into the space.
Project Details:
Facility Name: Gulf Coast Medical Center Skilled Nursing Unit
Location: Fort Myers, Fla.
Completion Date: January 2019
Owner: Lee Health
Total Building Area: 57,000 sq. ft.
Total Construction Cost: N/A
Cost/SF: N/A
Architecture Firm: Studio+
Interior Design: Studio+
Construction Manager: Stevens Construction, Inc.
Engineering: Morris Depew (civil engineer), JALRW Engineering Group, Inc. (HVAC, electrical , and plumbing engineer)