City of Hope Converts Office Building To Cancer Clinic
---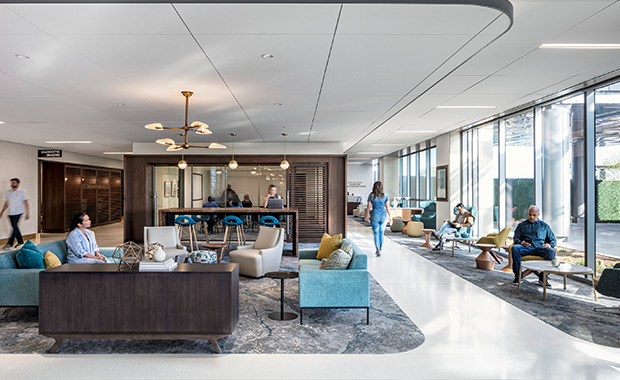 Magda Biernat
City of Hope Orange County Lennar Foundation Cancer Center: Modern bronze light fixtures and colorful furniture, with layouts and materials informed by feng shui design principles, bring an upscale hospitality aesthetic to the main lobby at City of Hope Orange County Lennar Foundation Cancer Center. Wood slats cover care-team facing doors to let in natural light while keeping staff and patients visually connected.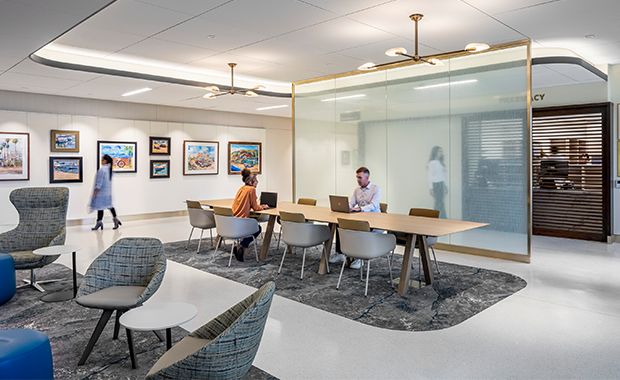 Magda Biernat
City of Hope Orange County Lennar Foundation Cancer Center: A frosted glass screen provides privacy for patients by separating the retail pharmacy from nearby seating areas, which are flanked by rotating collections of work by local artists.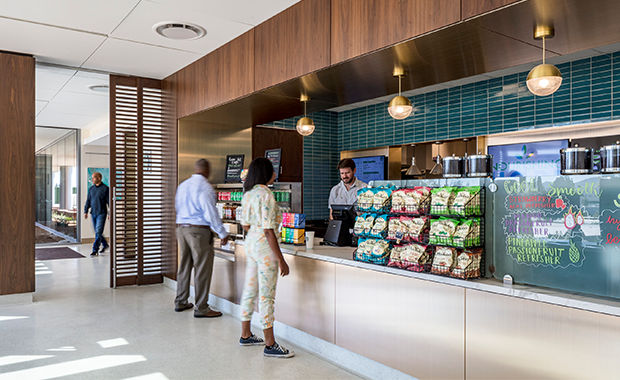 Magda Biernat
City of Hope Orange County Lennar Foundation Cancer Center: Located along the main corridor on the ground level, the Hope Café is easily accessible to serve patients from either the cancer center or the neighboring specialty hospital, expected to open in 2025. A storefront entrance opens into the landscaped park that surrounds the building, providing outdoor dining options, too.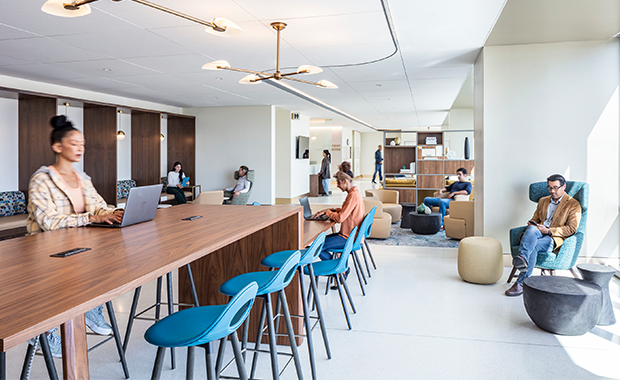 Magda Biernat
City of Hope Orange County Lennar Foundation Cancer Center: A variety of furniture styles, colors, and materials liven up the waiting areas.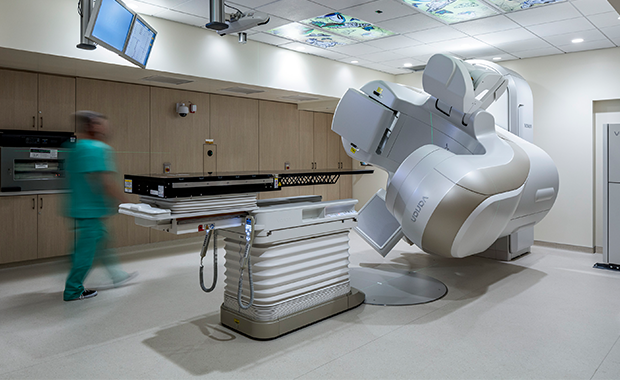 Magda Biernat
City of Hope Orange County Lennar Foundation Cancer Center: Colorful artwork on the ceilings above MRI and CT scanners adds visual interest for patients lying on their backs during imaging exams.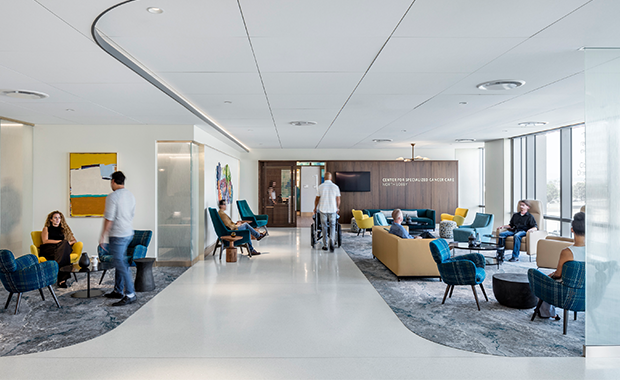 Magda Biernat
City of Hope Orange County Lennar Foundation Cancer Center: Waiting areas are oriented along the edge of the building on each floor to provide access to natural light. Bright colors and bold patterns on the furniture infuse uplifting energy into the space, while upscale finishes create a sense of hotel-like luxury.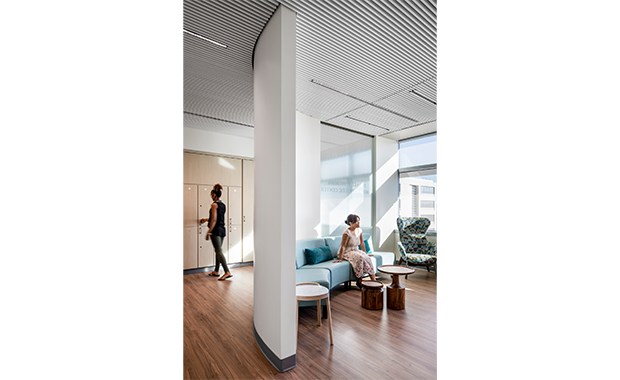 Magda Biernat
City of Hope Orange County Lennar Foundation Cancer Center: A dedicated breast cancer suite provides patient lockers, changing rooms, and a private waiting room to support patients' privacy and comfort.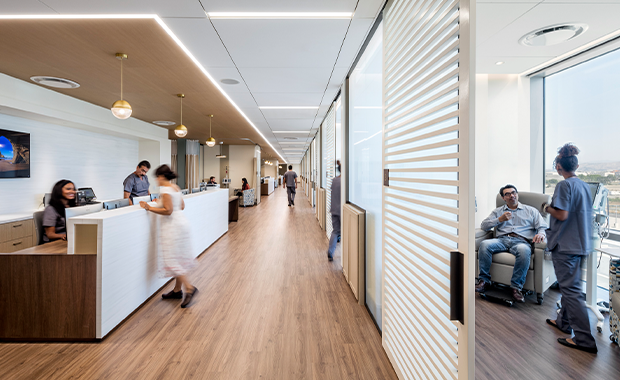 Magda Biernat
City of Hope Orange County Lennar Foundation Cancer Center: Infusion bays are placed along the north-facing windows on the top floor, offering patients the building's best views of the Saddleback Mountains while they undergo infusion treatments that can last up to eight hours.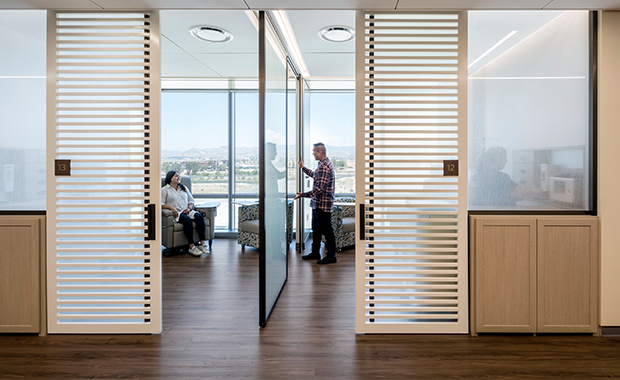 Magda Biernat
City of Hope Orange County Lennar Foundation Cancer Center: Frosted glass partitions and slatted wood doors offer some privacy to patients in infusion bays, while maintaining visibility from the nurses' stations.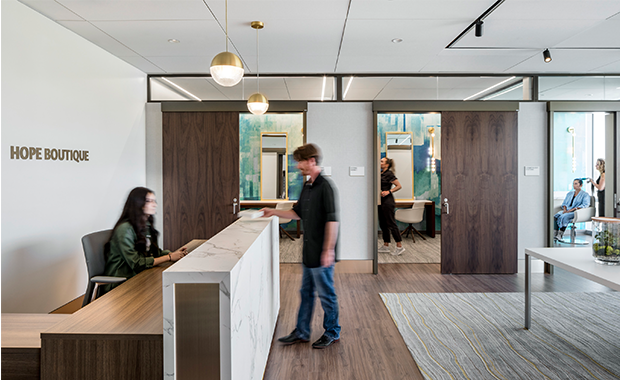 Magda Biernat
City of Hope Orange County Lennar Foundation Cancer Center: At the Hope Boutique, a licensed oncology-trained cosmetologist works with patients to provide specialized salon services like complimentary head shaving, customized fittings for wigs or breast prostheses, and retail products including hats, scarves, and non-toxic personal care items.
---
City of Hope Orange County Lennar Foundation Cancer Center
City of Hope's main campus in Duarte, Calif., near Los Angeles, has expanded significantly since it opened there in 1913, growing into one of the largest cancer research and treatment organizations in the U.S.
But patients in Orange County, Calif., about 50 miles south of the flagship treatment center, were commuting at least an hour each way (sometimes two, depending on traffic). To address this, the organization wanted to bring cancer care closer to Orange County's 3.2 million residents and better serve that growing segment of its patient population.
So it set out to build a new centrally located outpatient cancer center in Irvine, Calif., one of the largest and fastest-growing cities in the county.
City of Hope identified an existing four-story commercial office building as the ideal site for the project. Then it hired architecture firm ZGF (Los Angeles) for master planning and design.
"Converting an office building into a cancer treatment center comes with its own challenges," says James Woolum, partner at ZGF and lead interior designer for the project. "Office buildings are not generally built with the floor-to-floor height that we need for medical equipment."
Situated on 11 acres in Irvine's FivePoint Gateway Campus office park, the project also needed to connect to an adjacent specialty inpatient cancer hospital that City of Hope is constructing next door, scheduled to open in 2025.
In addition to the existing challenges of a building conversion, the project team also had to plan future connections and adjacencies with the neighboring specialty hospital. So the design team pulled inspiration from the surrounding landscape and hospitality environments to create a calming space for healing and hope.
Guided by this vision, the City of Hope Orange County Lennar Foundation Cancer Center opened in Irvine in August 2022.
Converting cubicles into clinics
Spanning 188,000 square feet, the four-level outpatient clinic was designed to deliver comprehensive lifesaving treatments. Services range from screening and diagnosis to radiation oncology and infusion therapy, in one convenient location.
"This clinic has all the program components you'd normally see in a hospital," says Janet Pangman, principal at ZGF and lead medical planner for the project. "That put more pressure on the existing office building than you typically see in a renovation like this."
One of the biggest challenges was fitting huge, heavy medical equipment into spaces designed to hold cubicles and computers. The operating rooms (ORs) in the second-floor ambulatory surgery center posed the biggest height hurdles.
"ORs have a lot of complexity above the ceiling, including all the supports for booms, lights, and mechanical components," Pangman explains. "To compress that down, we utilized a modular, integrated system that was prefabricated. It includes all the necessary equipment supports, laminar airflow devices, and lighting, to fit everything above the ceiling like a Swiss army knife."
Adding building structural supports
The original office structure was not designed to support the weight or vibration of medical equipment, either. Overcoming this constraint required upgrades of additional structural beams added to every floor to mitigate vibrations.
Diagnostic imaging and radiation oncology are oriented on the ground floor to support the heaviest equipment, like MRI scanners. Lighter-weight imaging equipment, like PET-CT and SPECT-CT scanners, is located in the nuclear medicine department on the second floor. Here, tube steel columns were added to support the additional weight of the equipment.
Additionally, the hybrid interventional radiology OR houses heavy scanners and complex surgical equipment. To accommodate the equipment, the design team filled in an existing open stair that connected the first and second floors to build the slab to spec.
"The stairs took up a lot of valuable square footage on both floors that City of Hope needed for patient care space," Pangman says. "We had to fill that hole in anyway, so by locating the hybrid interventional suite there, we could build the structural requirements we needed."
Seamless integration between cancer clinic and hospital
City of Hope engaged ZGF for campus-wide master planning. This included design of the cancer center in addition to programming and partial design development bridging documents for the adjacent hospital. Then another design-build team took over while ZGF focused on the clinic.
Planning the facilities simultaneously ensured seamless integration allowing the hospital and cancer center to connect at every level. This set up would also optimize staff efficiencies while creating a smooth experience for patients.
"A lot of the services in the cancer center support the hospital, so it requires connectivity between the buildings," Pangman says. "We had to look at the patient flow to put those connections and adjacencies where they needed to be."
For example, the ambulatory surgery center on the second floor of the outpatient cancer building sits directly next to the future hospital's inpatient surgery department. The layout allows surgical staff to easily cross between facilities.
Additionally, many of the support services typically found in hospitals—such as the pharmacy, imaging department, and automated clinical lab—were redistributed to the cancer center and sized to support both buildings.
On the upper floors, carefully planned connections between buildings allow private patient transport through a back-of-house corridor.
"We had to add a gurney-sized elevator with access to each floor of the outpatient cancer center," Pangman says, "so patients can come straight from the hospital and drop into diagnostic imaging without going through any public corridors or lobbies."
Meanwhile, public-facing services are located along the main corridor on the first floor of the cancer center. This set-up enables patients from both facilities to easily access the retail pharmacy, Hope Café, and a patient and family resource center, which offers support programs for care navigation, survivorship, counseling, and more.
Bringing the outdoors into the cancer clinic
One of the core design principles, Woolum says, was "using the building to its best advantage." Harnessing views, natural light, and other elements were among the strategies to create a calming, healing space for cancer patients.
Surrounded by park-like landscaping with views of Saddleback Mountain, the cancer center's Orange County location offered plenty of inspiration from nature. Additionally, the existing building already had floor-to-ceiling windows to capture the scenic views while letting in natural light.
ZGF strategically placed infusion bays along the north-facing windows on the top floor. This offers the best views to patients who'd be coming several times a week, if not daily, to receive infusion treatments, which can last several hours each.
Frosted glass partitions and slatted wood doors enclose each infusion bay. The design features offer some privacy while maintaining a clear line of sight from the nurses' stations located in the interior of the floorplate.
Interior design strategy for cancer care
The site's natural elements also inspired the color palettes and finishes inside the cancer center. Soothing blues and earthy tones from the surrounding landscape offer connections to nature. They also serve as color-coded wayfinding cues to help patients navigate the building.
"Different areas of the building were zoned for different materials and natural elements native to the region, and we tied our color palette into that," Pangman says.
At City of Hope's request, ZGF also consulted with a feng shui expert to incorporate the ancient Chinese practice of arranging elements to achieve a balanced, harmonious flow. Because nearly one-fourth of Orange County's residents are of Asian heritage, according to census estimates, City of Hope thought the methodology would resonate culturally with the community.
The feng shui consultant helped guide the selection of colors and materials—recommending aquatic shades and textures to exude calmness and tranquility. Another idea, earth-inspired elements, appear in walnut paneling, bronze fixtures, and marble reception desks, to ground the space with strength and stability.
The ultimate goal was to "make sure the interior architecture and design choices reinforce that connection to nature," Woolum says.
Patient-centered interior design
Knowing that patients would frequent the cancer center during treatment, ZGF aimed to make the environment as comfortable as possible. "We wanted this to feel more like a hospitality environment or a high-end hotel and less like an institutional environment," Woolum says.
In public areas, upscale lighting fixtures and locally curated artwork accentuate the hospitality vibe. Furthermore, bright colors and bold patterns add uplifting energy, creating a comfortable, modern environment.
Waiting areas feature a range of seating options, from plush couches and comfy armchairs to functional co-working spaces, to provide options for families and patients during their visits.
"When patients are coming to a treatment facility that often, it's important to have different spaces to break up the monotony of having to go to the same place every day," Pangman says. "So many of their choices are restricted, so having even the smallest choice of sitting here or there is really important."
That attention to detail extends into the private clinical spaces, as well, Woolum says. From exam rooms to infusion bays, "We paid tons of attention to the materiality, the views, and the choice of light fixtures," he says. "Even in post-anesthesia recovery spaces where patients might be lying on their backs, we wanted the ceilings to be really beautiful."
To that end, the wood-paneled ceilings in the units were carefully designed with simple lighting fixtures to reduce glare. Similarly, ceilings above the MRI and CT scanners feature colorful artwork to add visual interest for patients.
"That level of care across the entire spectrum of the patient experience was very important to City of Hope," Woolum says. "These design details are what set this facility apart."
Brooke Bilyj is a freelance writer and owner of Bantamedia in Cleveland. She can be reached at brooke@bantamedia.com.
Project details for City of Hope Orange County Lennar Foundation Cancer Center
Project location: Irvine, Calif.
Project completion date: August 2022
Owner: City of Hope
Total building area: 188,000 sq. ft.
Total construction cost: Confidential
Cost/sq. ft.: Confidential
Interior design: ZGF
General contractor: Hensel Phelps
Art consultant: Modern Art Services
Art/pictures: Modern Art Services
AV equipment/electronics/software: Mazzetti
Carpet/flooring: Shaw , Corradini Terrazzo, Mats Inc., Nora
Ceiling Systems: CertainTeed, Pure + Freeform
Wall systems: Allsteel
Doors/locks/hardware: Allegion
Fabric/textiles: Designtex, CF Stinson, Maharam
Furniture—seating/casegoods: Allsteel, OFS, Davis, Memo, Allermuir, Arcadia, Coalesse, Andreu World, Geiger
Handrails/wall guards: C/S Group, Inpro
Headwalls: Amico
Decorative Lighting: Lee Broom, Lindsey Adelman, Rich Brilliant Willing, Louis Poulsen
Signage/wayfinding: Altitude Design Office
Solid Surface:  Cosentino Dekton, Durasein, Okite, Corian
Wallcoverings: Knoll, Gravity Digital Walls, LBI Boyd, MDC, Innovations, Wolf Gordon
Glass: Glaspro, Goldray
Markerboard: Clarus
Metal: Chemetal
Paint: Dunn Edwards
Laminate: Nevamar
Tile: Fireclay Tile, Daltile
Window Treatment: Mechoshade
Project details are provided by the design team and not vetted by Healthcare Design.