Online Focus: Cancer Care
---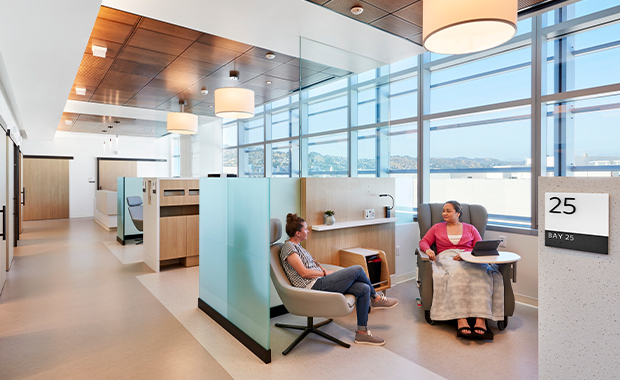 Kim Rodgers
At the Samuel Oschin Cancer Center at Cedars-Sinai in Los Angeles, each private infusion bay is surrounded by partial height walls and includes comfortable seating, individual light fixtures, thermostat control, storage for incidentals, shelving, and shoji screens for privacy.
---
Strategies to deliver cancer care are focused on providing more comprehensive services under one roof, inspiring new layouts and approaches to treatment spaces to streamline diagnosis and treatment services. There's also increased attention being paid to materials selection, biophilic strategies, and access to the outdoors to further support patients as well as the staff members and family members supporting the patient in their care journey. Below, find recent coverage of cancer center projects and planning and design strategies. For more, explore under the Cancer Care Projects section of the HCDmagazine.com website.
Better Use: The David H. Koch Center For Cancer Care At Memorial Sloan Kettering
The David H. Koch Center for Cancer Care at Memorial Sloan Kettering Cancer Center in Manhattan has innovated the patient, caregiver, and staff experience via design.
Improving The Cancer Care Journey
Understanding a patient's experience of care is the first step in designing a better facility.
FIRST LOOK: Rutgers Cancer Institute Of New Jersey Cancer Pavilion
The 510,000-square-foot cancer treatment and research facility will expand service offerings to people living in New Jersey, a state with one of the highest rates of cancer in the country.
PHOTO TOUR: Samuel Oschin Cancer Center At Cedars-Sinai
The relocation and expansion of the cancer center was guided by a goal to create a soothing setting that establishes a sense of community for patients.
While the idea of building a new hospital might be alluring, modernizing an existing facility can be a smarter, more cost-effective option.
PHOTO TOUR: Solinsky Center for Cancer Care
The 22,000-square-foot facility offers a soothing environment that consolidates Elliot Health System's cancer services.
PHOTO TOUR: Providence Newberg Medical Plaza
The three-story, 64,000-square-foot clinic maintains yet modernizes the Providence Health & Services brand.
2020 Showcase Award Of Merit: Trend Setter
The David H. Koch Center for Cancer Care at Memorial Sloan Kettering Cancer Center integrates empathy-driven design and technology to deliver the future of comprehensive cancer care.
Healthcare Design showcases recent cancer care projects that have redefined layouts and treatment spaces that support the concept of providing more comprehensive services under one roof.
A nine-year collaboration between Memorial Sloan Kettering's Suzen Heeley and EwingCole's Mary Frazier has challenged traditional healthcare solutions to deliver transcendent cancer center design.
Fuel For Change At Inova Schar Cancer Institute
Inova Fairfax Hospital turned a fortuitous real estate opportunity into a chance to transform its cancer services into a holistic model of multidisciplinary care.
Great Minds In Product Design: Di Anna Borders
Healthcare Design interviewed four leading product designers who shed light on the healthcare challenges they're working to solve and the inspiration that guides them. Here, Di Anna Borders from Mohawk Group shares her story.