Designing For Pediatric Patients With Complex Conditions
---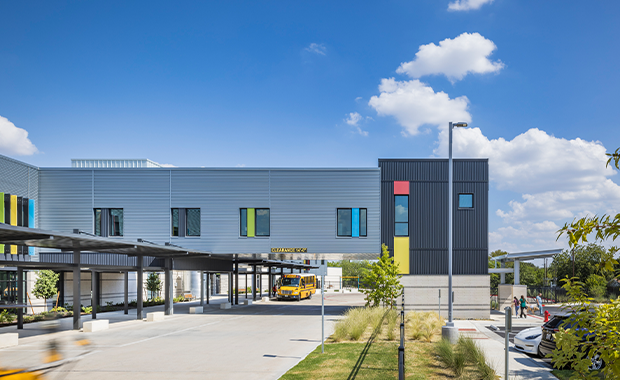 Albert Vecerka
Dell Children's Comprehensive Care Clinic: The second-floor clinic extends over a school bus loop to create an entrance tower that's separated from the Rosedale School building. It also has its own designated parking area.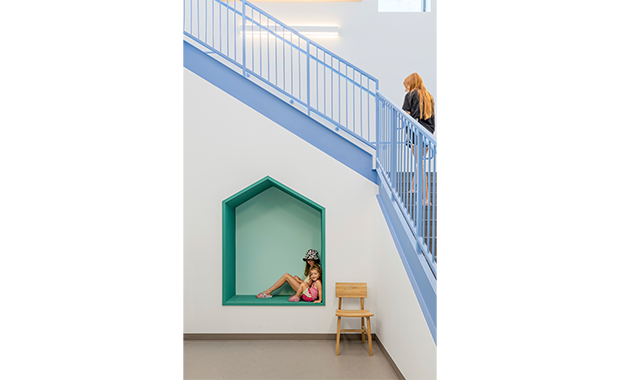 Raymond Castro
Dell Children's Comprehensive Care Clinic: A house-shaped nook underneath the main stairway adds a playful touch to the clinic's entrance.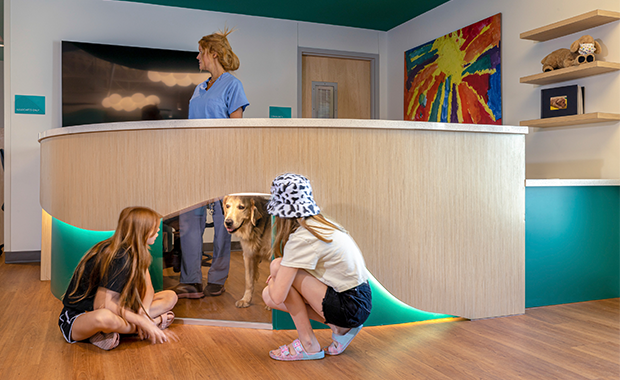 Raymond Castro
Dell Children's Comprehensive Care Clinic: A window underneath the child life specialist's desk keeps Solo, the clinic's therapy dog, visible from the waiting room but not physically accessible to children.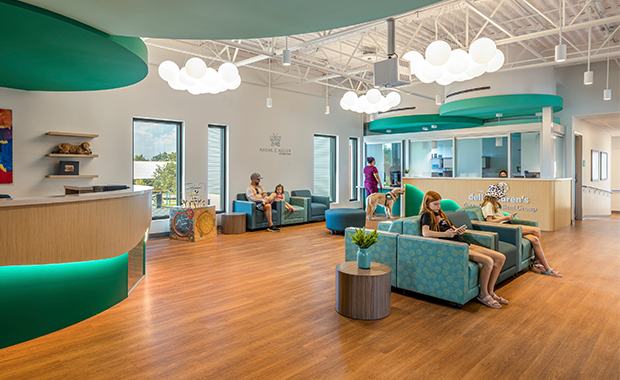 Raymond Castro
Dell Children's Comprehensive Care Clinic: Clusters of globe-shaped lights resembling clouds hang over the main waiting room, while large green circles above the reception desks simulate tree canopies.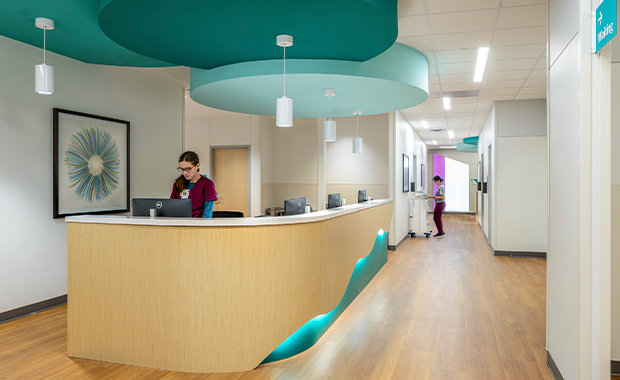 Raymond Castro
Dell Children's Comprehensive Care Clinic: A custom LED lightbox at the end of this corridor brightens the windowless hallway.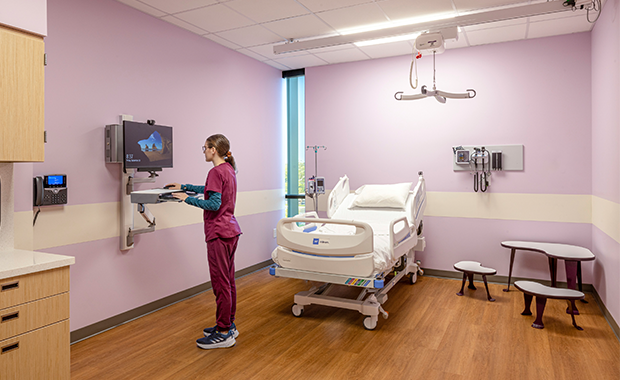 Raymond Castro
Dell Children's Comprehensive Care Clinic: Exam rooms are sized to accommodate up to 10 people, including families, caregivers, and clinicians, as well as specialized equipment and assistive devices.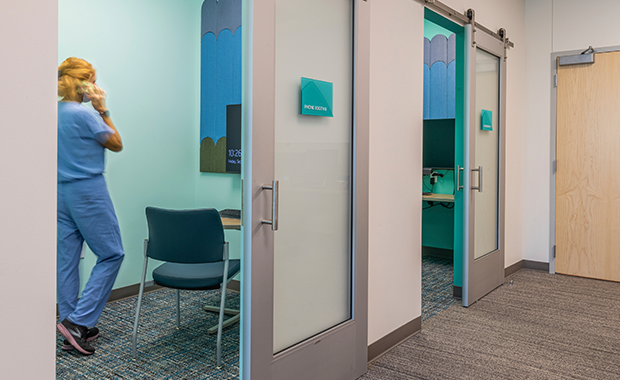 Raymond Castro
Dell Children's Comprehensive Care Clinic: Breakout offices along the edge of a shared staff workroom provide a private space to make calls or do telehealth visits.
---
Dell Children's Comprehensive Care Clinic, Texas
Dell Children's Comprehensive Care Clinic in Austin, Texas, serves a unique population of children with chronic medical conditions, severe disabilities, and special needs. These young patients require frequent and extensive care for complex conditions like cerebral palsy, autism, and physical disabilities; many also rely on assistive medical devices such as wheelchairs, wheelchair strollers, feeding tubes, and ventilators.
Parents, caregivers, family members, and private duty nurses often accompany these children to clinic appointments. These visits typically last several hours as families meet with multidisciplinary teams consisting of primary care providers, dieticians, social workers, and nurse navigators who help coordinate care.
For five years, the clinic operated in a leased storefront in Austin. However, the facility's small exam rooms couldn't comfortably accommodate all the specialized equipment, people, and providers involved in each child's care—adding extra strain to stressful appointments.
A fortunate opportunity with Rosedale School, part of the Austin Independent School District (AISD), provided a solution to the clinic's needs.
A healthcare/school partnership
In 2017, the school district launched a bond program to finance the construction of a new Rosedale School to replace its outdated facility from the 1930s.
Seeking local partnerships that could strengthen the school's connection to the special needs community, the district turned to Dell Children's Comprehensive Care Clinic, which already served approximately 25 percent of Rosedale's students.
Prompted by parents of children served by both facilities, AISD expanded its bond program to fund additional space at the new school for Dell Children's Medical Center, part of Ascension Medical Group, to move its clinic there. The project would bring healthcare and education together in one building specifically designed to meet the special needs of these children.
The district engaged Page (Austin), a full-service design, architecture, and engineering firm, to design the 78,000-square-foot school building and the 18,000-square-foot clinic, which features 11 exam rooms, three consultation rooms, a procedure room, infusion room, and neuropsychology testing room.
"Even though the clinic and the school had to have more specialized accommodations than you'd have in a standard medical or educational facility, they didn't want it to feel overtly institutional," says Chad Johnson, associate principal at Page and director of its PK-12 academic sector.
As the father of a Rosedale student who's also a patient at the clinic, Johnson understood that visits to the clinic were often extensive and stressful. "We had to create a vision for a totally different type of clinic than this community had experienced before to deliver collaborative, wraparound care."
The goal of the clinic, which opened in August 2022, was to create a spacious, fun facility that felt warm and welcoming instead of cold and clinical. "There's so much medical involvement in these children's lives," says Kendall Sharp, practice administrator at Dell Children's Comprehensive Care Clinic, "so we were very intentional in trying to de-medicalize this space."
Designing clinic connections
In addition to serving the students at Rosedale School, the pediatric clinic provides medical services to children from the greater community. When designing the space, Page had to consider where children were coming from—providing convenient "back-door" access for students inside the building while also maintaining a separate, secure entry for families coming from outside the school.
Designated parking lots prevent confusion upon arrival, with traffic entering from different roads to access each destination. The second-floor clinic juts out over the bus drop-off behind the school, creating a skybridge that extends the clinic's entrance tower away from the rest of the building.
Taking advantage of the clinic's elevation and surrounding treescape, the design team created a treehouse theme that uses nature-inspired colors and finishes to bring the outdoors in. Many of the clinic's patients with disabilities "likely don't get to really connect with the great spaces of Austin as much as they'd like," Johnson says, "so we wanted to incorporate that into the building by creating connections to nature."
This theme starts in the stairway, with a playful house-shaped nook cut into the wall underneath the stairs and a gabled ceiling covered in sky-blue slats that provide acoustic baffling. Local art installations featuring nature scenes welcome patients as they enter the clinic's waiting room, where calming blues and greens reinforce the connection to nature.
The treehouse concept continues in the waiting area with architectural details designed to mimic treetop views. Clusters of globe-shaped lights resemble clouds, and large green circles above the reception desks simulate tree canopies, says Natale Stephens, associate principal and health planner at Page.
These canopies hang over every nurses' station and reception desk throughout the clinic, establishing "landmarks that help with wayfinding," she says.
The fronts of the reception desks feature curved cutouts, revealing underlit green accents that imitate rolling hills. These details provide visual interest at children's eye level and offer a creative solution for housing the clinic's therapy dog, Solo, "where he can be visible from the waiting room through a window under the desk, but not physically accessible to the kids," Stephens says.
Designing waiting spaces for different patient populations
To accommodate different types of clinic visits as well as the diverse patient population—including children who have neurocognitive challenges that make sitting in a busy waiting room difficult—the project team designed multiple waiting experiences near the clinic entrance.
These include a main, open waiting area and a separate, enclosed waiting room for sick children. A third waiting space provides sensory distractions like interactive audio-visual projections, textured wallcoverings, and cabinet doors covered in millwork mazes for fidgety fingers to trace.
"We tried to outfit the clinic with lots of sensory experiences, interactive art, and toys, so even if a child has a visual or hearing impairment, they can have tactile things to interact with," Sharp says.
The design team also incorporated sensory equipment in the sick waiting room and other areas throughout the clinic to keep patients and their siblings occupied.
"The children are calmer because the level of sensory exposure is calibrated to what they need," says Dr. Rahel Berhane, medical director at Dell Children's Comprehensive Care Clinic. "Parents are more relaxed as a result, and the conversations are less stressful."
Collaborative clinical and staff spaces
Compared to the dark, cramped facility that previously housed the clinic, the new location is open, spacious, and bright—even where natural light is limited. To light up the interior corridor leading to the exam rooms, for example, Page installed a custom lightbox at the end of the hall, with a gabled crest to echo the treehouse theme.
To brighten the exam rooms—several of which have small windows or no windows at all—the designers used soothing pastel colors on the walls and artwork depicting nature scenes. "We wanted to make the clinic as bright and spacious as we could, especially compared to their previous environment," Page's Stephens says.
Additionally, the patient-facing rooms are sized to accommodate up to 10 people—providing plenty of space for all the family members and caregivers accompanying each patient as well as any assistive devices they bring.
With a team of about 50 employees, including 20 nurse navigators, Dell Children's Comprehensive Care Clinic used the much-needed expansion to introduce a new comprehensive care model. This is in the clinical spaces as well as the back-of-house offices.
The clinic only serves patients with at least three complex medical conditions, so "the level of care these children need requires that the whole team be on the same page," Sharp says. "The providers were determined to not have separate enclosed spaces because there's so much sharing of knowledge involved in the of care of these children."
Instead of individual offices, primary care providers share one large, open workspace where they can easily work in teams. Additionally, nurse navigators share another. Small breakout rooms called "telephone booths" provide space for private virtual visits.
"By sharing office space, the sharing of knowledge happens organically," Sharp says, "so all of the providers know what's happening with these kids."
The new space enables collaborative care coordination from multidisciplinary teams of specialists in a fun environment designed around the clinic's unique approach to comprehensive care. By partnering with the surrounding school to serve this special population, the clinic is embarking on a synergistic new model that other organizations might replicate to optimize complex care.
"Often, people have to change the workflow to fit the space they lease, but this space was custom designed to allow us to work efficiently," Berhane says. "Part of the therapeutic relationship is defined by how the space feels, and this space is designed to make people feel comfortable. That improves the whole experience."
Feeling welcome
From playful treehouse details and sensory distractions in the waiting area to more spacious exam rooms and collaborative workstations, the new clinic is designed around the unique needs of the children it serves. When families visit the facility now, Johnson says, they finally feel at home.
"Although many frustrations come along with the extensive care that brings them to the clinic, they feel welcomed, like they've been thought of carefully," he says. "They already felt that care from the physicians, but now the facility is reflective of that care, too."
Brooke Bilyj is a freelance writer and owner of Bantamedia in Cleveland. She can be reached at brooke@bantamedia.com.
Project details for Dell Children's Comprehensive Care Clinic
Project location: Austin, Texas
Completion date: August 2022
Owner: Dell Children's Medical Center, part of Ascension Medical Group
Total building area: 17,000 sq. ft.
Total construction cost: $4.5 million
Cost/sq. ft.: N/A
Architecture: Page
Interior design: Page
General contractor: Rogers O'Brien
Engineering: Page
Project details are provided by the design team and not vetted by Healthcare Design.