PHOTO TOUR: Rancho Los Amigos National Rehabilitation Center Support Services Building
---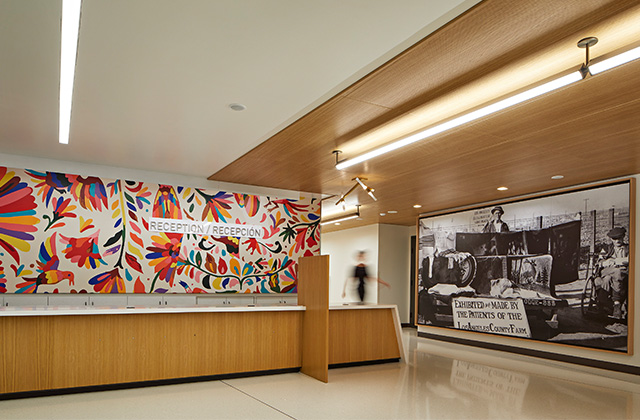 eszter+david
The two-story, 67,000-square-foot project is driven by the idea of "tapestry as a metaphor," with weaving-inspired design elements used throughout.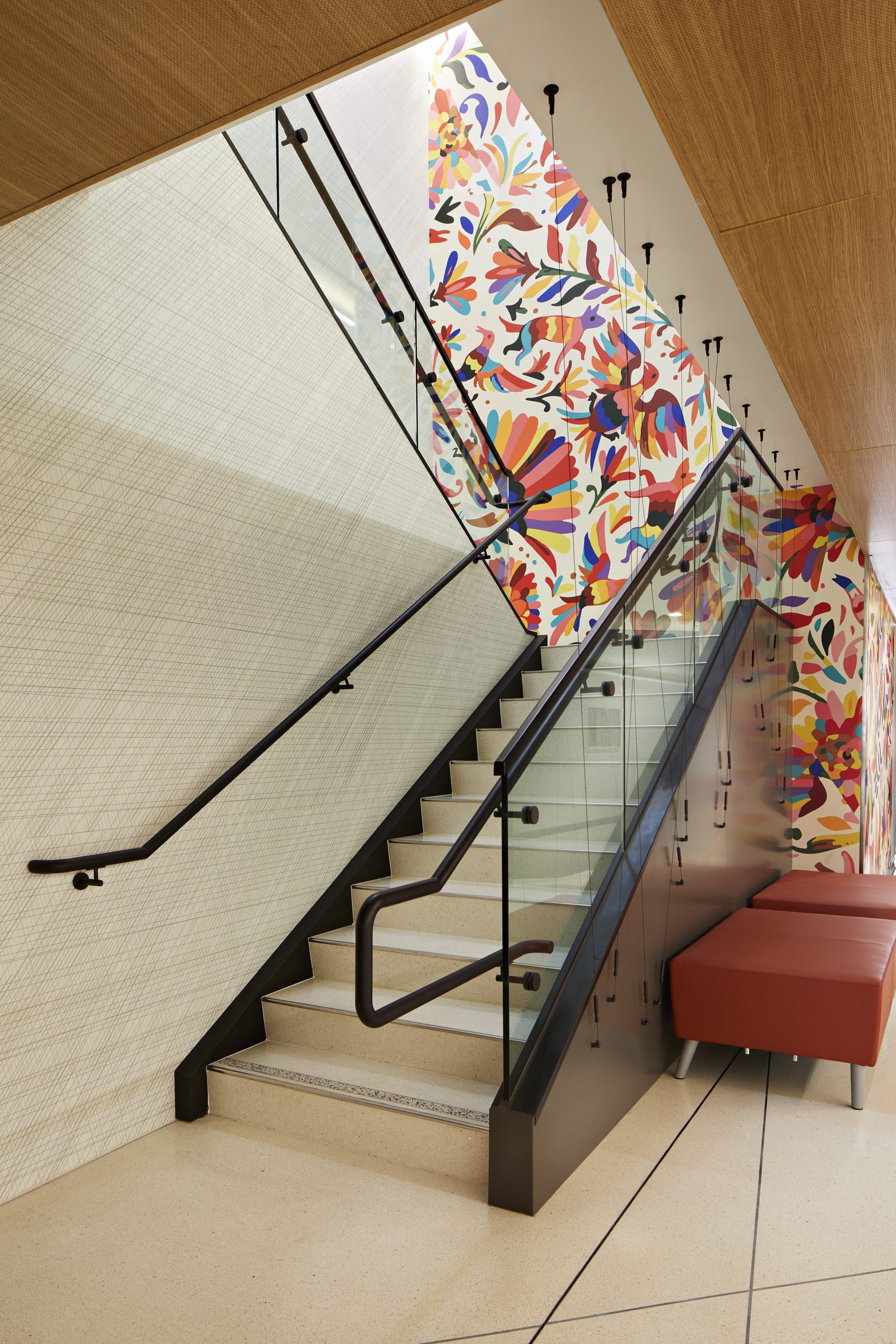 eszter+david
The design draws inspiration from the stitching of artisanal tapestries and the deconstruction of textile art. The staircase's façade, detailed with threaded cabling and expansive graphics influenced by woven Otomi tapestry artwork, rise vertically to connect the two-story space. The stair's solid enclosure was removed, exposing the stair to the surrounding corridor. With solar tubes incorporated above, natural light permeates through the new opening into the building's core.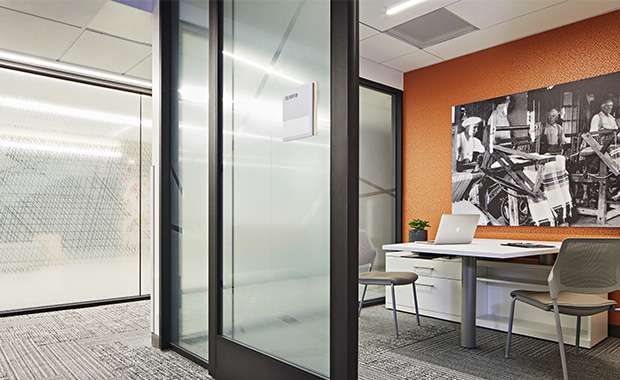 eszter+david
Shared consultation rooms express looser threaded patterns in the frosted glazing, further reinforcing the threaded pattern in public spaces, while the floor's carpeting blankets the space in a textural patchwork. Patchwork carpeting continues throughout office spaces.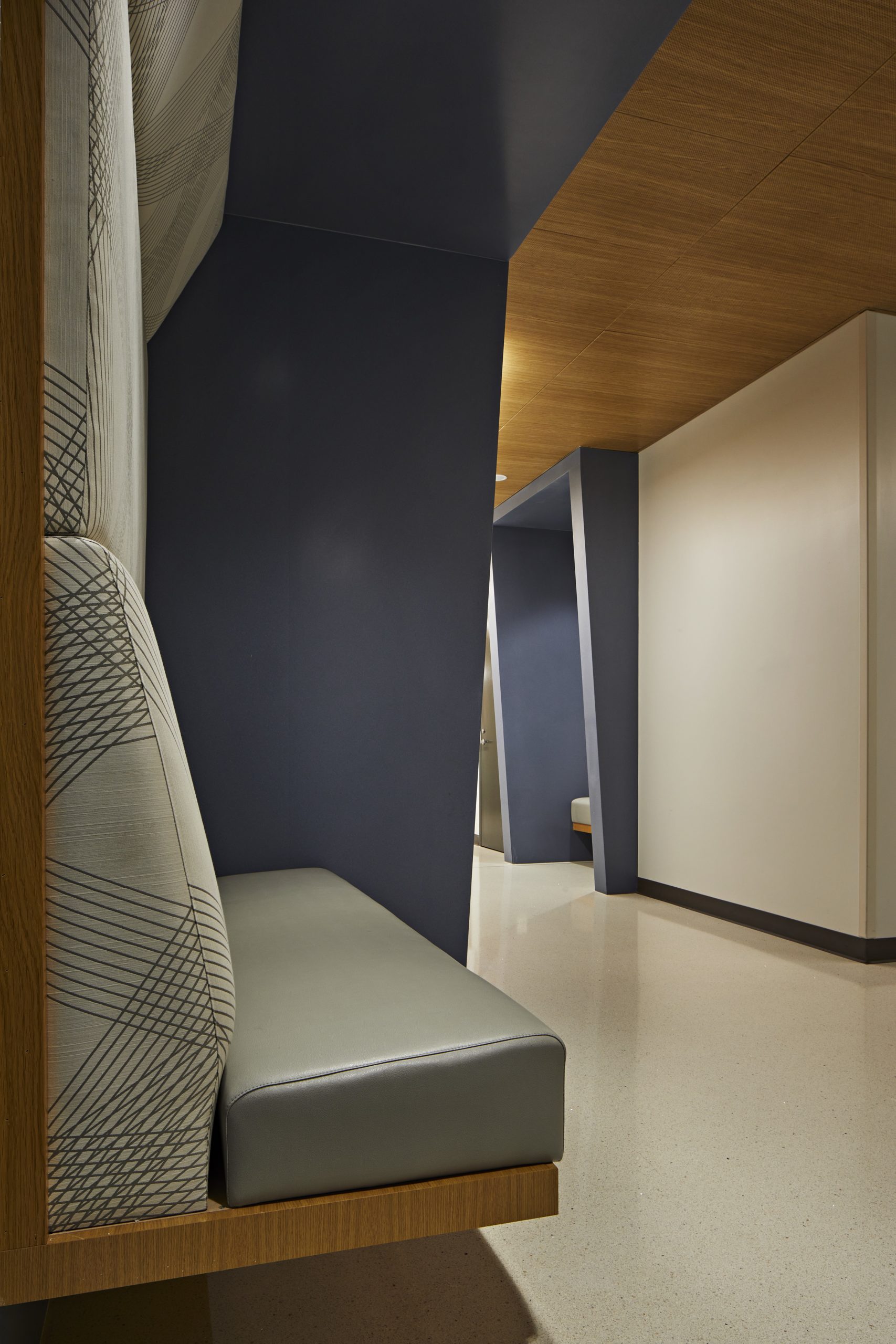 eszter+david
Built-in niche seating throughout the public corridors offers semi-private alcoves of respite for staff. Threaded upholstery patterns signify the warp and weft language of weaving, again reinforcing the facility's rich history of artisanal weaving as occupational therapy.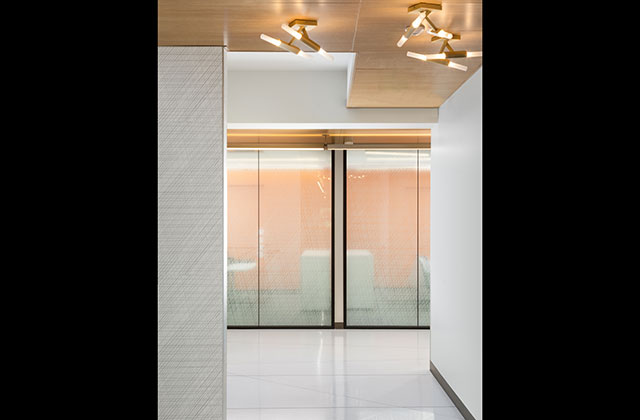 Property Media Services
Through glazing, weaving "threads" are expressed with negative space, offering the needed privacy to shared conference areas. Lighting forms, inspired by the shuttle-tool used in loom weaving, enhance main points of interest.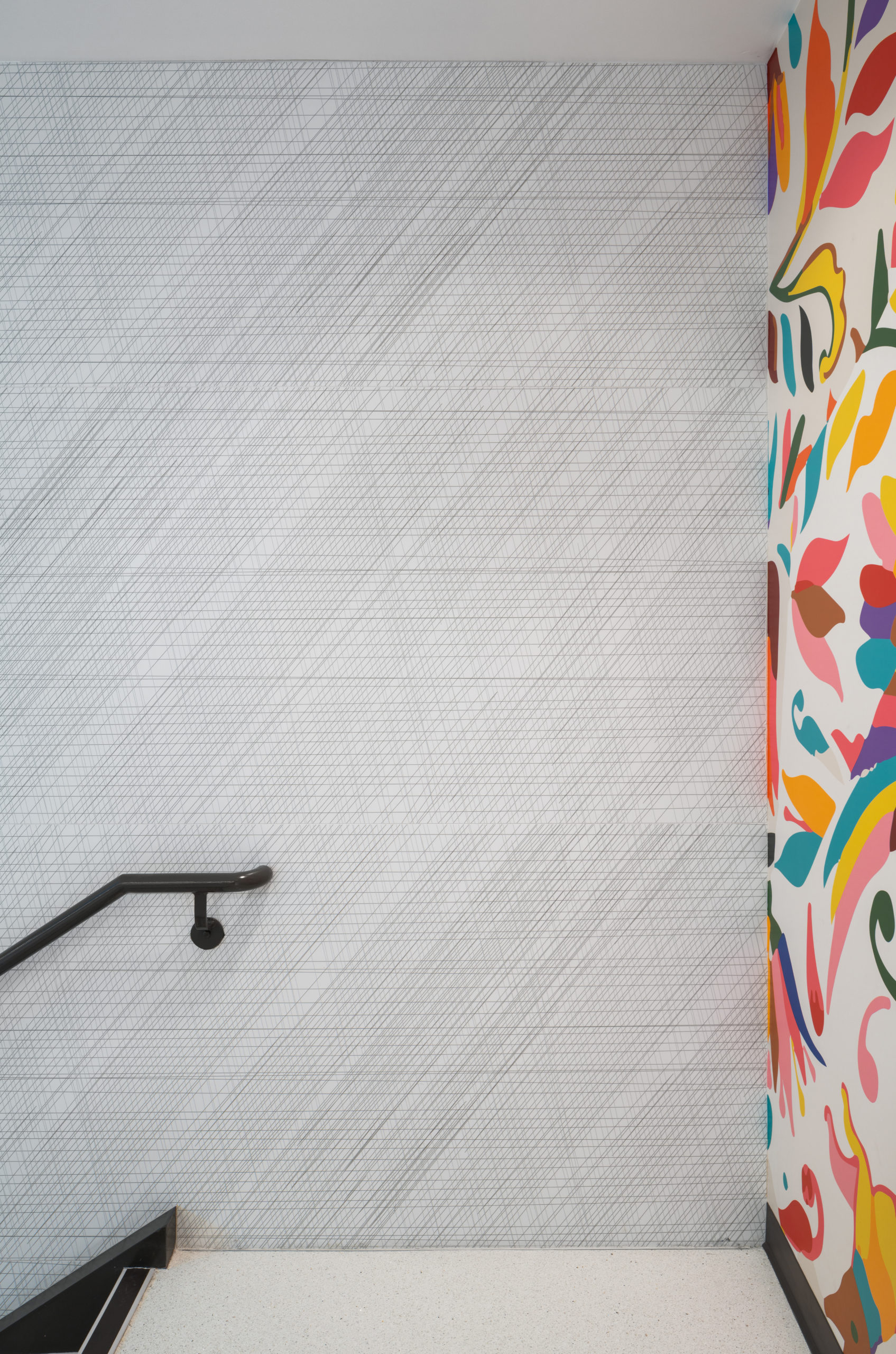 eszter+david
Large-format ceramic tile converge with a bold graphic, symbolizing the intermingling of neighborhood communities and Rancho Los Amigos National Rehabilitation Center.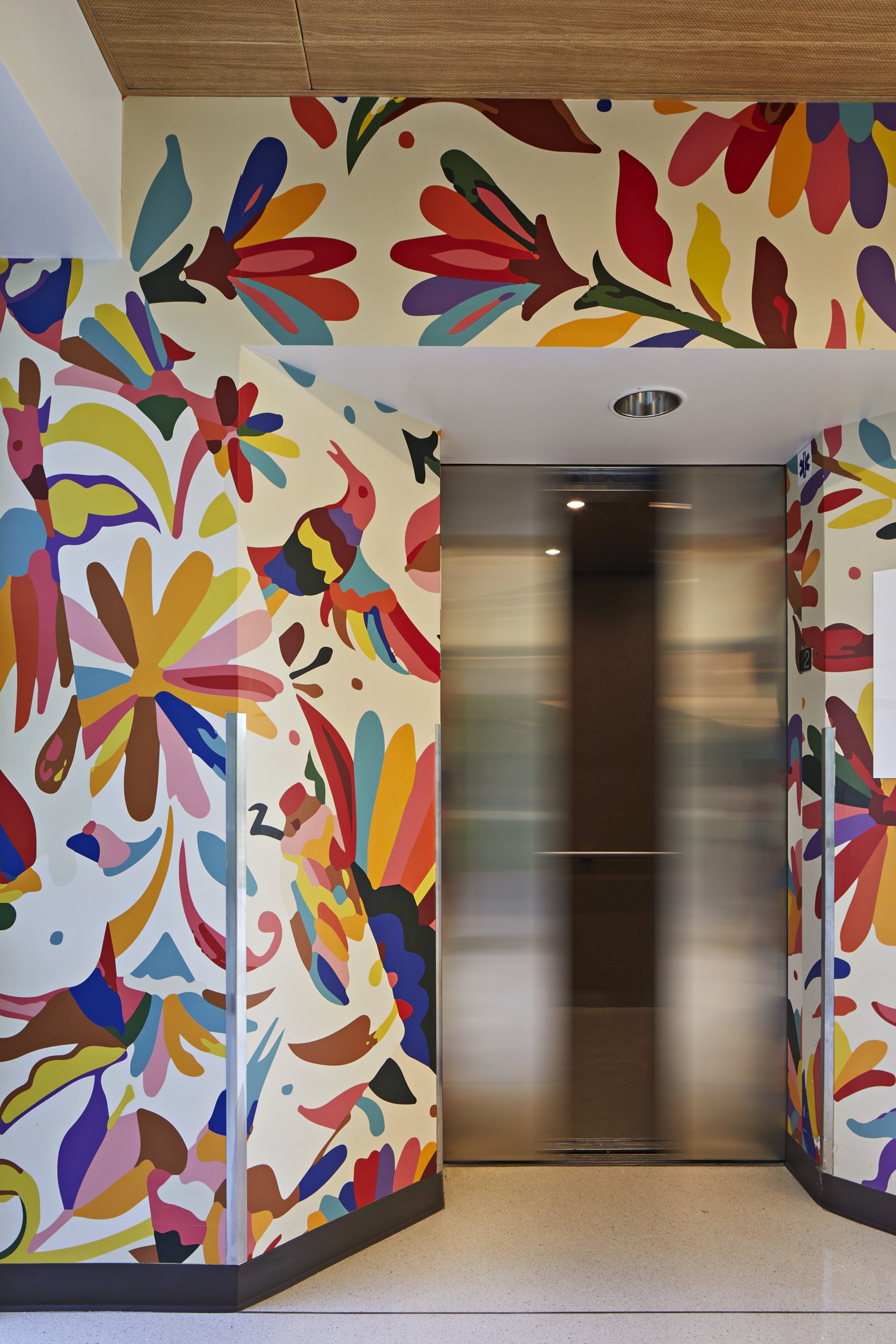 eszter+david
Knots, threads, color and fibers are intricately woven into a texture that reflects the roots of Rancho Los Amigos National Rehabilitation Center. Artisanal weaving, as rehabilitation therapy, provided patients a great deal of pride and integration within the local community. This therapeutic art form continues to serve as a moment to be celebrated through tapestry graphics that envelop vertical circulation.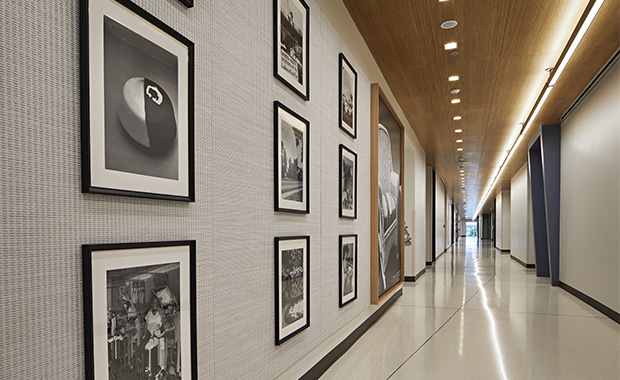 eszter+david
The public spaces are woven together through linear terrazzo flooring reveals, which loosely overlap one another, tightening their weave as they culminate at main points of circulation. Historic framed photography completes the artwork compositions, while built-in wood shadow boxes frame adjacent artwork to complement the warm wood ceilings throughout the corridors.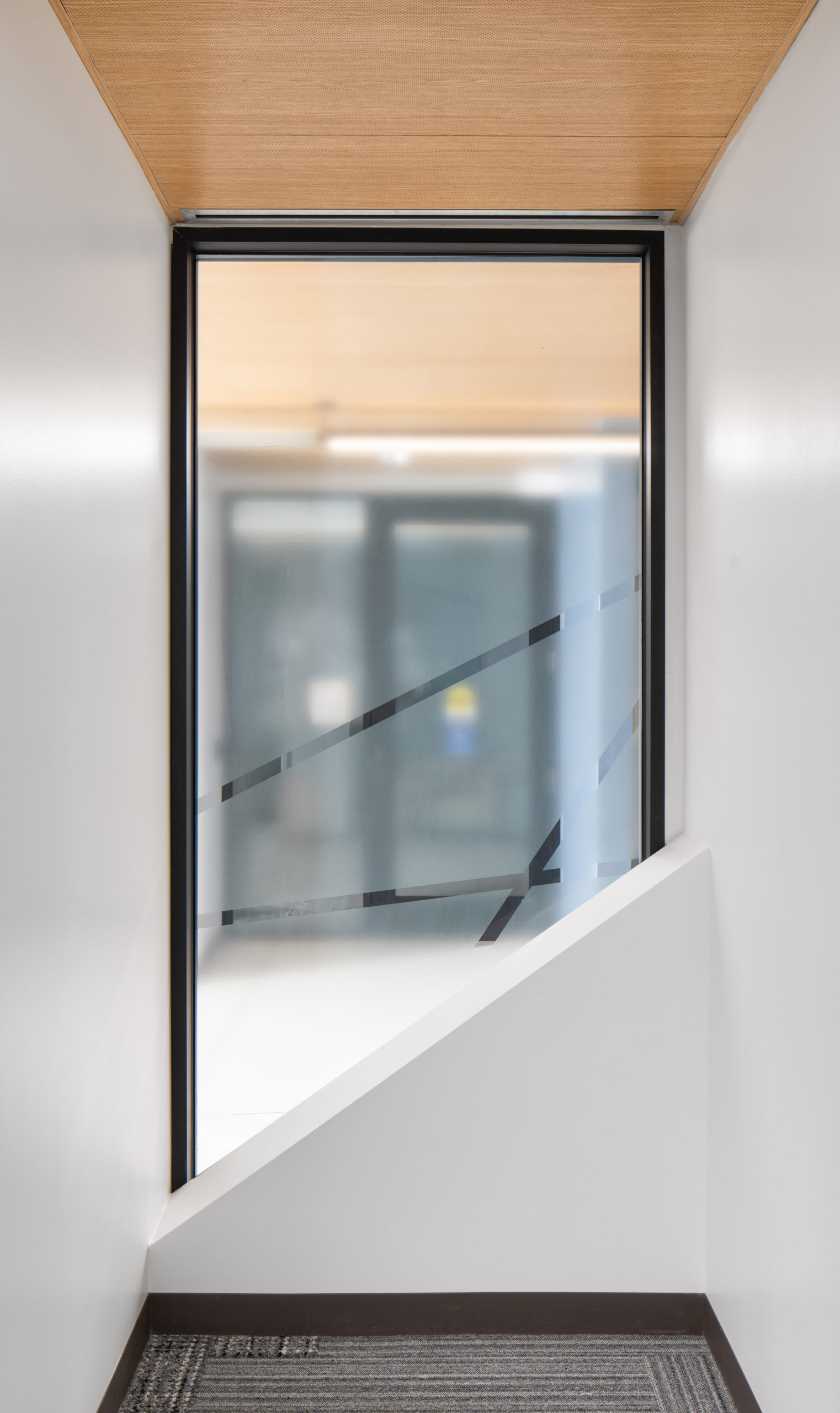 Property Media Services
Close attention was paid to design details throughout the space. Each department entry is treated with glazed frosted patterning, further supporting the concept of "tapestry as a metaphor." This functionally provides partial views to the corridor through translucent threads and allows access to natural light.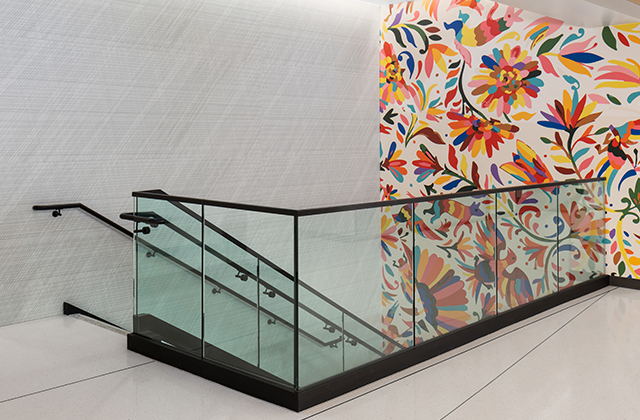 Property Media Services
The building is bordered on one side by a parking structure, eliminating the potential for natural light, and creating a cavernous building core. The team introduced daylighting by incorporating solar tubes above the central stair and opening the existing walled enclosure.
---
Founded in 1888, Rancho Los Amigos National Rehabilitation Center in Downey, Calif., provides specialized care to individuals suffering from spinal cord injury, stroke, brain injury, and other neurological disorders. As part of a $418 million campus revitalization completed in October 2020, the two-story, 67,000-square-foot Support Services Building became a newly centralized workplace, housing administration, an employee health clinic, nursing classrooms, and a nursing demonstration lab.
Four buildings were either decommissioned or demolished as part of the transformation, triggering relocation of 11 administrative departments. The client executive committee recommended that the departments collectively downsize, resulting in the sharing of common support spaces like conference areas, consultation rooms, and staff lounges. By not dedicating common spaces to each department, additional square footage could be allocated back to each program.
From the hospital's earliest days, where the art of textile was incorporated into occupational therapy rehabilitation regimens, doctors and therapists used rug, chair, and basket weaving to help rehabilitate patients as a method of treatment for the body, mind, and soul. It was from this inspiration that "tapestry as a metaphor" took form, driving the design direction.
The design integrated Otomi tapestry artwork, in a contemporary application, honoring the diverse culture that surrounds Rancho Los Amigos. This type of embroidery, created by the Otomi people of central Mexico, abounds with symbols of native flora and fauna. Historic archival black-and-white photography was curated and featured as large-format art installations alongside framed photo walls in public corridors.
Project details:
Facility name: Rancho Los Amigos National Rehabilitation Center Support Services Building
Location: Downey, Calif.
Completion date: October 2020
Owner: Los Angeles County
Total building area: 46,353 sq. ft.
Total construction cost: $13.7 million
Cost/sq. ft.: $295/sq. ft.
Architecture firm: Taylor Design
Interior design: Taylor Design
General contractor: Kemp Bros. Construction
Engineering: IMEG
Builder: Department of Public Works, Los Angeles County