PHOTO TOUR: Robert Wood Johnson University Hospital Emergency Department
---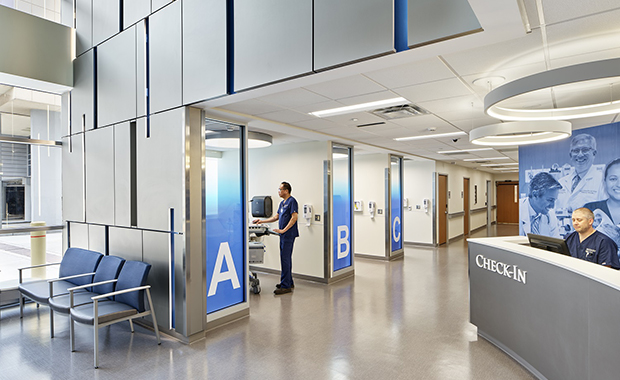 Jeffrey Totaro
The entrance to the new ED offers a welcoming environment where patients are immediately assessed without engaging the full unit, fostering a streamlined triage approach.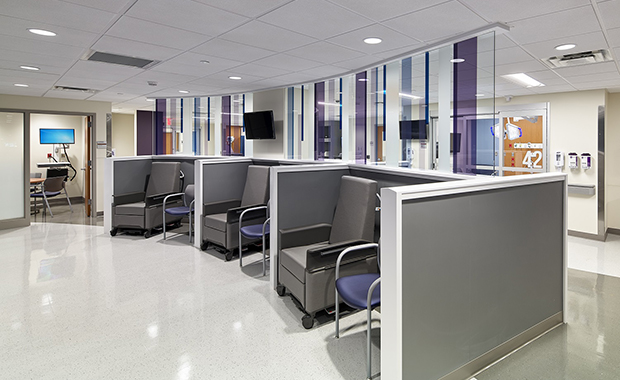 Jeffrey Totaro
The care initiation suite, used for lower-acuity patient assessment and care, features an open-concept results waiting area that optimizes patient throughput and provides staff with visibility that is critical for team communication, while balancing patient privacy. Private patient bays were also incorporated to bridge the gap between levels of non-urgent to emergent care.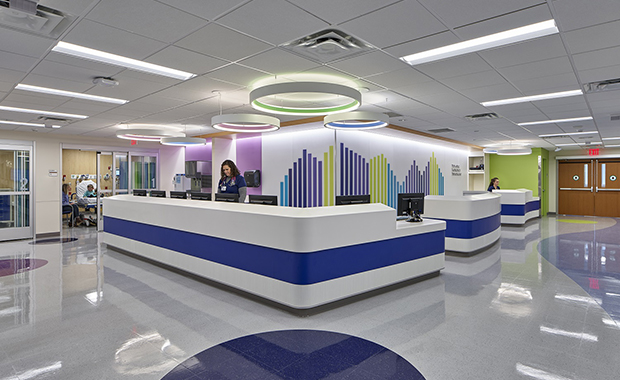 Jeffrey Totaro
The pediatric ED features color-coded "neighborhoods" to improve wayfinding as well as custom artwork throughout to provide patients with a positive distraction.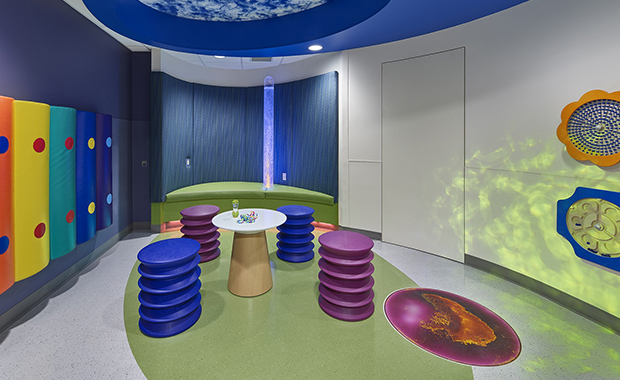 Jeffrey Totaro
Adult and pediatric multisensory treatment rooms include LED light tubes, vinyl sound and play wall pads, interactive lava floor tiles, and custom ceiling panels with integrated LED twinkle lights.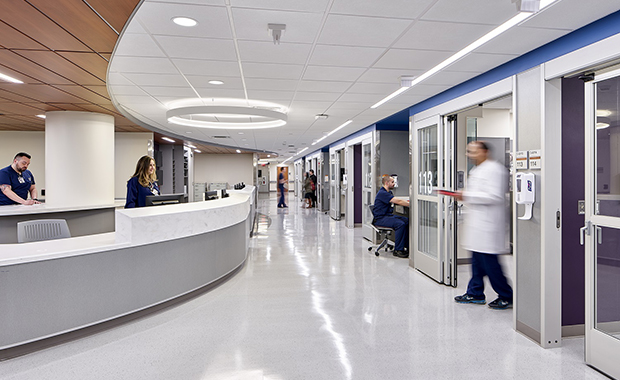 Jeffrey Totaro
The 54-bed emergent ED suite features private patient rooms, integrated nurse touchdown stations between each room, and sliding glass doors.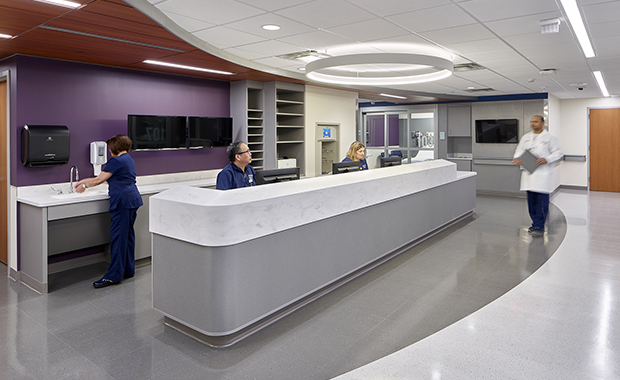 Jeffrey Totaro
Care stations were designed throughout the department to offer flexibility for staff to touchdown, interact, and collaborate. Amenities such as quick break rooms were tucked behind, allowing staff to remain close to their patients while still addressing their personal needs.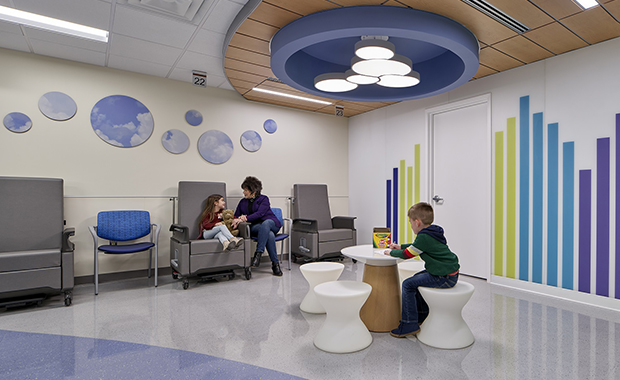 Jeffrey Totaro
Within the entry to the pediatric ED, a dedicated results waiting area was designed with a variety of flexible seating options, including comfortable recliners for respite, lightweight chairs that can be moved to accommodate multiple visitors, and stations that promote play to occupy younger patients as they wait.
---
Robert Wood Johnson University Hospital  in New Brunswick, N.J., embarked on a nine-phased expansion and renovation of its existing emergency department (ED), nearly doubling in size upon its completion in November 2019.
The two-year transformation was initiated in response to the increasing need for emergency and trauma care services in the greater central New Jersey area, prompting swifter patient intake with a nurse-first triage approach, integrated specialty care services to reduce wait times, and a patient-centered design that minimizes stress and maximizes durability and infection control.
The 60,000-square-foot space incorporates a pediatric ED, which was once embedded in the facility; dedicated multisensory treatment rooms for children and adults, the first of their kind in the state; in-department radiology imaging to elicit more rapid test results; a 12-room behavioral health unit; and more than 100 new, private treatment areas.
Project details:
Facility name: Robert Wood Johnson University Hospital
Location: New Brunswick, N.J.
Completion date: November 2019
Owner: RWJBarnabas Health
Total building area: 60,000 sq. ft.
Total construction cost: $60 million
Cost/sq. ft.: $440
Architecture firm: Francis Cauffman (architecture fit-out), Array Architects (core and shell)
Interior design: DCC Design Group
General contractor: WM. Blanchard Co.
Engineering: O'Donnell & Naccarato (structural), Langan Engineering (civil), Highland Associates (MEP)
Builder: WM. Blanchard Co.