First Look: Ohio University Heritage College of Osteopathic Medicine
---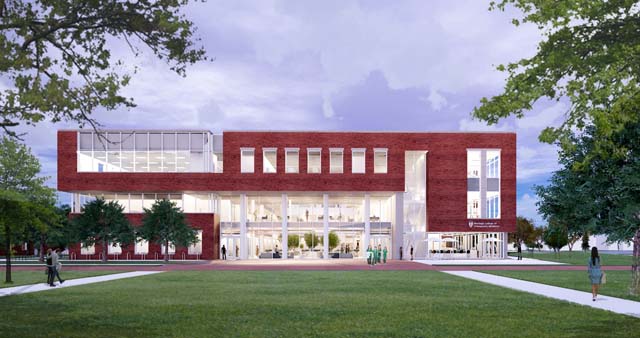 Perkins and Will
The brick exterior fits into the context of the surrounding buildings on the Ohio University campus, and the massing is carved to reveal a contemporary interior.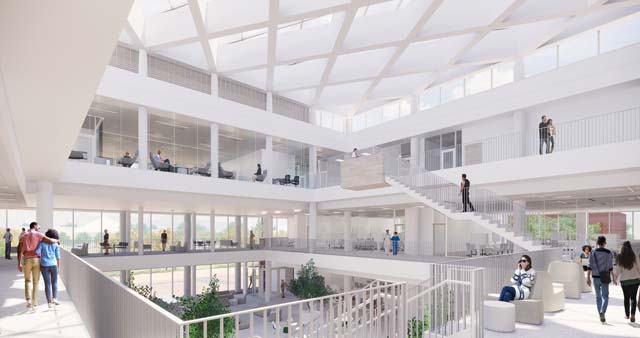 Perkins and Will
Designers incorporated WELL strategies in the atrium to encourage movement and provide access to natural light and views to the outdoors.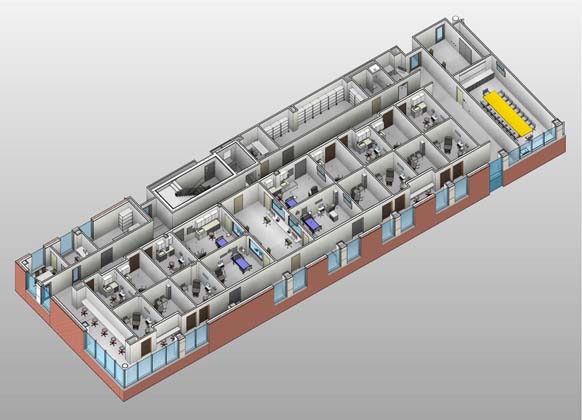 Perkins and Will
The clinical training and assessment area includes 14 exam rooms to assess patients along with four multipurpose exam/simulation rooms allowing practice on high-fidelity manikins.
---
Ohio University Heritage College of Osteopathic Medicine's new medical education facility in Athens, Ohio, is intentionally designed to support the preparation of future physicians. The 114,000-square-foot, three-story building will devote a third of its space to hands-on practice areas, including a clinical training and assessment center, an osteopathic manipulative medicine lab, and a gross anatomy lab.
Additionally, the facility was designed using International WELL Building Institute's WELL Building Standards, putting the college's wellness philosophy front-and-center and creating a healthy environment for students, faculty, and staff.
For example, the building is organized around a central atrium that fills the interior with natural light. Stair connections from the atrium to academic areas encourage movement, and the inclusion of a fitness room provides further opportunity for physical wellness.
The academic spaces are designed to support the college's recently launched Pathways to Health and Wellness Curriculum, which is based on a flipped classroom/interprofessional team learning model. Flexible classrooms replace traditional, large lecture halls and feature more small-group spaces to encourage collaborative learning and problem solving, which are important skills for students' future work on interprofessional healthcare teams.
Perkins and Will, in association with DesignGroup, is leading the design alongside Ohio University Planning. It is scheduled to open in 2021.
Project details:
Facility name: Ohio University Heritage College of Osteopathic Medicine
Location: Athens, Ohio
Expected completion date: March 2021
Owner: Ohio University
Total building area: 120,000 gross sq. ft.
Total construction cost: $49 million
Cost/sq. ft.: approximately $408
Architecture firm: DesignGroup (architect of Record), Perkins and Will (design architect)
Interior design: DesignGroup
Construction Manager: Donley's
MEP Engineer: Karpinski Engineering
Structural Engineer: Barber & Hoffman