2022 Design Showcase Honorable Mention: Munroe-Meyer Institute
---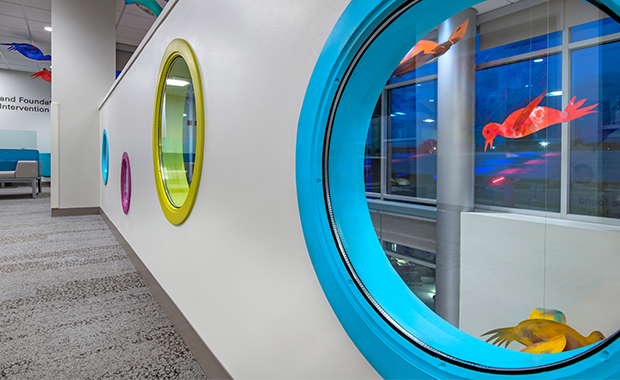 ©2022 Brad Anderson, Architectural Photography Inc.
Munroe-Meyer Institute: Jurors appreciated the integration of color, light, and texture into the design aesthetic as well as the placement of the artwork that features feel 'one' with the building design.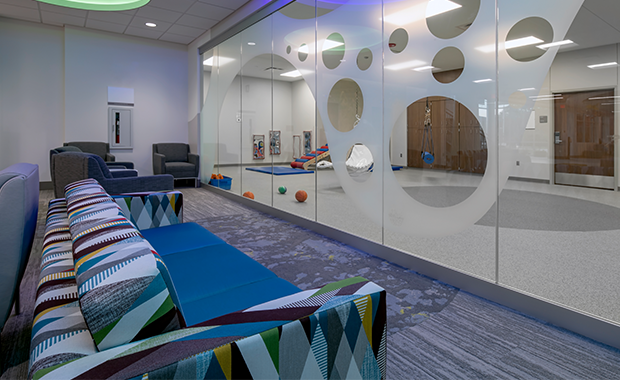 ©2022 Brad Anderson, Architectural Photography Inc.
Munroe-Meyer Institute: During the transformation, the project created a facility that houses a variety of spaces to accommodate the varying degree of patient needs.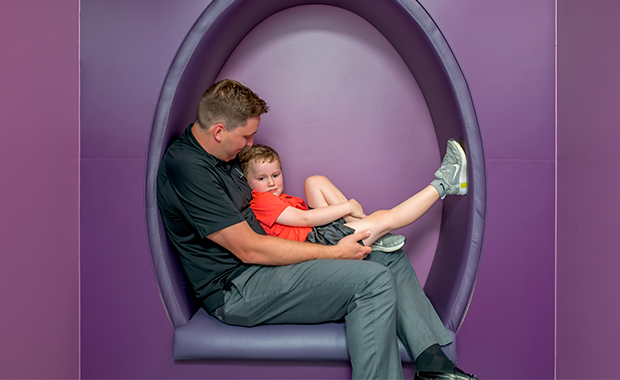 ©2022 Brad Anderson, Architectural Photography Inc.
Munroe-Meyer Institute: Different zones throughout the facility enable patients to enter a calm or stimulating area, as needed, such as nooks where a person can sit to decompress.
---
Faced with an aging facility, the Munroe-Meyer Institute (MMI) in Omaha, Neb., set out to transform a former office building into a new home for the research institute and specialty clinic. The goal was for it to house the institute's more than 100 services for individuals with intellectual/developmental disabilities.
The project, submitted to the Design Showcase by Altus Architectural Studios Inc. (Omaha), was completed in June 2021. The clinic includes a 200,000-square-foot renovation of the office building as well as 21,000 square feet of new construction that included an aquatic center and gymnasium.
Research-based design
The project team utilized a set of research-based guiding principles to create a sensory-friendly environment. Design features include soothing colors, controlled lighting, and respite nooks that would serve a range of patients, including those on the autism spectrum or with severe behavioral issues.
The team also worked to create a space that doesn't feel childlike, to appeal to patients of all ages. Solutions range from employing color to engage and enhance wayfinding to utilizing positive distractions to mitigate stress.
Clinic acoustics and material selection
Furthermore, acoustics, material selection, and tactile finishes were chosen to withstand heavy use but retain a welcoming and comfortable feel.
Unique spaces were planned specifically for intended uses such as occupational therapy rooms and early-intervention classrooms.
Anne DiNardo is executive editor of Healthcare Design. She can be reached at anne.dinardo@emeraldx.com.
Learn more about the Design Showcase winners during an awards luncheon at the 2022 HCD Conference + Expo, taking place Oct. 8-11, in San Antonio. The program will also honor the winners of Healthcare Design's Remodel/Renovation Competition and Rising Stars programs. For more details and to register, visit HCDexpo.com.