A Tailored Approach To Cancer Center Design
---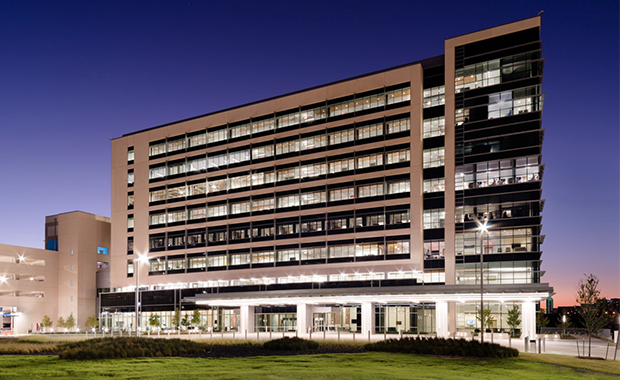 Photo Courtesy: Page
Cancer Care Outpatient Building of the Harold C. Simmons Comprehensive Cancer Center UT Southwestern Medical Center: The front of building includes a covered drop-off canopy and public entrance with relationship to the parking garage.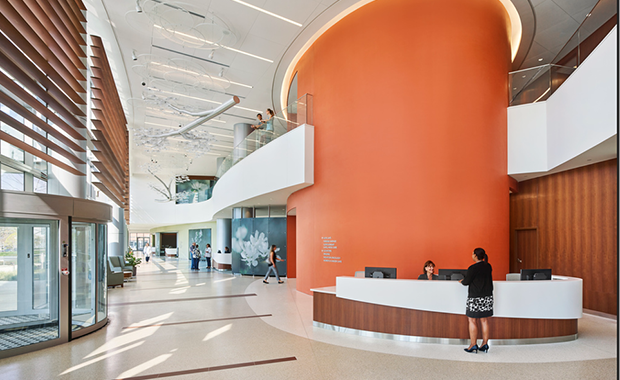 Photo Courtesy: Halkin Mason Photography
HOPE Tower: The Level 1 main entrance features a vestibule, reception desk, and two-story public concourse, connecting the cancer programs on levels 1 and 2. A bright orange oval-shaped elevator core supports a memorable and intuitive wayfinding experience.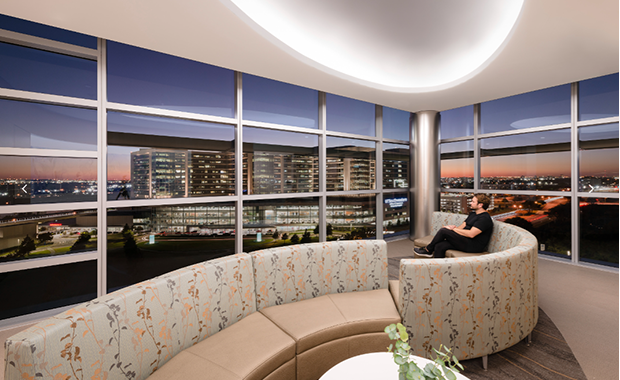 Photo Courtesy: Page
Cancer Care Outpatient Building of the Harold C. Simmons Comprehensive Cancer Center: The meditation room includes comfortable seating and clear views to the Dallas skyline.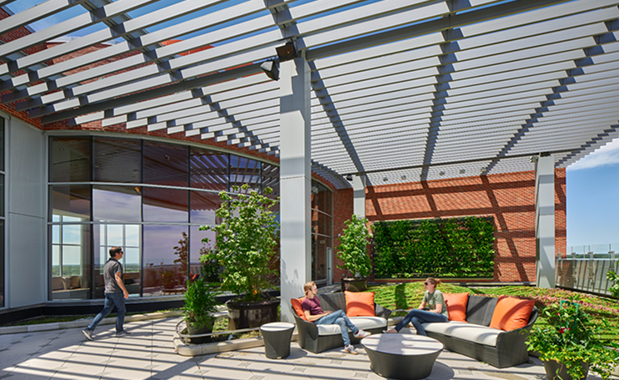 Photo Courtesy: Halkin Mason Photography
HOPE Tower: The rooftop garden includes pergola shading and outdoor seating.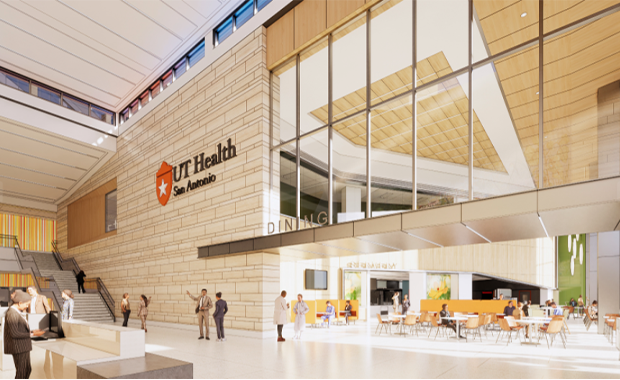 Rendering Courtesy: Page
Multispecialty and Research Hospital at UT Health San Antonio: The two-story public space and lobby features limestone, precast concrete panels, as well as wood accents and terrazzo flooring.
---
Cancer patients often struggle with their cancer diagnosis, eventual health constraints, and the emotional and physical roller-coaster journey required to negotiate and receive timely care successfully. An empathetic understanding of cancer patients' journey and specific needs is critical to successful planning and design of cancer care facilities. This includes lobbies, waiting rooms, patient rooms, nurses' stations, and exams rooms, with spaces designed to support healing, comfort, and emotional well-being. Additionally, conveniently located resources such as nutritional, financial, behavioral health, genetic, and other consultation services should be available and easy to access to further help patients through their cancer journey.
Outlining the patient journey
Tapping into stories from cancer patient and family advisory groups is the first step in seeing things through their eyes. Patients and families can be excellent resources for input on appropriate design responses. Developing specific personas that encapsulate these unique cancer experiences becomes an insightful tool in affirming an empathetic-based planning and design solution. For instance, delving into narratives that depict the inpatient cancer journey of an acute leukemia patient or exploring the outpatient experience of a prostate patient is a useful reference for creating positive and memorable experiences.
Armed with these stories, a design team can start crafting a seamless sequence of steps to facilitate a smooth flow from patient arrival to the space where compassionate cancer care awaits. Cancer patients often do not feel well on their appointment day, and their minds may be preoccupied with worries, making it essential to ensure a hassle-free experience. This begins by mapping the flow of the building during the design process, creating the fewest necessary steps. At the Perricone Center for Women's Cancer and the Breast Center in HOPE Tower at the Hackensack Meridian Jersey Shore University Medical Center in Neptune, N.J., ground-floor access to the center sets the stage for a smoother experience. This is particularly crucial for working women who need to get in for their screening appointment and back to work as quickly as possible. In addition, HOPE Tower houses dedicated integrative health and medicine practice space, providing easy access to therapies that address patients' and team members' minds, bodies, and spirits.
An integrated and harmonious wayfinding system also allows patients to navigate a space confidently and quickly. This ultimately reduces stress and enhances overall efficiency.
Easing access to urgent care services
Additionally, some ambulatory cancer patients experience significant pain and fever, battle mental health issues, and require urgent care. Managing these unexpected or acute episodic side effects from cancer and care therapy poses a challenge to ambulatory patients and their families.
Many comprehensive cancer care centers include urgent care programs. For example, at the cancer care outpatient building at Harold C. Simmons Comprehensive Cancer Center at the UT Southwestern Medical Center in Dallas, a dedicated structured parking is provided directly adjacent to the urgent care program. This close proximity to parking allows cancer patients convenient access to urgent care services, which is especially important in a crisis that may occur after regular business hours.
Addressing family needs
Considering design from the family's point of view is also essential for creating spaces that promote connection, privacy, and emotional support. Cancer care can cause immunosuppression, which reduces the body's ability to fight infection. Some inpatient cancer patients must be isolated to decrease the risk of severe complications from ordinary viral infections.
The increased risk makes visits with loved ones difficult. The Bone Marrow Transplant Unit at UT Health San Antonio Multispecialty and Research Hospital was designed so families can have meaningful interactions without compromising the health of their loved ones battling cancer. A private visitation room with glass barriers between the patient and their loved ones allows families to visit while maintaining a physical barrier that protects the patient against infections.
In addition to amenities, such as cafés and coffee kiosks, providing comfortable spaces for quiet reflection or prayer can offer comfort for both patients and families. Depending upon the location, quiet reflection could be supported through design elements such as therapeutic exterior views, outdoor water features, access to landscaped courtyards and rooftop gardens, immersive virtual environment technology, or art installations that enhance a calming atmosphere.
Biophilic design in cancer facilities
Research reveals strong evidence supporting the positive, restorative impact of access to nature. According to recent studies, biophilic design has many benefits, improving patient outcomes and reducing stress. At Harold C. Simmons Comprehensive Cancer Center, a meditation space features views overlooking the UT Southwestern campus and the Dallas skyline.
Thoughtfully located windows and outdoor spaces, as well as the incorporation of natural elements and materials, can also help reduce feelings of confinement and stress and provide a connection to the outside world. For example, at UT Health San Antonio, limestone, wood accents, and terrazzo flooring create a warm and inviting setting in the public spaces. At HOPE Tower, floor-to-ceiling windows along the family waiting areas and a rooftop garden on the 11th floor offer views of the Atlantic Ocean, nearby rivers, and lakes, while family waiting areas are adorned with colorful artwork and displays to create a friendly atmosphere for all.
Supportive staff spaces
The need for intentional design also extends to the cancer care staff, including radiation therapists, front-line nurses, medical oncologists, and nurse navigators, as they serve as the backbone of quality care.
Provider spaces should be well-organized, promote collaboration and communication, and require as few steps as necessary to retrieve resources and supplies. Utilizing staff interviews and similar persona development, a design team can gather input to create ideal work spaces that support staff members' physical, mental, and emotional needs.
Designing cancer centers to serve the needs of all users is essential for providing efficient, comprehensive, and patient-focused care. Intentional design solutions communicate to patients, families, and providers that their lives matter and their specific needs are top of mind.
Mark W. Vaughan, AIA, FACHA, LSSBB, is the director of healthcare planning, principal, at Page Southerland Page (Dallas), and can be reached at mvaughan@pagethink.com.