Branded Design At Institute For Specialized Medicine And Intervention
---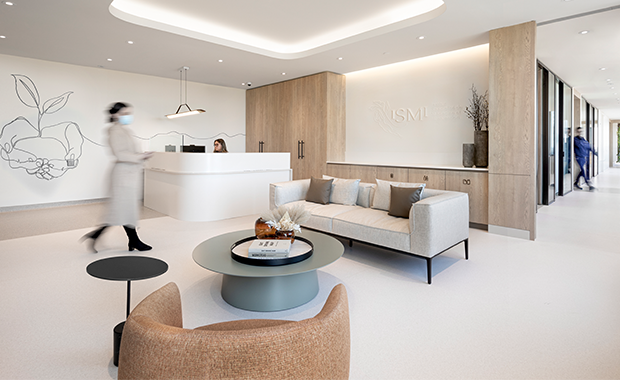 Claude-Simon Langlois
Institute for Specialized Medicine and Intervention: Beginning in the reception and waiting area, environmental graphics of hands in a caring position set a warm tone for the Institute for Specialized Medicine and Intervention clinic.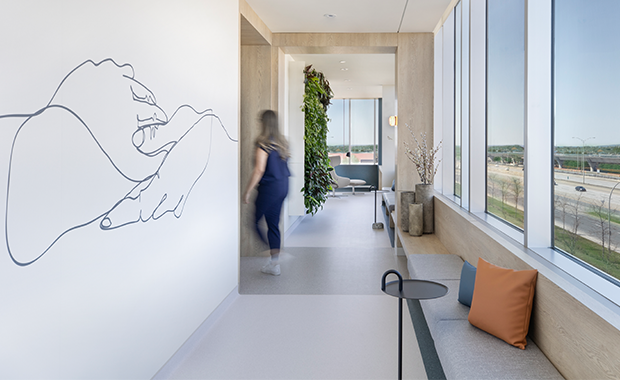 Claude-Simon Langlois
Institute for Specialized Medicine and Intervention: The wall illustrations are displayed in key places as patients move through the clinic, including the main corridor leading to the exam rooms and staff offices.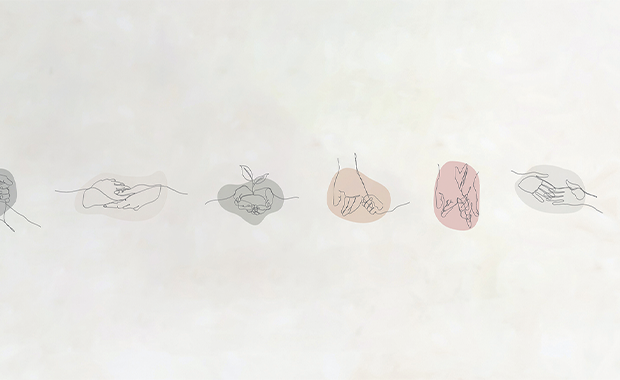 Claude-Simon Langlois
Institute for Specialized Medicine and Intervention: HOK's experience design group conducted studies of gestural drawings of the human form to develop the hand-drawn aesthetic of the graphics.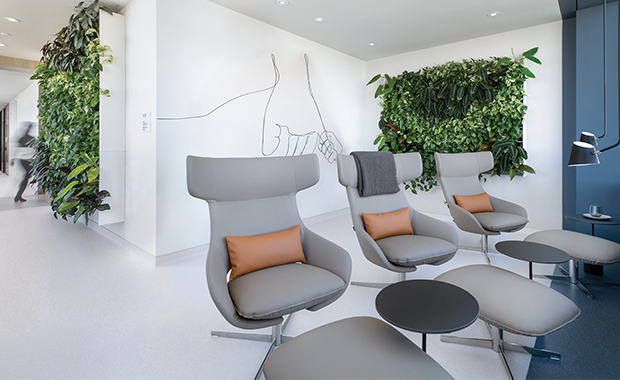 Claude-Simon Langlois
Institute for Specialized Medicine and Intervention: Live plant walls highlight the decompression lounge off the main corridor, where patients can sit or relax following treatment or a conversation with a doctor. right: Part of HOK's branding collateral for ISMI includes appointment and business cards that display the organic lines of the ISMI logo.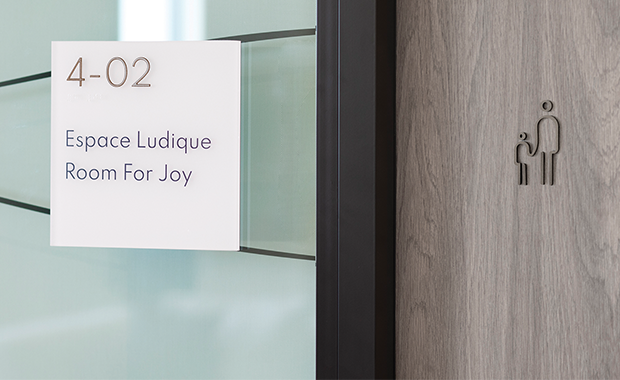 Claude-Simon Langlois
Institute for Specialized Medicine and Intervention: Pictograms in the same undulating line aesthetic as ISMI's logo and graphics were created for clinic signage, including the Room for Joy waiting space, where children can stay, draw, and play while their parent or caregiver receives treatment.
---
Institute for Specialized Medicine and Intervention
After more than a decade working at healthcare institutions in Canada and the U.S., radiologist Dr. Khashayar Rafat Zand sought to open a private healthcare center for health, wellness, and preventive medicine.
His vision—the Institute for Specialized Medicine and Intervention (ISMI)—would provide diagnostic and specialized ultrasound (breast, pediatric, musculoskeletal, and vascular), pain management, biopsy, health assessment , and preventive health services.
In 2021, he began working with HOK's Toronto studio to transform a 4,100-square-foot office space in a corporate center into a clinic environment.
Sara Dagovic, senior project interior designer at HOK, says initial conversations with Dr. Rafat Zand began with understanding the pillars of the business: care, dignity, and hope. "That's what is really important to him," she says.
East Asian design inspiration
Dr. Rafat Zand was also inspired by his appreciation for East Asian concepts of meditation, mindfulness, minimalism, humility, and hospitality. He also sought to utilize warm, natural colors of wood and cloth found in Japanese traditional architecture to create an oasis of calm and serenity at his clinic.
"That's where the concept of hospitality and a Zen, quiet place came from," he says.
Armed with these guidelines and ideas, the interior design team began outlining a hospitality-driven and spa-like clinic experience. They also mapped how patients would progress from check-in to preparation for a procedure to recovery.
Key features of the clinic would include an intimate reception and waiting area, main corridor highlighted by a wall of windows to bring natural light into staff offices and consultation spaces, and a decompression lounge where patients can sit post-appointment to gather their thoughts or relax.
Creating a clinic brand strategy
As the clinic vision began to take shape, the interiors team next turned its attention to developing a design language for ISMI. This included choosing soft colors, rounded shapes and edges, and natural materials.
"We wanted to stay away from anything that was too clinical," she says. "The biggest commentary from the doctor was, 'It can't feel cold,'" Dagovic says.
The HOK team also talked to the doctor about creating a branding strategy for the new business. Eventually it brought in the firm's experience design group to help develop the branding collateral, experiential graphics, wayfinding, and signage for the clinic.
"We didn't have existing branding or anything else to go off of," Dagovic says. "It ended up being a full-service design project that helped him develop the look and feel for his space and, essentially, the face that he wants to put forward into the world."
Bethany Foss, senior design specialist in HOK's experience design group (Kansas City, Mo.), was involved in early conversations on brand identity and positioning. She says the team began building off the brand pillars and patient journey already outlined to form the foundation for all expressions of the ISMI brand.
The team also recognized the intimate nature of the clinic's work, which includes breast and prostate cancer examinations and procedures such as breast aspiration for abscesses and biopsies. As such, the design team presented the idea of "a supportive embrace" as a basis of the concept for the clinical space.
"A lot of people coming to this clinic find out that they have cancer or need some kind of treatment that's going to be particularly painful, like surgery or chemotherapy, so the space and brand needed to reflect a sensitivity toward the emotions accompanying that experience," Foss says.
Establishing a healthcare vision statement
Next, the experience team developed a vision statement that talked to the unique approach to care and how the clinic wanted patients to experience dignified, compassionate treatment and establish it as a place of trust.
"We took all of these attributes of the desired experience and started to translate those into visual cues that we could use in the physical environment," Foss says.
Starting with the brand logo, designers chose the shape of a body that's designed to represent "all of humankind," with maternal characteristics and an ethereal body position.
"The hand-drawn silhouette has an organic line quality and is positioned reaching upward as if they are reaching toward a hopeful future," Foss says.
Sage leaves, which are often seen as having medicinal properties, are positioned overhead as a symbol of hope and healing. Additionally, to cater to its French- and English-speaking patients, the logo and ISMI letterform seamlessly incorporate both languages.
Integrating environmental graphics in a clinic setting
Building on the logo's silhouette, the experience team next conducted studies of gestural drawings of the human form. They used a metaphor of "hands as a window to the soul" to guide the development of environmental graphics for the space, Foss says.
"One thing Dr. Rafat Zand had said was that hands always communicate something about a human emotion. It could be anxiety, it could be strength and confidence. So we started to look at not just the body and the intimacy of the human form but also hands and how expressive they are," she says.
Featuring pairs of hands in a variety of positions, the graphics are designed to reinforce the intimate nature of care services delivered at the clinic.
Each illustration looks hand drawn but is printed as full-length wallcoverings to match the clinic's paint color and create a seamless look. For example, illustrated hands embracing a small plant cover a wall near the reception desk. A graphic of hands holding each other is featured in the hallway leading to the exam rooms.
"What was special about placing these in that physical space was it's kind of like you're holding someone's hand as they walk through this treatment journey," Foss says.
Elevated clinic signage
Additionally, the hand-drawn elements became a creative solution to address a code requirement for the glass-enclosed staff offices. Distraction strips on solid planes of glass are required as a safety element. Here, the project team applied a graphic of a continuous hand-drawn line across the glass surfaces. When the line graphic reaches a wall, it turns into one of the large-scale hand drawings.
Addressing clinic signage, space-specific images were created using the same aesthetic and thin, undulating line reflected in ISMI's logo identity and graphics.
For example, a hanger denotes a changing room while the children's waiting room, named "Room for Joy," includes the outline of a small figure with a larger one to express the idea of a parent and child together.
Color strategy for clinic interiors, wayfinding
In addition to the logo and graphics, the HOK teams collaborated on a color palette for the project. Initially, Dagavic says the interiors team chose soft, earthy colors, including tans, greens, and blue sage, to evoke a spa-like environment that puts patients at ease.
The experience group then expanded on those colors, including adding a more feminine blush color to "emphasize the type of care that people would receive here," Foss says.
The colors are featured in brand collateral, including business cards and promotional materials, as well as throughout the built environment including the furnishings, casework, and privacy curtains in the exam rooms.
Color plays a key role in the clinic's wayfinding strategy, as well. Specifically, three colors are used in the flooring to help guide patients throughout the space: A neutral white color serves as the overall general color for the flooring, starting in the reception area.
Going down the main hallway, the flooring changes to a darker gray/tan color at transition areas, such as the hallway to the exam rooms. Respite spaces, such as seating areas along the windows or the decompression lounge at the end of the corridor, are marked by blue flooring.
Integrating experience and interior design in healthcare
ISMI opened its doors in January 2022 in Kirkland, Quebec, Canada. Dr. Rafat Zand says patients have responded positively to all the branded touches.
"There's a sense of community, togetherness, and respect," he says. "People feel immediately loved when they come here."
Foss attributes part of that success to the collaboration of the interiors and experience design teams to "find moments of connection."
"When you have a vision [for the physical environment] and develop the brand as a part of that process, there is the opportunity to tell a cohesive story," she says. "We worked really hard to ensure that was apparent on this project, that it all seemed to tell the same story, and I think it was successful."
Anne DiNardo is executive editor of Healthcare Design. She can be reached at anne.dinardo@emeraldx.com.
Project details for Institute for Specialized Medicine and Intervention
Location: Kirkland, Quebec, Canada
Project completion date: April 2022
Owner: Khashayar Rafat Zand
Total building area: 4,100 sq. ft.
Total construction cost: $1.4 million
Cost/sq. ft.: $365
Architecture: HOK, Imperatori Design (provided permit and construction drawings)
Interior design: HOK
General contractor: Broccolini
Builder: Broccolini
Art consultant: HOK
AV equipment/electronics/software: Insight Health Tech Planning
Carpet/flooring: Tarkett/Johnsonite
Ceiling/wall systems: Rockfon, Teknion
Doors/locks/hardware: Stanley, Camden, Architectural Unique, Portes Unis St.Michel, Ives, LCN, Schlage, Blum, Doug Mockett, Casson Hardware, Richelieu
Fabric/textiles: Maharam (privacy curtain), CF Stinson, Architex
Furniture—seating/casegoods: Lacasse, DWR, Blu Dot, Teknion, TK Studio, Allermuir, Keilhauer, All-seating, Suite 22, HAG
Lighting: Rich Brilliant Willing, TPL, Lightform,
Signage/wayfinding: CMD Sign, HOK experience design group (custom graphics)
Surfaces—solid/other: Corian, Wilsonart
Wallcoverings: HOK experience design group (custom graphics)
Paint: Sherwin Williams
Coffee Station: Top Brewer
Living Wall and Plants: Ambius
Project details are provided by the design team and not vetted by Healthcare Design.