Community Of Hope Family Health And Birth Center Gets Fresh Start
---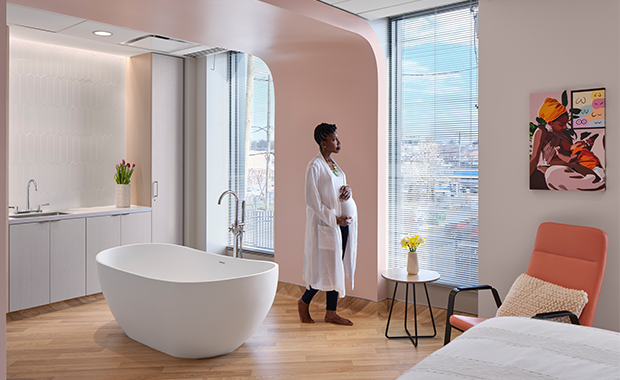 Halkin Mason Photography
Community of Hope: Curving architectural features and soft, soothing colors promote a sense of peace and well-being in the birthing rooms.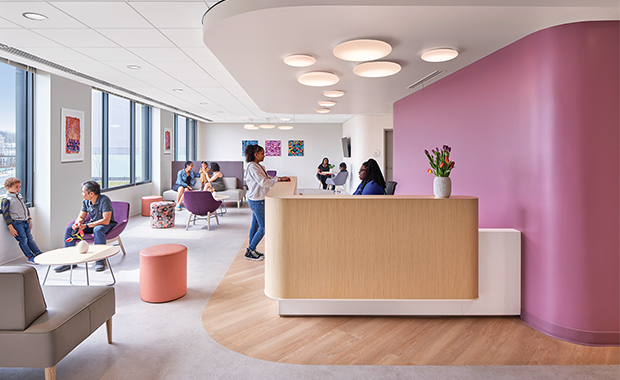 Halkin Mason Photography
Community of Hope: The birth center's interior was designed to embrace and celebrate natural birth while providing a space that feels comfortable and approachable.
Halkin Mason Photography
Community of Hope: Colorful artwork by local artists is showcased throughout the facility. A mixed-media mural by Zsudayka Nzinga Terrell captures joy, hope, and love in everyday interactions.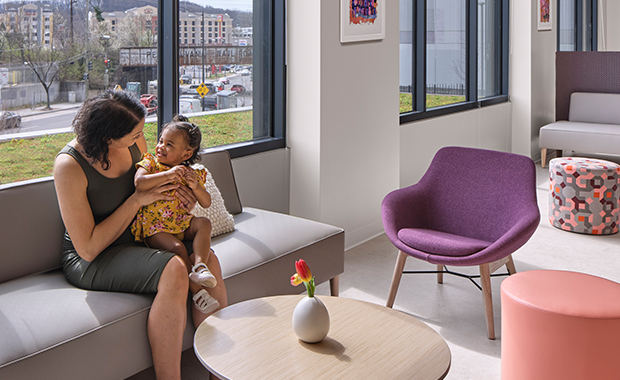 Halkin Mason Photography
Community of Hope: A green roof provides a natural touch visible from the interior but also illustrates the project's dedication to sustainable design. The project was awarded the USGBC Award for Excellence in Advancing Health and Wellness.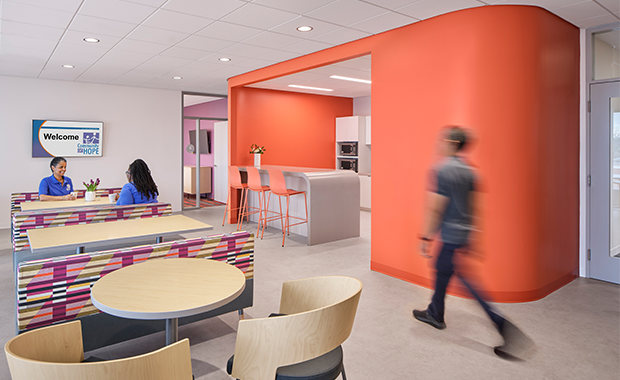 Halkin Mason Photography
Community of Hope: Working within a tight program-to-footprint ratio, the space accommodates a fully equipped birthing center, 15 exam rooms, behavioral health services, telehealth services, and a pharmacy access. The third floor houses workspace for staff and providers.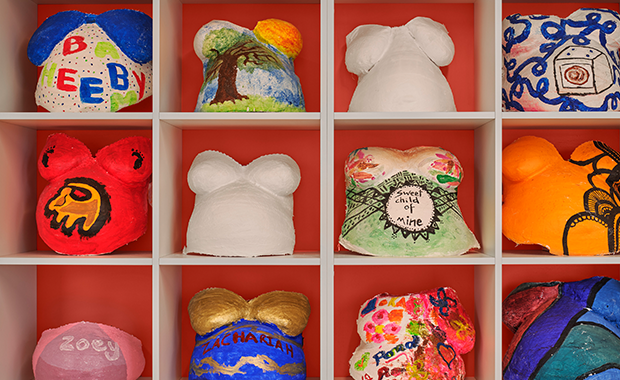 Halkin Mason Photography
Community of Hope: To embrace and celebrate the beauty of the pregnant body, expecting mothers create belly casts that are displayed in a rotating gallery.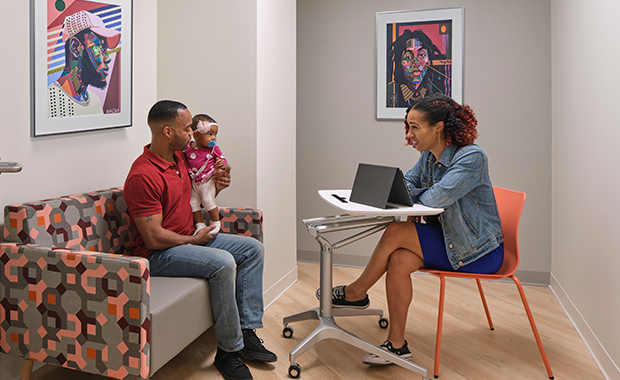 Halkin Mason Photography
Community of Hope: The facility's curved lines, soft colors, texture through art, and comfortable furnishings are designed to create a welcoming atmosphere.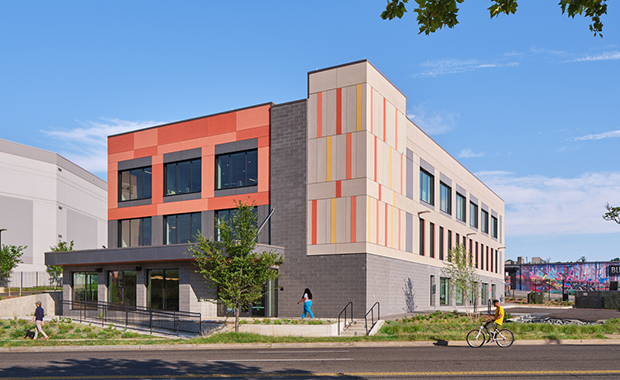 Halkin Mason Photography
Community of Hope: Formerly the Washington, D.C. Fire Fighting Association building, the team utilized an adaptive reuse approach to create a new location for Washington, D.C.'s only freestanding birth center.
---
Read "IIDA Announces 2023 Healthcare Design Awards Winners" for more on Community Of Hope Family Health And Birth Center
Nonprofit Community of Hope (COH) provides healthcare, housing, and supportive services for low-income families in Washington, D.C. One of its three healthcare clinics in Ward 5, the Family Health and Birth Center, serves as the only freestanding birthing center in the capital city.
When the organization learned the building housing that center had been sold, COH turned the situation into an opportunity. Leaders sought out a new, bigger space within its existing neighborhood that could accommodate its nationally accredited birth center and family health services with room for additional exam rooms, counseling services, and a pharmacy.
In September 2019, COH purchased a vacant 1960s-era building. Partnering with Gensler's Washington, D.C., office, the project team conducted a focus group in March 2020 to gather input from clients and staff. This feedback helped define the project's design priorities, which included creating a highly visible entry and reducing barriers between staff and patients.
"Urban healthcare centers often make security a highly visible presence, which has the unintended consequence of making patients feel unwelcome and unsafe," says Bonny Slater, design director at Gensler.
This was solved by using low, open reception desks that signaled to patients that they are welcome and trusted. Additionally, subtle separation of the care team and exam spaces was created by omitting doors in favor of separate patient and staff corridors for circulation.
"The care team area is an open space located at the end of the exam hallways, with no doors separating it from the patients," Slater says.
Recognizing the building's role as a birthing center, the design team chose to use elements such as curving ceilings, rounded corners, and furnishings to lend a feminine feel to the space, Slater says.
Vibrant artwork by local artists and artists of color is also incorporated throughout the clinic, another important goal of the project, notes Kelly Sweeney McShane, CEO of Community of Hope.
Once design priorities were identified, the team next had to solve the challenge of fitting the organization's desired program into the building's tight structure, says Tama Duffy Day, principal at Gensler. The original plan was to create additions on all three floors, which wasn't possible due to budget constraints and the rising costs of building materials during the pandemic.
Instead, the project team decided on a ground-floor expansion at the front of the building to create a comfortably sized lobby without sacrificing clinical functions, Slater notes.
Additionally, a third floor was added to the two-story building to house a call center and staff offices.  Within the completed facility, exam rooms are housed on the first floor, and a birthing suite offers two home-like birth rooms and an accompanying family room on the second floor along with counseling rooms, a multipurpose community education room, and pharmacy.
Opened in March, the Family Health and Birth Center ultimately expanded from 8,000 to 20,000 square feet in the new location and accommodates 14 patient exam rooms, up from eight in the old clinic, and provides room to serve 25 percent more patients.
"The design is working really well and people love it," McShane  says.
Joy Choquette is a freelance writer.