HCD Rising Star: Jenna Maier
---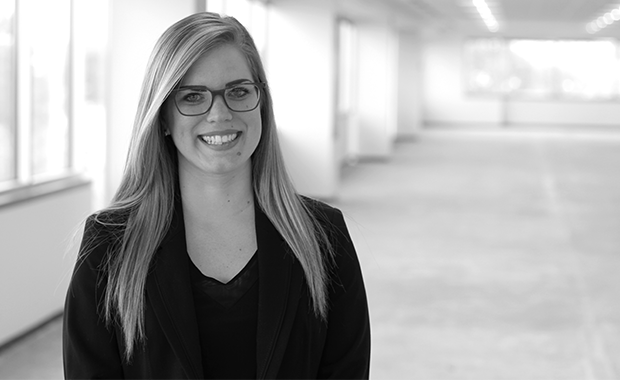 Halkin/Mason Photography
Jenna Maier, senior associate, Wilmot Sanz (Rockville, Md.)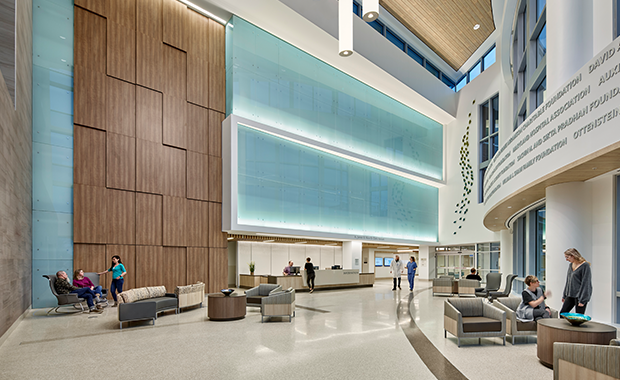 Halkin/Mason Photography
Johns Hopkins Suburban Hospital, North Building addition
---
Jenna Maier is an architect and planner, designing complex healthcare projects in the U.S. and Middle East. After graduating with a Bachelor of Architecture degree from Virginia Tech, Maier was drawn to use her profession as a platform for giving back to the community. A leader in Wilmot Sanz's medical planning studio, she's equally comfortable presiding over visioning sessions for strategic, system-wide master plans as she is analyzing granular but impactful details.
For the University of Maryland Charles Regional Medical Center, she led a comprehensive master planning effort to examine the best use of the hospital's 1960s-era legacy facilities. She developed a 30-year roadmap with phased short-and long-term initiatives for strategic expansion, potential green-field development, and off-site ambulatory facilities and wellness programs to better serve the community.  She also played a key role in planning and design of the 320,000-square-foot campus transformation at Johns Hopkins Suburban Hospital, effectively building consensus across a broad range of multidisciplinary stakeholders, c-suite executives, and design team members.
For an ongoing 150,000 -square-foot bed tower and emergency department expansion at Adventist HealthCare Shady Grove Medical Center, Maier established a campus-wide, long-range master plan; through interactive workshops with various department users, she studied an optimized bed distribution and travel distances, and developed a unique 'future proof' ED first look process to improve pathways and provide a safe, patient and staff focused setting. Embedded in the core team from start to finish, her role goes beyond that of a traditional planner–engaging in the details throughout design and construction, ensuring the client's vision and design intent are implemented successfully, and guiding an impactful process for caregivers, patients, and community.
Outside the office, she's committed to "paying it forward," including serving as a distinguished guest critic at Penn State University, to mentor a new generation of future healthcare architects. She's also a member of the Board of Directors for the Women in Healthcare Maryland Chapter, connecting women within the local healthcare community and developing programming dedicated to education and career advancement. She has also volunteered her time with the non-profit Community Coalition for Haiti in the continued planning of a surgical center to provide better quality care to the people of the Jacmel community.
Path to healthcare design: Healthcare design is complex and inherently mission driven, which initially drew me to the field. I like its demand for strong problem-solving abilities and striking a balance between technical requirements and user experience. On a more personal level, my family has experienced serious health issues with extended hospital stays, which only raised my awareness of the influence that facility design has on the patient and staff. Designing spaces that directly impact lifesaving work and healing is a great responsibility and one which I'm thrilled to be contributing.
Describe your design approach: Take a step back, challenge and explore all possibilities.
On your desk now: I'm working with Adventist HealthCare on multiple major planning efforts, including significant campus-wide strategies for two facilities in the Washington, D.C., area. I'm also planning a large-scale emergency and trauma department reconfiguration and expansion. As a medical panner, I guide diverse stakeholder groups to build consensus around future operational models and improving the patient and staff experience.
Most rewarding project to date: Partnering with Johns Hopkins Suburban Hospital since my start in healthcare design has been highly influential, and the relationships I've developed with the client and design team are most rewarding. From the design of the North Building, a 320,000-square-foot addition that privatized patient beds and introduced an interoperative surgical platform to repositioning existing assets through facility masterplans to executing strategic backfill projects, I've worked diligently with Suburban Hospital to solve operational challenges and implement their vision for the future.
What success means to you: Being a contributing member of our larger design community. With industry peers, this involves sharing our experiences and viewpoints to grow and shape future innovation in the industry. With rising healthcare designers, this means sharing wisdom and cultivating fresh perspectives in the field. Through these contributions, I believe we can find purpose and meaning, and ultimately success, in the work we create every day.
Industry challenge on your radar: Increasingly, there's a need for more collaboration between industry partners to elevate the importance of design. While there are other governing drivers for healthcare systems and projects (budget, speed to market, clinical requirements), the success of a project is measured by the quality of design. It ultimately drives the patient, staff, and visitor experience and supports the facility's mission. By communicating the value of design and its process, we can better serve our clients and communities.
Must-have skill for healthcare designers today: It may seem obvious, but healthcare designers need good listening skills. Beyond that, we need to use what we hear to lead our clients to high-impact design solutions. One size does not fit all! Each client has specific goals and priorities, and it's important to really understand the vision and challenge legacy thinking patterns, from the client's perspective and in our own designs, to promote the best solution possible.
New pandemic-inspired work habit: Being remote through the height of the pandemic certainly challenged me in new ways. From a remote platform, it was more important than ever to find alternate methods to collaborate and effectively communicate ideas. I worked within our firm to develop and employ new virtual planning tools into our design process. These tools promote user engagement and interactive planning sessions to connect with the client and project teams.
Anne DiNardo is executive editor of Healthcare Design. She can be reached at anne.dinardo@emeraldx.com.