Healthcare Design Products Making An Impression
---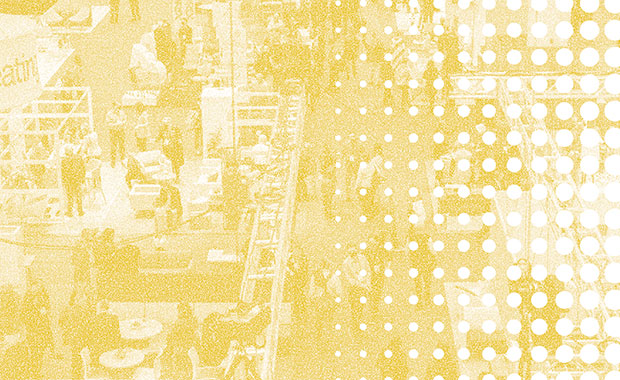 ---
Before the expo hall doors open to attendees at the annual Healthcare Design Conference + Expo, a judging panel of healthcare interior designers and facilities executives hits the show floor to evaluate entries in the Nightingale Awards.
Their mission is to determine which products stand out for contributions to the healthcare built environment through product design and innovation that contributes to healing.
Through visits with exhibitor booths prior to the show opening, they're able to examine/judge the actual products and ask questions of the manufacturers. The outcome of their work—the 2022 winners—are featured in a special section in Healthcare Design's January/February 2023 issue.
Healthcare design product insight
And while the competition identifies some of the leading products for the healthcare design industry today, the process also provides an opportunity for the judges to take the pulse of the market.
Healthcare Design recently held a roundtable discussion with some of the 2022 judges to gather input on what stood out during the Nightingale Awards judging at the HCD Conference last October, where they see room for improvement, and what product needs and challenges are on their radars.
The Healthcare Design roundtable was moderated by Executive Editor Anne DiNardo and included:
Supporting healthcare staff satisfaction
While staff satisfaction has been considered in healthcare design in the past, the last few years have pushed it even further to the forefront as more healthcare organizations are taking a harder look at how to improve the employee experience.
"I think we're all aware of the incredible stress that healthcare providers are under, with staff shortages and the trauma that healthcare workers had to experience being on the front lines [of the pandemic]," Davis says.
With that in mind, this year's judges say they were particularly impressed by Nightingale submissions that supported staff, both within clinical environments as well as back-of-house spaces. "Any product that can enhance the workplace while creating new economic and operational efficiencies is appreciated," says Treu. (Editor's note: Treu answered questions for the roundtable discussion via email.)
In fact, the Best of Competition winner is designed to improve one space that's often overlooked or downsized in some facilities: staff locker rooms.
The winner, Zippsafe's ZippSpace Pro, offers a smart soft locker system that accommodates employees' different storage needs (such as separate compartments to store clothing and shoes) while requiring less square footage—making it easier for facilities to provide these important amenity spaces. (For more on the Best of Competition winner, see Healthcare Design's January/February 2023 issue.)
Products that support efficiency and flexibility
EwingCole's Frazier says a number of products also addressed the topic of space efficiency. "There seems to be an interesting realization that space equals money and how can the design team use this space more efficiently?" she says.
For example, the Gold Award winner in the Technology Integrated Solutions category, Ergotron's CareFit Combo System, is a wall-mounted computer station that has room for accessories such as a mouse, keyboard, scanners, and printers.
"The cost of construction continues to escalate," she says. "We're getting to the point where if the cost of construction is going to be so expensive, then projects are going to stop. It's a big challenge for a lot of these systems … so how can the design team be efficient within the space that we have?"
The panelists say they also appreciated products that flex to different uses as needs evolve, including the Sorta stool by Carolina, an OFS company, which features a seat and movable arm that can serve different functions, such as a backrest or work surface.
"If there's not a patient in the room, it gives the provider or nurse the ability to turn their attention to documentation," says Dumser. "But if there's a patient in the room, and the clinician has a desk laptop, this chair enables them to sit  at any angle and still face the patient, which we know from surveys is important."
Sustainable products for healthcare
Another priority among healthcare organizations is sustainability. As such, many clients are looking for products that support their goals, Bambery says. "It's just the expectation now," he says. For the 2022 Nightingale Awards, three products were recognized with Sustainability Awards, a first in the competition's history.
During the roundtable discussion, judges noted the flooring category as one area that showed advancement, with several companies featuring products that didn't require glue for installation. Eliminating glue can reduce the associated smells and chemicals in the healthcare setting and allow for a quicker installation timeframe, which can save money and reduce interruption of care, Dumser says.
Many companies were also eager to share if their products were made or assembled in the United States, which can support an organization's sustainability goals by focusing on local materials that help reduce a project's carbon footprint, Dumser says.
Still, roundtable panelists say they'd like to see companies push further, including considerations for materials and chemical composition.
"So many groups, when we would ask [about sustainability], would say, 'Well, it's durable. We're keeping it out of the landfill longer,' instead of having a more aggressive message around not sourcing Red List materials," Davis says, referencing The Living Building Challenge's program that identifies building materials, chemicals, and elements known to pose serious risks to human health and the environment.
Future product needs in healthcare design
Looking to the coming years and how manufacturers and supplies can help support healthcare projects, the roundtable panelists noted the need for more products serving the behavioral health population.
"It's so forefront for all of us as designers and so much of what we do is regarding how to handle that population," Dumser says.
They're also looking for product solutions to help address rising incidents of violence in healthcare settings. Hsu says it would be nice to have transitional furniture pieces that would have more safety features than traditional healthcare furnishings (e.g., weighted seating) even if they weren't built exactly to behavioral health standards.
Infection control is another issue the panel says they expect to stay top of mind, expressing the desire for more flexible solutions for personal protective equipment (PPE) storage that are less utilitarian.
"We have PPE stations in every public lounge or waiting area … and they're usually very unattractive," Hsu says, noting that a modular unit that could store a variety of products including gloves, masks, hand sanitizer, and gowns depending on need, would be a welcome sight.
They also see more opportunity to improve often stark-white clinical environments, such as emergency department exam or procedure rooms. For example, Shiskowsky of UCHealth says she'd like to see more wall panels that can incorporate scenery or images and be wiped clean for clinical environments.
"There are great options to make clinical areas look not so intimidating to patients. We just need to expand that," she says.
Addressing supply chain and product delay challenges
Beyond specific product needs, the roundtable participants expect to keep adapting to challenges related to supply chain and product delays. Frazier says her projects are adjusting by placing product orders a lot sooner than typical.
Longer lead times also mean that some projects are less willing to make changes, Shiskowsky adds. "We actually stay on scheduled because they don't change," she notes.
The panelists also say they're waiting to see how supply issues impact standardization of products as well as hospital design. At UCHealth, Shiskowsky says the healthcare organization has already started opening up its standards on certain items, such as couches or other furnishings, to contract with other vendors instead of using only one.
"We know which ones have comparable items to what we typically use so we're opening up our options just to have a back-up plan," she says. "When we use up all of their supply on a project, then the next project might have to use a completely different vendor."
With recent shortages of supplies, Hsu says she's seen increased lead times like never before. Additionally, she expects systems to re-evaluate their furniture standards to consider not only how well a product functions in a space but also how easily a product can be serviced or replaced.
"We look to manufacturers with a proven track record of quality product and being able to repair or replace within a reasonable timeframe," she says. "All that plays into how we're evaluating for standards now."
Anne DiNardo is executive editor of Healthcare Design. She can be reached at anne.dinardo@emeraldx.com.