Should Healthcare Say Goodbye To Waiting Rooms?
---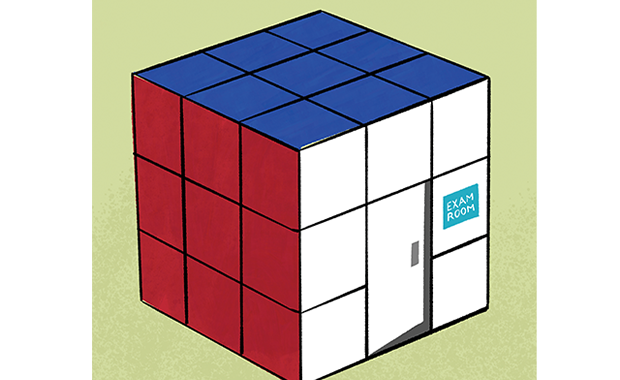 ---
Consumer expectations have significantly shifted toward on-demand services across various industries, and healthcare is no exception. Patients are less likely to endure long wait times and cumbersome processes when seeking medical care.
Moreover, more patients are beginning to pursue alternatives to the traditional hospital model, such as virtual consultations, telemedicine, and mobile health apps. These services offer the convenience of receiving medical advice, information, prescriptions, and even diagnoses from the comfort of one's own home, eliminating the need to physically visit a hospital or clinic and endure lengthy waits.
These evolving patient expectations have increased the demand for more convenient, seamless experiences and put pressure on healthcare providers to adopt new solutions.
The self-rooming model offers healthcare a natural next step. Centralizing more functions to one physical location, the set-up allows patients to self-navigate to their exam room using facility design coupled with app-based technologies, removing several points from the traditional journey that frustrate and slow the patient experience. (For more on waiting room alternatives, read this Healthcare Design article.)
The self-rooming model
Conventional healthcare environments are often characterized by rigidity and redundancies. This leads to bottlenecks during check-in and administrative processes, unpredictable provider schedules, and a sense of powerlessness among patients who link their satisfaction and perception of care to waiting times.
However, the popularization of technologies such as apps or digital scheduling and record keeping tools have invited updates to outdated healthcare design models. By introducing efficiency to operations and patient management, these innovations empower patients to reclaim control over their healthcare experience.
Consequently, this not only improves the bottom line for healthcare providers but also enhances the delivery and quality of care.
A self-rooming model builds on patient expectations that have popularized on-demand, seamless experiences from online scheduling to telemedicine. In 2020, Village Health Partners in Frisco, Texas, implemented a self-rooming approach that eliminates the need for a waiting room. The change aimed to not only improve patient perceptions and experience but also optimize the organization's throughput.
Case study: Village Health Partners
Village Health Partners' self-rooming system enables patients to book appointments from the comfort of their homes, signal their arrival through an app, follow guided steps to their designated space, and access additional information and scheduling options conveniently at their fingertips.
Upon arrival, patients are notified through the clinic's integrated app that their exam room is available—providing its location and directions so that patients can make their way to their designated suite via a centralized corridor.
Exam rooms are organized into pods off a main corridor with five exam rooms in each. Secured doors separate off-stage activities including scheduling, charting, and provider collaboration while maintaining staff access to the exam areas.
With a deliberate focus on reducing time and space constraints, Village Health Partners' self-rooming model seeks to eliminate disruptions that typically occur during the patient journey.
For example, instead of a conventional experience where patients navigate through multiple rooms for various procedures such as vital sign measurements, lab tests, and examinations, the self-rooming model simplifies the process.
Check-in is completed online prior to being assigned an exam room and all necessary tasks, including blood tests, temperature measurements, identification and insurance verification, vaccinations, and scheduling, are conducted in a single exam room, reducing decision points for both staff and patients.
Improving staff operations
By circulating delivery of care around a centralized location, staff operations become more efficient, leading to optimized throughput, reduced wait times, improved patient management, and a decrease in patients who leave without necessary follow-up care (known as "elopers").
For those who prefer a more traditional experience or lack access to the technology, a check-in desk is available to provide support and accommodate special needs. Family spaces outside patient rooms offer welcoming, more intimate environments that can serve as reception areas or waiting spaces for accompanying guests.
Efficiencies in patient navigation and operations are further enhanced by strategically locating commonly used amenities. Recognizing, for example, that most patients require lab work, Village Health Partner's facility situates the lab closer to the front of the facility for those requiring additional or more intensive lab work, cutting walking time and speeding patient progression.
Integrated technology verifies that patients have completed necessary steps including paperwork prior to their arrival in the exam room. This adds predictability to the process and eliminating disruption and confusion as they progress through their journey.
The patient's electronic medical records, scheduling, charting, notes, contact and insurance information follow the patient and eliminate the chore of filling out repetitive and time consuming paperwork.
Wayfinding and safety considerations
While facility design typically plans for one physician per five exam rooms, the new model allows for standardized pods, which can add flexibility for doctors during peak times. In the model at Village Health's Plano location, each pod comprises five exam rooms and one patient restroom.
By standardizing the pods layout and each of the exam rooms with a predictable set of furnishings and equipment complemented by a supply cart for additional resources, physicians can flex between pods should the patient volume require additional exam space. These rooms can be quickly adapted to meet facility needs and volume, cater to unique patient requirements, accommodate alternative examination or appointment formats, or adjust to physician availability.
With the increased responsibility placed on patients to navigate to their designated areas, enhanced and layered communication between staff and clients is essential to ensure patients arrive at the right place and time. Simplifying decisions points and providing focused wayfinding is important to reduce stressors.
At Village Health's Plano location, the clinic's layout is formatted after general street grids, and even introduces local street names into the pod designation. Intersections off the main corridor (Main Street) to the side hallways were identified as key decision points.
Built-in banquettes and various furniture clusters provide a space for loved ones to wait should privacy be required during the exam, while also serving as an additional means of wayfinding.
The increased agency given to patients also necessitates additional considerations for security and access. To account for patient wandering and balance security needs, a defined separation is created between on-stage and off-stage activities.
At the Plano Village Health location, patients have access to the primary corridor, side hallways, and exam rooms. Each pod is accessible by staff via an access-controlled door.
All off-stage areas are connected, so staff can fluidly circulate throughout the clinic without disruption while controlling their interaction and engagement with patients. By providing a range of restriction levels and locations tailored to the specific population mix and needs of the facility, staff can effectively balance security requirements with patient independence.
Prioritizing patient satisfaction
The implementation of self-rooming not only addresses the immediate concerns of long wait times but also fuels an already accelerated trend toward a healthcare experience that prioritizes patient satisfaction.
With the goal of maximizing ease of access to care for patients, Village Health Partners identified waiting rooms as not only a chokepoint in their throughput but also provided less value than exam rooms. The design solution responds to this challenge by removing it completely.
By empowering patients to control their healthcare journey, the self-rooming model reduces the sense of powerlessness often associated with traditional waiting rooms and encourages a sense of agency.
Jordan Gill is vice president at Corgan (Dallas). He can be reached at jordan.gill@corgan.com.