Technology Installation Provides Positive Distraction in Children's Mercy Burn Clinic
---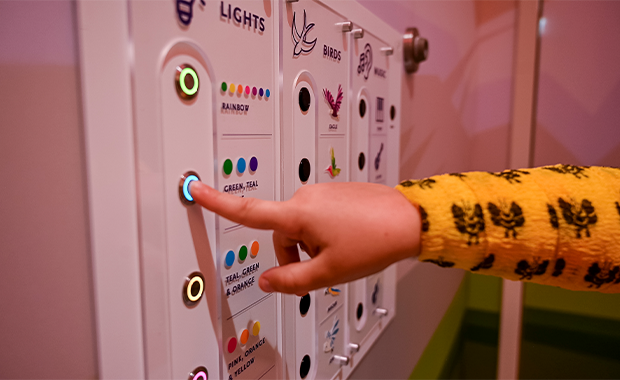 Dimensional Innovations
Children's Mercy Kansas City Burn Clinic: The cheerfully designed panel in the entry area allows young patients to select from different colored light schemes, musical instruments, and bird animations that will fly across the scenery of the treatment room walls. All the elements are designed to soothe and interact harmoniously.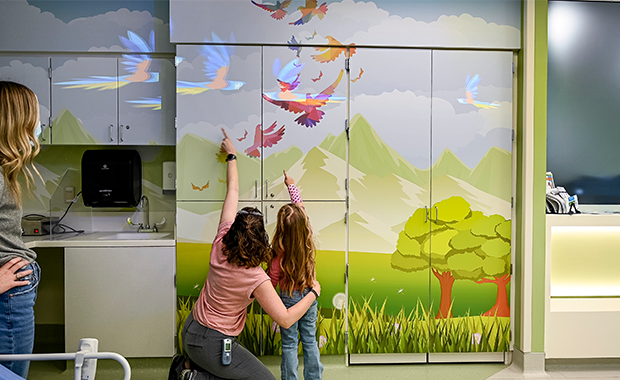 Dimensional Innovations
Children's Mercy Kansas City Burn Clinic: The choices made in the entry vestibule carry over into the treatment room and surround the patient and family. The unit's child life specialist keeps an eye on the patient to make sure the distraction remains positive; she or he can make adjustments as necessary.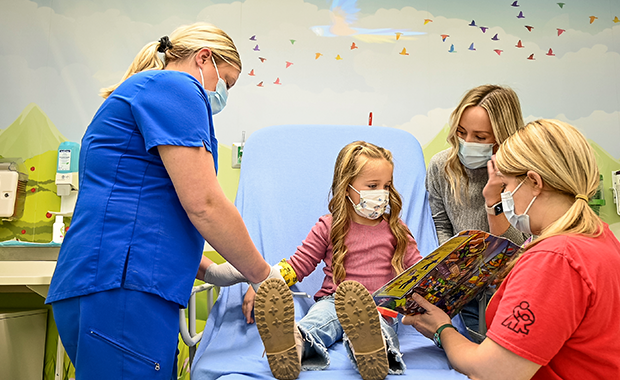 Dimensional Innovations
Children's Mercy Kansas City Burn Clinic: The treatment room is a one-stop shop for burn care, where a single visit can include attention from a nurse, psychologist, surgeon or nurse practitioner, occupational and physical therapists, and others.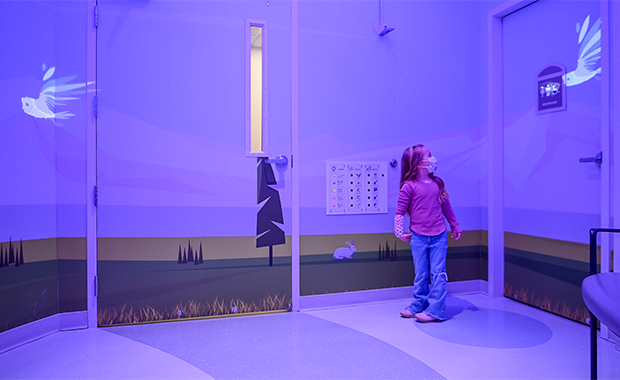 Dimensional Innovations
Children's Mercy Kansas City Burn Clinic: Daniel Marx, nurse manager for the burn clinic, says the installation is having the effect they hoped it would. "Patients come in for their next treatment and say, 'Oh, I picked the owl last week so I'm going to do the hummingbird this time.'"
---
A severe burn injury is traumatic for anyone. But for a 4-year-old having to submit to weekly hospital visits for hands-on treatment of that burn, the aftermath can be particularly stressful.
When Children's Mercy Kansas City in Kansas City, Mo., decided to relocate its burn clinic to accommodate a pediatric intensive care unit expansion at the hospital a couple of years ago, the clinic staff saw an opportunity to do something special to address this difficult reality. And the idea for an immersive, positive-distraction experience officially took flight.
Designing an immersive, multimedia experience
"Our previous burn space was a good-sized space, and it had all the equipment and resources to provide excellent burn care," says Daniel Marx, nurse manager for the Burn Specialty Team and Burn Clinic at Children's Mercy. But the clinicians wanted to do more with the new space, located in a different part of the same campus. They approached the design team with a stack of research on the benefits of decreasing fear, anxiety, and perceived pain to the treatment process.
"Positive distraction can reduce fear, anxiety, and stress in the child and also their caregivers," Marx says. "It may help reduce post-traumatic stress disorder and the use of narcotics and other pain meds. Our ideas on clinic design were welcomed quite openly by the administration and BSA LifeStructures [the design firm on the project]. It gave them a chance to get really creative."
The design team enlisted Dimensional Innovations (Overland Park, Kan.), an experiential design studio, to create an immersive, multimedia installation at the 2,000-square-foot clinic that would help patients get into a more positive mindset before they even step foot into the treatment room. (For more on positive distractions in healthcare, read this article.)
One of the key client goals, says Brandon Kuzara, healthcare account director at Dimensional Innovations, was instilling a sense of control. "It's about putting power back with the patients," he says. "Especially in pediatrics, they're told what to do, they're poked and prodded. So giving them a space they can own while they're there is really powerful."
Burn Clinic design features
The new clinic was designed with a large entry vestibule featuring floor-to-ceiling forest and mountain scenes, and this is where the experience begins. A kid-friendly panel with buttons offers options to customize the positive distraction in the patient's treatment room: color scheme, music styles, and—the coup de grace—colorful, animated birds that will fly along the walls.
"All the decisions made in the entry space will be projected into the treatment space," Marx explains. "In the entry area, we talk about prep, what to expect, what order things will happen in. And when they're ready, they come into the bigger treatment space, where all their choices are projected on the walls."
The color schemes, bird flight patterns, sound levels, and placement of the projectors were all developed with staff input and co-exist harmoniously with the necessary layout of the treatment room. "The last thing we want to do is get everyone really excited about design and then get in the field and realize it's interfering with care," Kuzara says.
Marx has no misgivings about the final product. "When treatments go better, we're happier with the care we're providing. If the family has high anxiety and we can't get treatment under control … we take on those feelings of the patient."
To that end, Marx says, user feedback has been great. "I've truly heard comments from many kids where they say, 'I'm looking forward to coming back next week.'"
Kristin D. Zeit is a contributing editor at Healthcare Design magazine and can be reached at kristinzeit@gmail.com.
Children's Mercy Kansas City Burn Clinic project details
Project name: Children's Mercy Kansas City Burn Clinic
Project location: Kansas City, Mo.
Project completion date: October 2021
Owner: Children's Mercy
Total building area: 2,000 sq. ft.
Total construction cost for installation: $247,000
Cost/sq. ft.: $123.50
Architecture: BSA LifeStructures
General contractor: Turner Construction