St. Jude Children's Research Hospital Prioritizes Family Time With New Respite Floor
---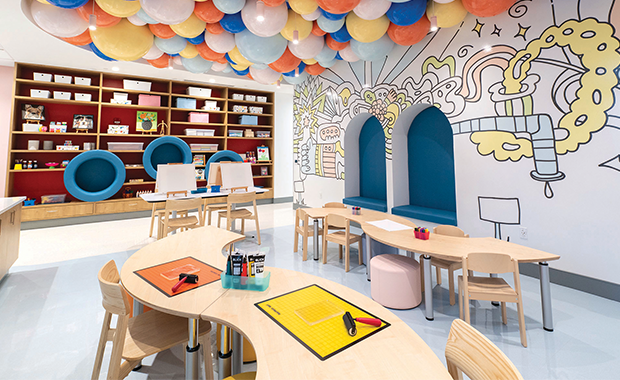 St. Jude Children's Research Hospital
Bright colors and uplifting tones as well as interactive elements are incorporated throughout Family Commons at St. Jude Children's Research Hospital. In the art studio, a custom-designed balloon ceiling illuminates in different colors.
St. Jude Children's Research Hospital
A makerspace offers technology and tools, including a 3-D printer, so families can experience hands-on learning.
St. Jude Children's Research Hospital
Resting nooks provide a private setting for families to rest and relax, with comfortable furnishings including a daybed.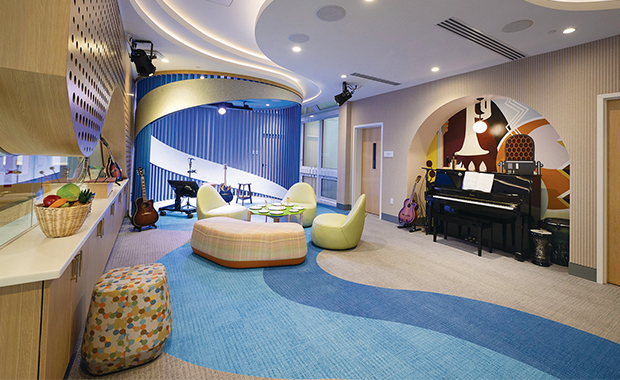 St. Jude Children's Research Hospital
The Studio 26 music room houses instruments, practice rooms, and a recording studio.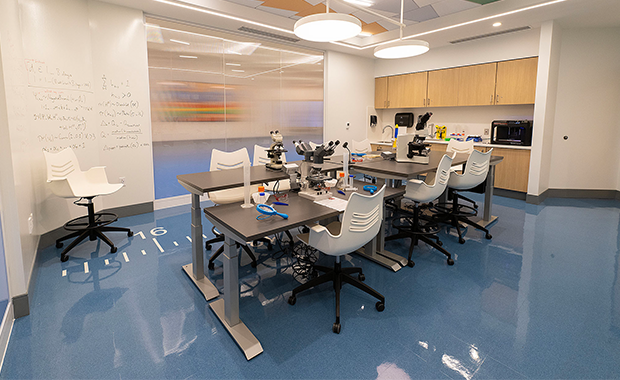 St. Jude Children's Research Hospital
Classroom spaces, including a science lab, for pre-K to high school students provide resources for patients to keep up with studies while receiving care.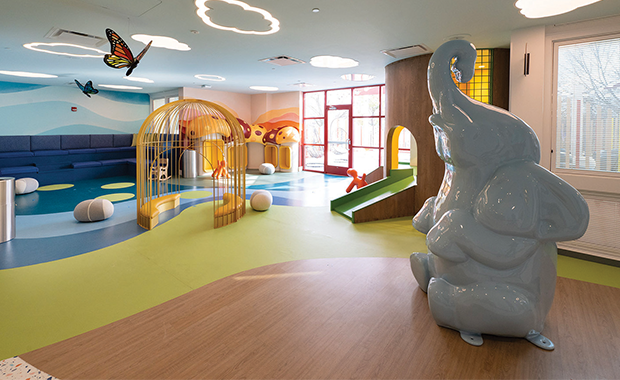 St. Jude Children's Research Hospital
The Inside Out play area provides indoor and outdoor spaces where kids have space to roam and play while adults can sit and watch.
---
Read "IIDA Announces 2023 Healthcare Design Awards Winners" for more on St. Jude Children's Research Hospital
Patients and families receiving care at St. Jude Children's Research Hospital in Memphis, Tenn., which treats childhood cancer, sickle cell disease, and other life-threatening disorders, often live in off-campus housing provided by St. Jude during treatment—sometimes for weeks or months at a time.
Recognizing this situation, St. Jude offers services for family that go beyond traditional healthcare needs, such as a pharmacy or medical supply pick-up, to include a post office and bank as well as respite and activity spaces on campus.
"It was a constellation of things that weren't necessarily connected and not always easy to access," says Catherine Corbin, chief business innovation officer, at St. Jude Children's Research Hospital.
Creating the Family Commons
As part of a strategic plan, the organization conceived an idea to consolidate those services and activities into one location to provide better respite from the hospital's intense clinical environment. In early 2017, the organization moved forward to renovate a vacated inpatient unit into its first treatment- and clinical-staff-free zone, called Family Commons.
The organization partnered with design and consulting firm IDEO (Chicago), which conducted qualitative, ethnographic research with patients and families. The feedback from patients confirmed many of St. Jude's original ideas about what would make this space great for kids and teenagers, like having space to play or private areas to rest and nap.
However, the research also revealed new insights about what would make Family Commons uniquely valuable to parents and caregivers, too, in ways that St. Jude hadn't yet considered.
These includes ideas such as a private area where they could cry away from their families or an environment where they could build a project together while teaching their child life skills, like how to use a hammer or sewing machine.
"This place is meant to bring back the little things in life that fall to the wayside when you're sick, making lost experiences accessible and encouraging patients and families to indulge in them," says David Taglione, design director at ICrave (New York), which delivered the interior design, experience design, and lighting design on the project.
Inclusive design strategies
Opened this past February, the 45,000-square-foot Family Commons houses a variety of spaces, including pre-K to high school classrooms with a science lab and library, reading alcoves and resting nooks, a music room with a recording studio, maker space, hair salon, indoor and outdoor play areas, café with coffee and snacks, and centralized patient and housing services.
To meet the many needs of the diverse set of users, Taglione says the team utilized inclusive design strategies. For example, furniture of varying scales and sizes was selected to ensure comfort for individuals of all ages and abilities. Additionally, flexible seating arrangements accommodate different group sizes.
Safety was also a crucial consideration in the design of the play spaces, so the project team incorporated appropriate heights and safety measures while still creating exciting and enjoyable areas, enabling children to explore and engage in play without compromising their well-being, Taglione adds.
Meeting patient and family needs
Since opening, Corbin says has been well received, with an average of 30 families a day using the resting nooks while the salon has provided more than 1,000 services to date.
"It's giving patients and their caregivers a way to be families together," she says.
Anne DiNardo is executive editor of Healthcare Design magazine. She can be reached at anne.dinardo@emeraldx.com.
For more on the interior design strategy for Family Commons, read a Q+A with ICRAVE's David Taglione here.