April Online Focus: Emergency Department Design
---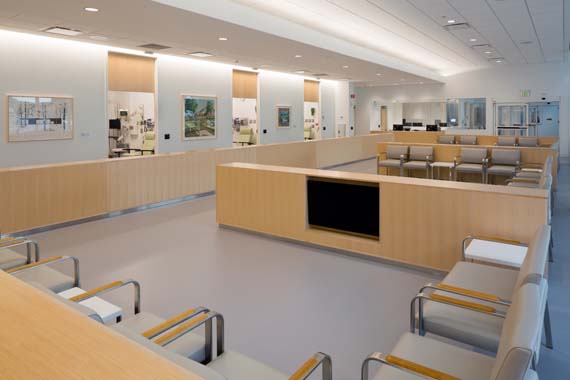 Scott Pease Photography
The Cleveland Clinic Akron General Emergency Department, a 67,000-square-foot Level 1 trauma facility, opened in July 2018. Learn more about the project in the link below.
---
Even as providers continue to ease access to primary care in efforts to reduce emergency department volume, these critical areas aren't seeing a shortage in patient visits. Managing high volumes as well as issues tied to safety, technology, and patient experience is a difficult task.
Additionally, designers are charged with delivering spaces that support triage, treatment, and examinations as well as trauma and decontamination scenarios and more generalized urgent care. Specialty settings are emerging, too, with ED areas dedicated to behavioral health patients and seniors.
It's a complicated project type, but there are many case study examples and best practices available to help guide the design community.
Below, find some reason trend stories and project profiles covering emergency department and urgent care design from Healthcare Design.

Response Time: Re-Thinking ED Design
The ongoing evolution of emergency care delivery, technology, and patient expectations is requiring forward-thinking ED designs.
PHOTO TOUR: Cleveland Clinic Akron General ED
Take a visual walk through the project in Akron, Ohio, that opened in July.
When Disaster Strikes: Creating An Emergency Plan
As the entry point for a hospital's response to many types of crisis scenarios, emergency departments must develop disaster preparedness plans that cover all scenarios.
Preventive Measures: Designing For Safety In The ED
To head off the potential for violence in emergency departments, designers must balance care delivery needs with solutions that achieve a calm, secure environment.
 New Approaches To Planning Emergency Departments
Well-planned EDs promote efficient flow between first-responders, caregivers, patients, and family. Several design factors impact the planning of efficient EDs.
First Look: Newport Hospital Emergency Department
Designed by E4H Environments for Health Architecture, the ED expansion project will increase treatment and exam spaces by 75 percent.
PHOTO TOUR: Lismore Base Hospital
The 51-bed emergency department and 18-bed renal unit were the first departments of the hospital's $260-million redevelopment to be completed.
A Different Approach To ED Design
Neighbors Health System (Pearland, Texas) had opened more than 20 freestanding emergency facilities in Texas and Colorado since 2008, with 10 more in the works, when it decided it was time to change its prototype.
Finding A Rhythm: Lahey Hospital & Medical Center
Lahey Hospital and Medical Center's new ED delivers on goals to improve existing operations and care delivery.
Urgent Care: Right Here, Right Now
Although in existence for decades, urgent care has seen a resurgence in recent years, thanks largely to a provider push toward outpatient treatment and the hole that urgentcare stands to fill in the overall preventive health puzzle. It also answers growing demand from patients seeking more convenient care options that don't require a trip to the ED or a primary care physician, especially outside normal business hours.
FIRST LOOK: Lankenau Medical Center
Owner Main Line Health is expanding the facility's emergency department to meet growing patient volume.
Façade Does Double Duty At Methodist South Hospital
The new façade of Methodist South Hospital's emergency department creates a brighter presence on campus and contributes to a more comfortable environment inside.