Solid Ground: 2020 A/E/C Survey Results
---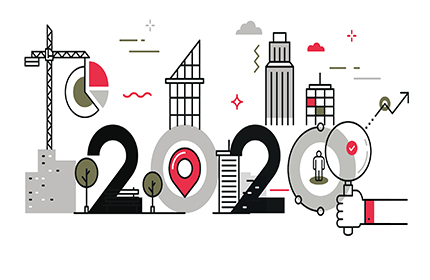 ---
The current state of healthcare continues a longstanding tradition of uncertainty, especially in a year tempered by an upcoming presidential election and the Affordable Care Act (ACA) heading back to the U.S. Supreme Court (not to mention what may become a global pandemic unfolding with COVID-19).
Such realities also continue to color the outlook for healthcare design, as the industry grapples with how best to serve clients that remain hesitant to invest in large capital projects or can't secure necessary financing to do so, all while continuing to establish ambulatory care networks, complete mergers and consolidations, and renovate/modernize buildings to make the best use of existing assets.
It's a story that's been developing for several years, but now it's colored by new complexities tied to the consumerization of healthcare, adoption of emerging technologies, disruption by new competitors, and burgeoning focus on patient experience. It has been—and will continue to be—a wild ride.
And although a daunting landscape, it's also one full of opportunity that's putting this industry in a position of strength, as seen in the results of Healthcare Design's 2020 A/E/C Survey. In fact, the architecture/engineering and construction firms that participated in the survey reported they've maintained a solid footing in the past year—continuing to hold steady the gains achieved post-recession and even realizing further growth in some areas.
(To view this article with corresponding charts, please see the digital edition.)
Nuts and bolts
The biennial survey was conducted online in January and February and open to any domestic A/E/C firm that completed at least one healthcare project in 2019. On average, about 51 percent of responding firms' overall work was tied to healthcare in 2019 (38 percent reported that healthcare makes up most of their business, at 60 percent or more).
In total, firms reported completing 4,612 projects in 2019, with most—46 percent—noting this was about the same as 2018. Additionally, 39 percent of firms say they wrapped up more projects in 2019 than the year before, while 15 percent completed fewer. Comparatively, these results weren't quite as positive as those reported in Healthcare Design's 2018 survey, when 45 percent of firms reported completing more projects in 2017 than in 2016, 37 percent about the same, and 18 percent fewer.
Requests for proposals (RFPs) received in 2019 told a similar story. With a total of 7,548 RFPs reported, 43 percent of respondents say it was more than the previous year, 40 percent about the same, and 17 percent fewer. In 2018, those numbers were 47 percent more, 34 percent about the same, and 19 percent fewer.
New contracts signed showed the most significant shift, though, with only 32 percent of firms saying they signed more contracts than in 2018, 41 percent about the same, and 27 percent fewer. Of the 4,747 contracts reported signed in 2019, 68 percent were for programming/planning/architecture/consulting services; 21 percent for construction; and 11 percent for engineering. In 2018, however, 42 percent of firms reported more contracts signed in 2017 compared to 2016, 38 percent about the same, and 20 percent fewer.
In total, respondents reported healthcare revenue in 2019 at $4.6 billion. Of that revenue reported, 70 percent was tied to programming/planning/architecture, consulting services; 17 percent to construction; and 13 percent to engineering.
Looking ahead, firms reported there were 6,980 projects in progress at the close of 2019, with 3,514 scheduled for completion this year. In comparison, there were 5,113 projects reported as in progress at the close of 2017, with 3,403 on schedule for completion in 2018.
Splash of color
Of projects completed in 2019, renovations represented 52 percent and new construction 48 percent—a subtle shift in favor of renovations compared to the 2018 A/E/C Survey, when new construction came in at 51 percent and renovations at 49 percent.
Project type saw some movement in 2019, as well—hospital work was 53 percent of projects completed last year, a jump from 42 percent in 2017, while outpatient/ambulatory work fell to 34 percent compared to 2017's 41 percent. Skilled nursing/rehabilitation projects also dipped in 2019 to 6 percent compared to the last survey's 13 percent, whereas infrastructure-only projects remained in the single digits.
On average, project size was about the same in 2019 as it was in 2018, according to 44 percent of responding firms, while 39 percent reported they were larger and 17 percent smaller. Comparing 2019 to 2017, however, highlights a noticeable jump. In 2017, 74 percent of projects were reported in the 5,000 to 19,999-square-foot range, whereas this time around only 35 percent of projects fell into that bucket—although it's still the leading size range. In fact, that drop resulted in the percentage of projects in all the other size ranges growing considerably between 2017 and 2019, resulting in greater distribution of projects across square footages.
Meanwhile, project values saw a nice uptick in 2019, firms reported, with 51 percent saying 2019 projects were valued higher year over year. Forty-two percent saw values about the same as the previous year while only 7 percent reported a dip. Comparatively, in the 2018 survey, only 36 percent of firms reported higher project values year over year, 49 percent about the same, and 15 percent lower. And when breaking down projects across value ranges in 2019, the majority repeated what was seen in the 2018 survey, with most projects coming in at $10 million or less; however, this time around, 66 percent of projects were valued at $10 million and under, compared to 80 percent before, with growth between surveys noted in each value range above $10 million.
To better understand the drivers behind new projects today, respondents were also asked to identify the single greatest client need in 2019. At the top of the list were renovation/modernization of existing space (25 percent) and replacement of outdated buildings (23 percent), with expansion of/addition to an existing facility coming in third (18 percent). Those three choices also led results in the 2018 survey. Next, respondents were asked to choose all other high-ranking client needs and rank them in order. Top vote-getters here also included repurposing space for new use and renovation work with addition.
Respondents were asked to choose the single greatest goal that clients wished to achieve on new projects in 2019, as well. Here, firms selected improving patient experience/satisfaction (40 percent) and designing spaces for future flexibility/adaptability (35 percent)—also the top two in 2018, although at 55 percent and 23 percent, respectively. Among those at the top of the list for other primary goals were supporting population health/creating ambulatory networks, addressing aging building stock, and improving staff satisfaction.
Inside story
In addition to project details, the survey also asked firms to provide insight on their own working environment today as well as their industry outlook. First, the respondents identified the greatest challenge they face—this year, talent acquisition was selected by 39 percent, followed by pressure to lower fees at 24 percent. The same top challenges were chosen in 2018, as well, but in reverse order, with pressure to lower fees selected by 32 percent and talent acquisition by 23 percent. As for ranking all other top challenges, shorter construction schedules, more competition, and achieving owner/client buy-in and managing volume/scope of end user input rounded out the top five.
Respondents explored these issues, and more, in further survey feedback on both the challenges and opportunities that lie ahead. "The 2020 marketplace promises to continue to be very busy with great opportunities for significant planning and design," says survey respondent Tom Chessum, principal at CO Architects (Los Angeles). "Challenges will likely be a continuing need for fast project delivery schedules and a continuing trend of increasing construction costs, while always accomplishing better value and quality for our clientele."
That idea of delivering more value was noted several times by respondents, with firms exploring alternative approaches to project planning, design, and construction to better answer client needs. For example, Richard Witt Jr., chief client officer and senior vice president at AE Works (Pittsburgh), says his firm is looking beyond aesthetics to also "blend the practical" by introducing solutions that answer needs tied to technology and infrastructure, for example. "Hospitals are seeking architectural updates that improve safety and operational efficiency, infection control, patient and staff satisfaction, and energy conservation."
And many of these solutions rooted in value are in response to what's now a decade-plus trend of uncertainty and hesitancy to make capital investments as the impact of the ACA's value-based financial model is still being realized, says Paul Strohm, senior principal, director of healthcare at HOK (St. Louis). "I think healthcare reform won't have significant change until 2021, post the next national election cycle," he says. In the meantime, respondents note additional solutions such as standardization and universal design are in place as a way to adjust spaces to not only meet demand for certain services but respond to shifting reimbursements as they come.
And while survey responses show talent acquisition to be a universal issue for healthcare A/E/C professionals, those on the construction side of the industry are feeling its weight most deeply, as a shortfall of skilled trade professionals is exacerbated by rising materials costs and shrinking project schedules. "With a backlog of projects across the industry, we'll continue to address challenges specific to workforce shortages, material sourcing, and product-to-market pressures as we meet the need for new and renovated healthcare facilities," says Robin Savage, president and chief operating officer of Robins & Morton (Birmingham, Ala.), who added that the company will increase its emphasis on recruitment and retention, including expanding mentorship programs.
Looking ahead, Andrew Quirk, chief operating officer, healthcare, at Suffolk Construction (Boston), says he anticipates that healthcare's current growth pattern will continue over the next three to five years but "at a more sustainable pace." He also anticipates project scales and budgets to be distributed across project types from additions and renovations to specialty centers to infrastructure upgrades—however, he further adds that this reality will be influenced by client financing issues and stressed project schedules. "Challenges we see include proper alignment of project needs (programs) to available budgets, ability to provide creative alternate solutions, having the time to create or ensure clients are seeing the best value available to them, and the continued need to procure earlier A/E/C services so that more return on investment can be realized," he says.
In addition to all of these factors contributing to what's at times a chaotic business environment, Wayne Barger, vice president, health practice director at SmithGroup (Dallas), says additional challenges he anticipates are tied to dramatic population and generational shifts, rapidly advancing technologies, massive amounts of data, new outside industry competitors, and staff burnout and engagement. "Our biggest opportunity may lie in the continuing trend to improve the patient experience, now extending to the staff experience," he says.
In fact, Barger anticipates growing emphasis on that human experience to shape healthcare's future and drive design solutions—for both patients and staff—with design concepts from workplace, retail, and mixed-use sectors guiding where we go next. "The coming decade is going to be disruptive, but it will, we hope, be largely positive disruption. It's an interesting, and exciting, time to be a designer," he says.
Jennifer Kovacs Silvis is editor-in-chief of Healthcare Design. She can be reached at jennifer.silvis@emeraldx.com.