Protective Measure
---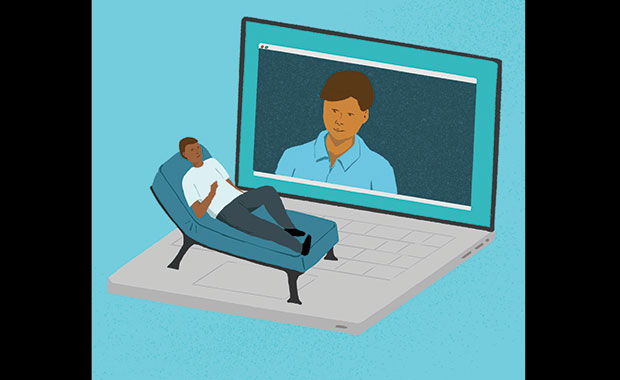 ---
A silent but growing mental and behavioral healthcare crisis stepped into the foreground amid the COVID-19 pandemic. The Centers for Disease Control and Prevention (CDC) reports that a staggering 41 percent of the U.S. population is suffering from at least one adverse mental or behavioral health condition, or they have started or increased substance use to cope with stress or emotions related to COVID-19.
A 2020 review, "The Psychological Impact of Epidemic and Pandemic Outbreaks on Healthcare Workers: Rapid Review of the Evidence" published by Preti et al. in Current Psychiatry Reports, outlines that when dealing with a disease outbreak, psychological symptoms in the general population last approximately one to three years post outbreak. Alarmingly, this pandemic is occurring against the backdrop of increased prevalence of mental health issues that preceded the virus, impacting well-being and overall public safety.
This additional rise in mental and behavioral health care demand, coupled with a prior shortage in providers and mental health infrastructure, put our health system under extreme distress. To address this, mental health facilities had to adapt quickly. One result has been a significant emphasis on telehealth to deliver care during this pandemic, including "telemental health" and "telepsychiatry"—the provision of mental, behavioral, or psychiatric care at a distance.
Through its mass adoption, virtual care has addressed the following challenges associated with mental health care and delivery:
1. A lack of mental health beds. According to the Treatment Advocacy Center, a nonprofit organization dedicated to eliminating barriers to mental health treatment, the number of psychiatric beds per 100,000 people in the United States ranks the nation 29th among the 34 countries in the Organization for Economic Cooperation and Development. This leaves a significant number of people without access to care. Although telemental health and telepsychiatry cannot address the lack of hospital beds, it's an effective way to provide early detection and psychological services where they're not easily accessible or readily available, which can help mitigate the growing need for beds.
2. Limited access and providers. Approximately 111 million people live in areas of the country with a shortage of behavioral health professionals, according to the Department of Health and Human Services. This deficiency has left individuals waiting weeks or even months for in-person appointments, with many finding these appointments excessively far away or inconveniently accessed. Telemental health and telepsychiatry address this problem by enabling providers to see more patients in a shorter period of time, as well as potentially harmonizing the geographical distribution of psychiatrists and psychiatric patients in both inpatient and outpatient settings.
3. Stigma preventing treatment. Shame and stigma often keep people out of treatment and prevent patients from seeking and adhering to treatment plans. This can be especially problematic in rural areas where privacy and anonymity are particularly challenging. Telemental health and telepsychiatry allow patients concerned with these issues to access care in a comfortable, private environment of their choosing (home, office, clinic, etc.).
4. Need for primary care integration. According to the American Psychological Association, primary care has been a setting where 70 percent of patients are diagnosed and treated for the most common mental health conditions, including anxiety, depression, mood, and substance use disorders. Integration is key as many acute and chronic disorders, such as obesity, diabetes, and chronic pain, involve health behaviors or psychosocial issues that make primary care the optimal medical home. With the adoption of telehealth in a primary care setting, telemental health and telepsychiatry providers can collaborate with primary care physicians to ensure continuity of care.
While the use of virtual care delivery acts as a protective measure, reducing new cases of mental disorders and increasing the capacity of our behavioral healthcare system to handle more patients, it's a change that brings about significant impacts on facility design.
Design implications
Mental/behavioral health facilities typically accommodate a diverse array of patient populations and must be able to respond to changes in demand, workload, care objectives, and treatment technologies. Designing for flexibility empowers a program to accommodate evolving operational concepts like the increase in need and demand for virtual visits. A strategy for new facilities can include universal room layouts with virtual capabilities to use telehealth, as needed. It's important to note that if a significant number of mental health patients are being seen virtually, especially in an outpatient mental health environment with providers working remotely, it could result in a potential decrease in the necessary number of physical exam or consult rooms. Modular designs could allow rooms to be converted to meeting or work rooms with virtual capabilities for multiuse options.
And as telemental health and telepsychiatry become more integrated in care delivery overall, facilities throughout the continuum of care must adapt for the long-term implications, as well. For example, spaces such as emergency departments, hospitals and outpatient centers, primary care offices, substance abuse centers, nursing facilities, and correctional settings, may use these virtual solutions to provide treatment, prescribe medication, conduct medication management, and streamline treatment team meetings.
If designing a room in which a mental or behavioral health patient may be present, strategies to provide a safe environment must be in place. Approaches include ligature-resistant design in areas where direct one-to-one supervision is not possible to prevent harmful actions patients may take toward themselves or others and durable fixtures and equipment that are impact and tamper resistant. The quality of acoustics plays an important role, too. Poor acoustic conditions can exacerbate negative human-response effects such as irritability, anxiety, and even lowered immune system symptoms. Planning for quiet telemental health and telepsychiatry spaces with acceptable noise levels, sound absorption coefficients for materials, and sound isolation between rooms can all enhance the patient experience.
The infrastructure to support optimal virtual communication must be in place, as well. Psychiatric or psychological evaluations require a provider to clearly identify facial expressions, microexpressions, speech impairments, and body language to properly evaluate certain disorders. On the patient's side, building a positive rapport with a mental health provider is an important part of treatment, also requiring the ability to read body language, hear the provider clearly, and see facial expressions. Poor connectivity and sound quality, lighting with harsh shadows, camera placement that's not at eye level, and distracting backgrounds that impact visibility can compromise this relationship.
Continued importance
Telemental health and telepsychiatry are playing an important role in expanding psychiatric care and combatting barriers to treatment that were exacerbated by COVID-19. These services will also be valuable tools in managing the heightened demand for care that's anticipated post pandemic. As the need for virtual care continues to grow across the continuum, it's important to consider the spatial implications of such interventions and for design to continue to respond to technological innovation.
Anosha Zanjani, MArch, MSc, is a behavioral health design specialist at HDR (Los Angeles). She can be reached at anosha.zanjani@hdrinc.com.