Cancer Center Finds New Home In Nashville MOB
---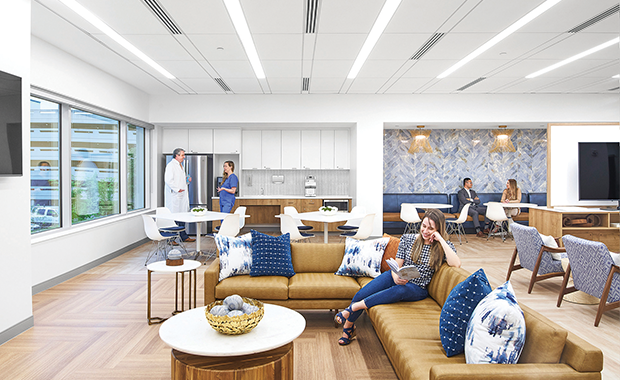 Daniel Brown
Sarah Cannon Research Institute: The community hub at Sarah Cannon Research Institute provides a comfortable space for patients to relax during treatment, with seating options ranging from leather couches and lounge chairs to dining tables and workstations.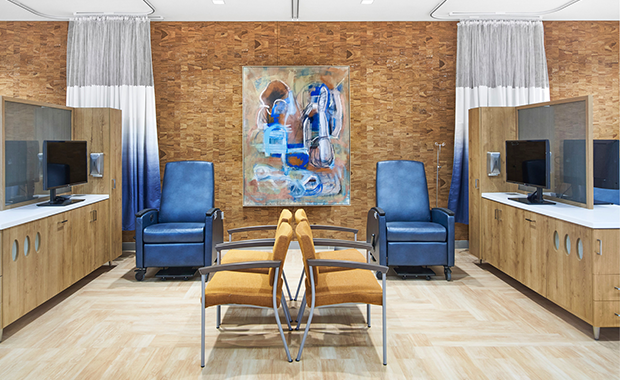 Sarah Cannon Research Institute: Custom wooden casework between infusion bays hides clinical elements and electrical components. Semitransparent glass above the casework adds a privacy partition, and cubicle curtains tucked behind the casework can also be drawn for extra privacy.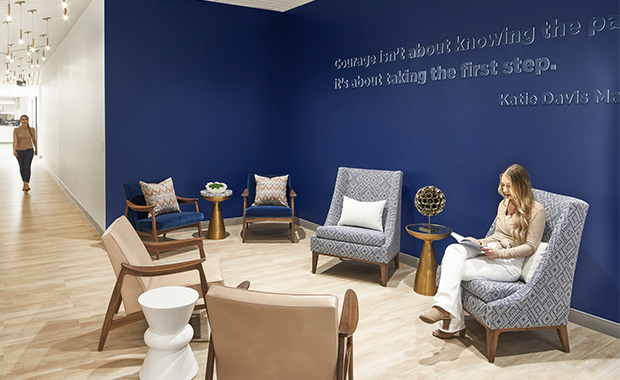 Sarah Cannon Research Institute: Upscale touches, like a sloped ceiling and decorative gold pendant lighting, make the long patient corridor more inviting, with clerestory windows to let in natural light.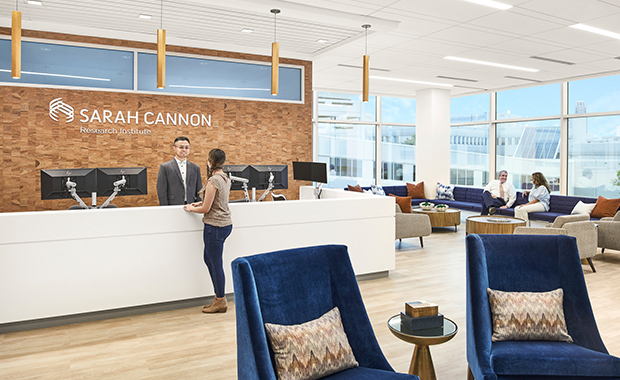 Sarah Cannon Research Institute: The waiting room is designed to feel more like an upscale residential living room than a cancer treatment center, with cozy furniture and accent pieces such as velvety chairs and leather-look vinyl.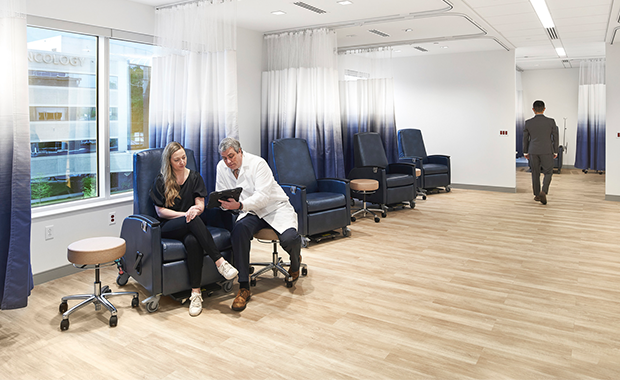 Sarah Cannon Research Institute: Cubicle curtain tracks and movable furniture offer privacy and flexibility to modify patient treatment bays as needed.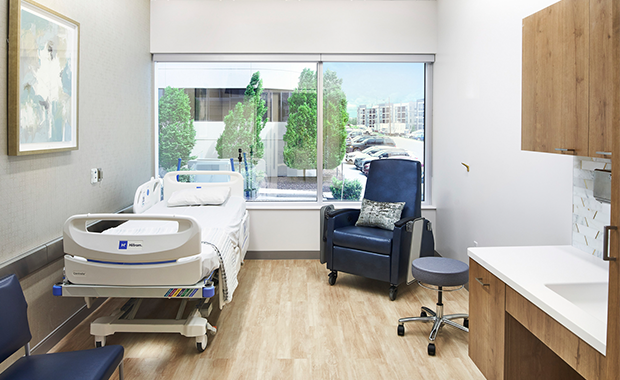 Sarah Cannon Research Institute: Details like gold-framed paintings from a local Nashville artist and a marble-esque backsplash above the sink add upscale accents to patient exam rooms.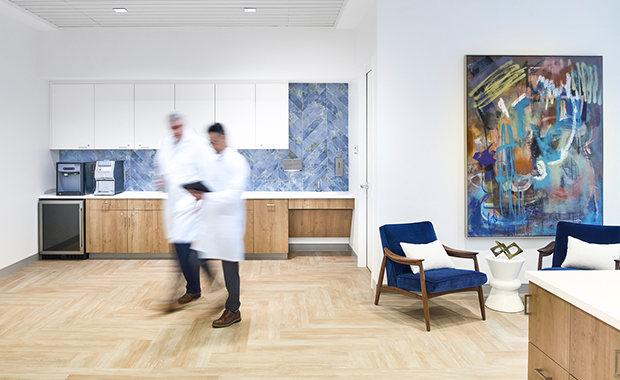 Sarah Cannon Research Institute: Amenities like kitchenettes offering snacks and drinks near the treatment bays help patients feel at home, while local artwork and richly textured furniture give the space a luxurious vibe.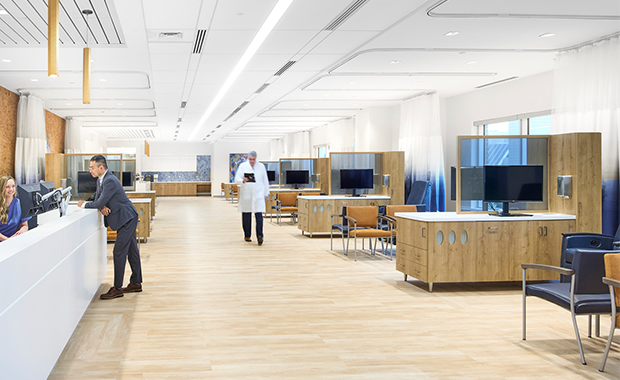 Sarah Cannon Research Institute: Open corridors and modular layouts increase visibility from the nurses' stations to the patient treatment bays.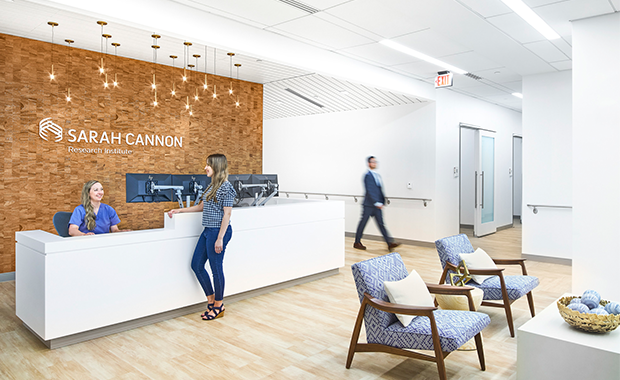 Sarah Cannon Research Institute: Throughout the clinic floor, nurses' stations and concierge desks consistently feature the same cork-like wall covering and gold pendant lighting to provide wayfinding cues for patients.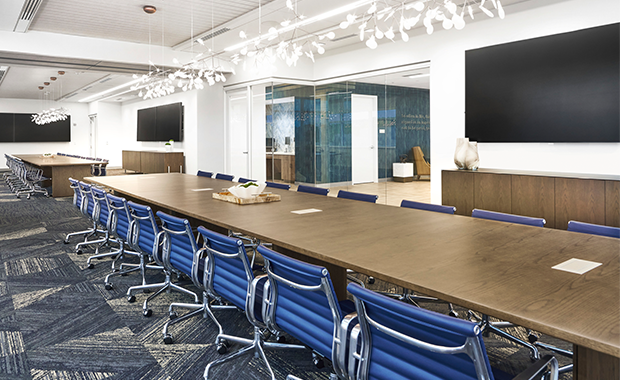 Sarah Cannon Research Institute: The fourth floor conference room features vertically folding retractable walls to convert from one large area into smaller meeting spaces. A customized arrangement of carpet tiles creates a unique pattern resembling an area rug under each table.
---
Sarah Cannon Research Institute (SCRI), one of the world's leading oncology research organizations, was outgrowing the medical office building (MOB) that served as its headquarters since 1997.
The old building, located across the street from TriStar Centennial Medical Center in Nashville, was too small to comfortably accommodate the growing volume of patients participating in SCRI's community-based clinical trials—let alone the staff and equipment required to develop and deliver cancer treatments.
City View Medical Plaza, a newly constructed six-floor multitenant MOB on the campus of TriStar Centennial with enclosed connections to the hospital, provided a convenient solution. Specifically, it gave SCRI the additional space it needed in immediate proximity to a full-service medical facility.
"This is not only very important for patients, should there be any adverse reactions, but also for our physicians and technicians, as they regularly go back and forth between the hospital," says Mary Garges, senior project manager of design, construction, and facilities projects at SCRI.
Planning an MOB build-out
In late 2019, the healthcare organization engaged Gresham Smith (Nashville)—an architecture, engineering, and interior design firm SCRI had worked with on four previous projects—to build out three floors in City View. The aim was to create a facility that felt luxurious yet comfortable, like an upscale home.
"Our patients and their caregivers are going through one of the hardest times in their lives, so we wanted our space to be as comfortable for them as possible," Garges says. "We embraced a residential aesthetic to help the patients feel more relaxed. We also wanted to create a space that would best serve our clinicians and colleagues."
Opened in May 2022, the new location inside City View Medical Plaza nearly doubled the size of SCRI's flagship facility, spanning more than 70,000 square feet across the MOB's second, third, and fourth floors.
Here, the second floor is dedicated to cancer treatment, with 15 exam rooms and 24 infusion bays. The third floor contains administrative offices and staff workstations, and the fourth floor consists of investigational product storage and laboratory space along with a conference center.
Creating a residential aesthetic for a cancer center
To create the luxury residential aesthetic, designers selected rich textures and natural materials, like cork wallcovering paired with gold pendant lights, says Abbey Stewart, interior designer on the project, formerly of Gresham Smith.
Comfort is equally important in the infusion bays, where patients receive treatments that last several hours. These bays line the corner windows of the second floor, offering expansive views while letting in natural light.
Custom casework between the bays hides clinical elements and electrical components while providing space for patients' personal belongings in cabinets that "look like furniture you'd see in a home," Stewart says.
From the waiting room to the treatment bays, thoughtful design choices create open, inviting spaces for patients and their families. As a result, SCRI's short move across the street made a major impact on patient care.
"It was really important for us to facilitate the best journey possible for patients," Garges says. "They're there for quite a long time during the day, so we wanted to make that journey comfortable and relaxing."
Brooke Bilyj is a freelance writer and owner of Bantamedia in Cleveland. She can be reached at brooke@bantamedia.com.
Project details for Sarah Cannon Research Institute at City View Plaza
Project location: Nashville, Tenn.
Project completion date: April 2022
Owner: Sarah Cannon Research Institute
Total building area: 88,060 sq. ft.
Total construction cost: Confidential
Cost/sq. ft.: Confidential
Architecture: Gresham Smith
Interior design: Gresham Smith
Interior Design Consultant: EHowell Designs
General contractor: Layton Construction Company (LCC)
Engineering: IC Thomasson
Art consultant: EHowell Designs
Art/pictures: Angela Simone (original artwork pieces)
AV equipment/electronics/software: M3
Carpet/flooring: Interface, Nora, Shaw
Ceiling/wall systems: USG, Haworth
Doors/locks/hardware: Haworth, Stanley, Isenhour Door Products, Inc.
Fabric/textiles: HBF, Carnegie, Architex
Furniture—seating/casegoods: Herman Miller, Nemschoff
Handrails/wall guards: InPro
Lighting: Tech Lighting, Y Lighting, Focal Point
Signage/wayfinding: SignCraft
Surfaces—solid/other: Corian
Wallcoverings: Carnegie Xorel, Wolf Gordon, Maharam
Decorative Tile: Ceramic Technics, Tile Bar, Artistic Tile
Project details are provided by the design team and not vetted by Healthcare Design.