PHOTO TOUR: Scottish Rite for Children Orthopedic and Sports Medicine Center
---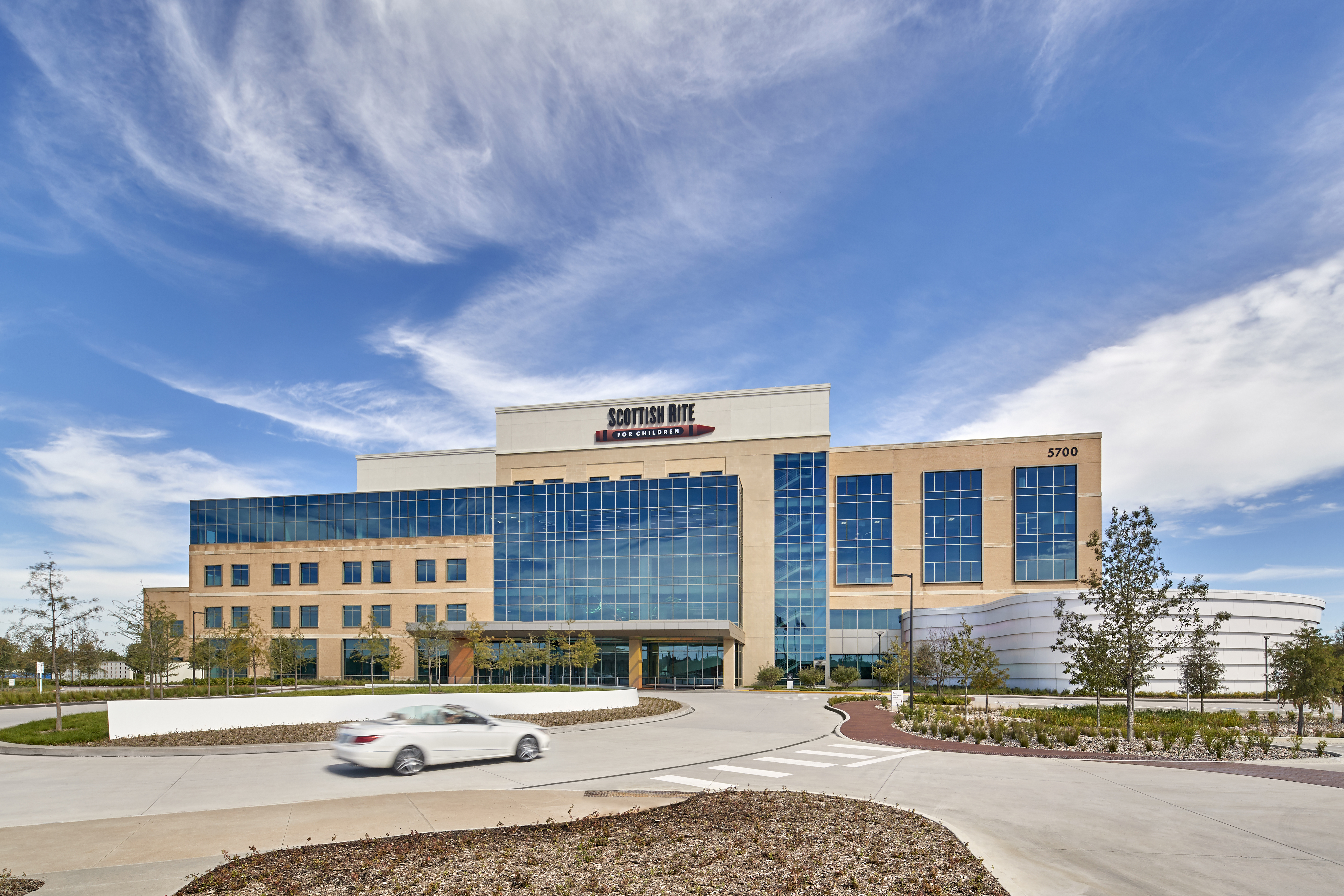 Garrett Rowland
Natural light abounds throughout the public and treatment spaces at the Scottish Rite Hospital for Children Orthopedic and Sports Medicine Center.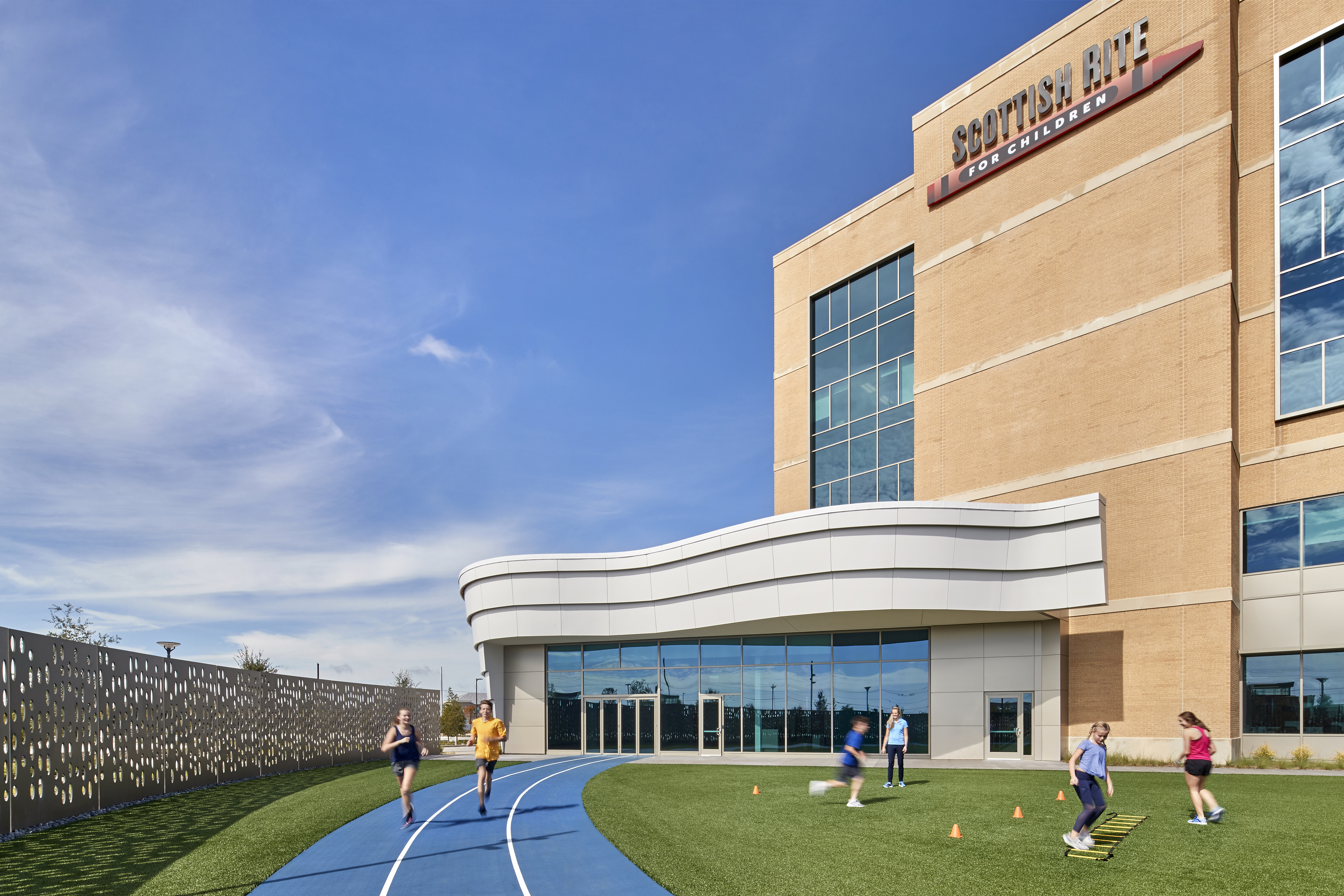 Garrett Rowland
The Movement Science Lab opens to an outdoor track as well as a turf field, which allows for outdoor therapy in small groups or one-on-one.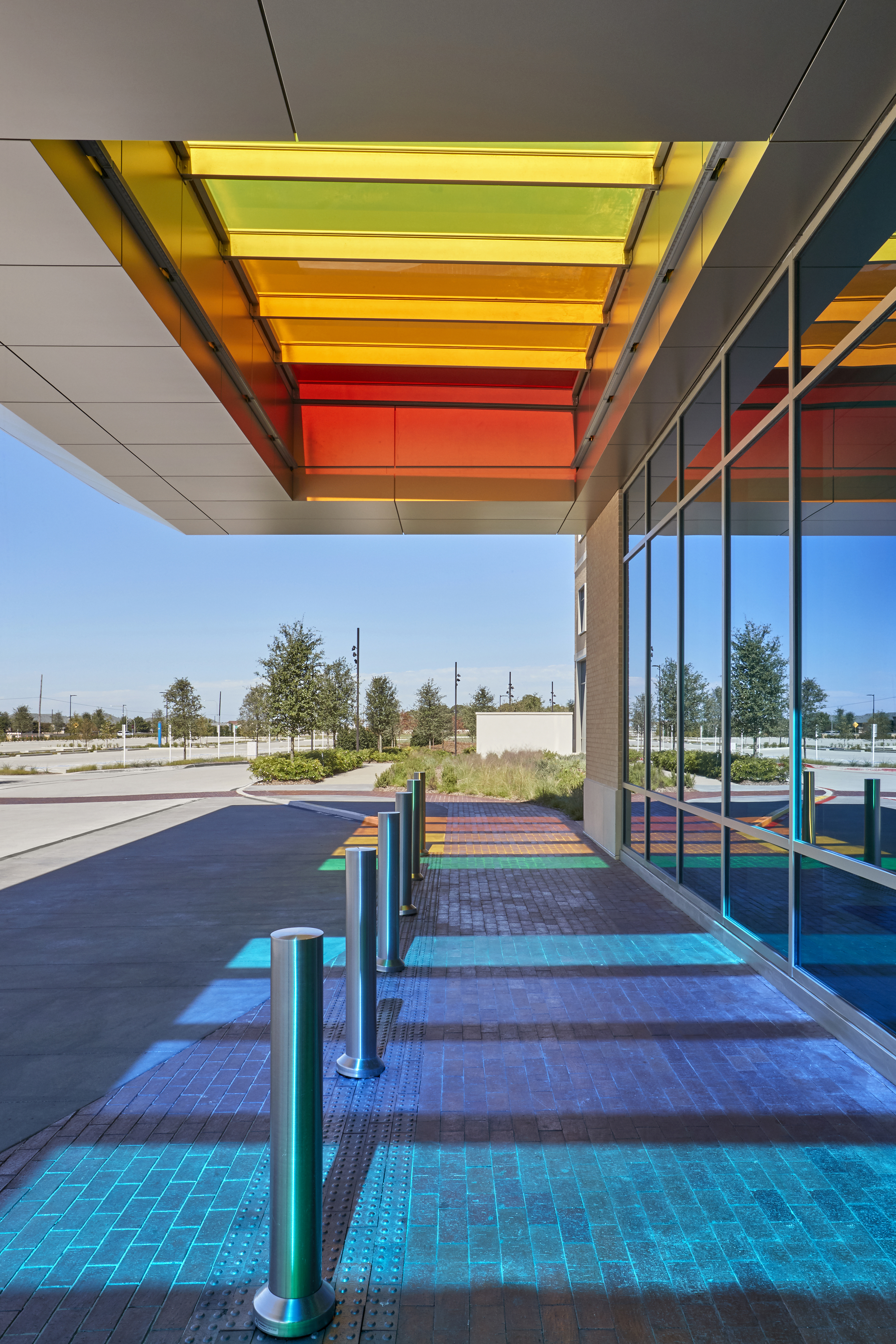 Garrett Rowland
Before reaching the array of hues waiting in the lobby area, patients pass under rainbow-colored panels that span the drop-off canopy at the main entry.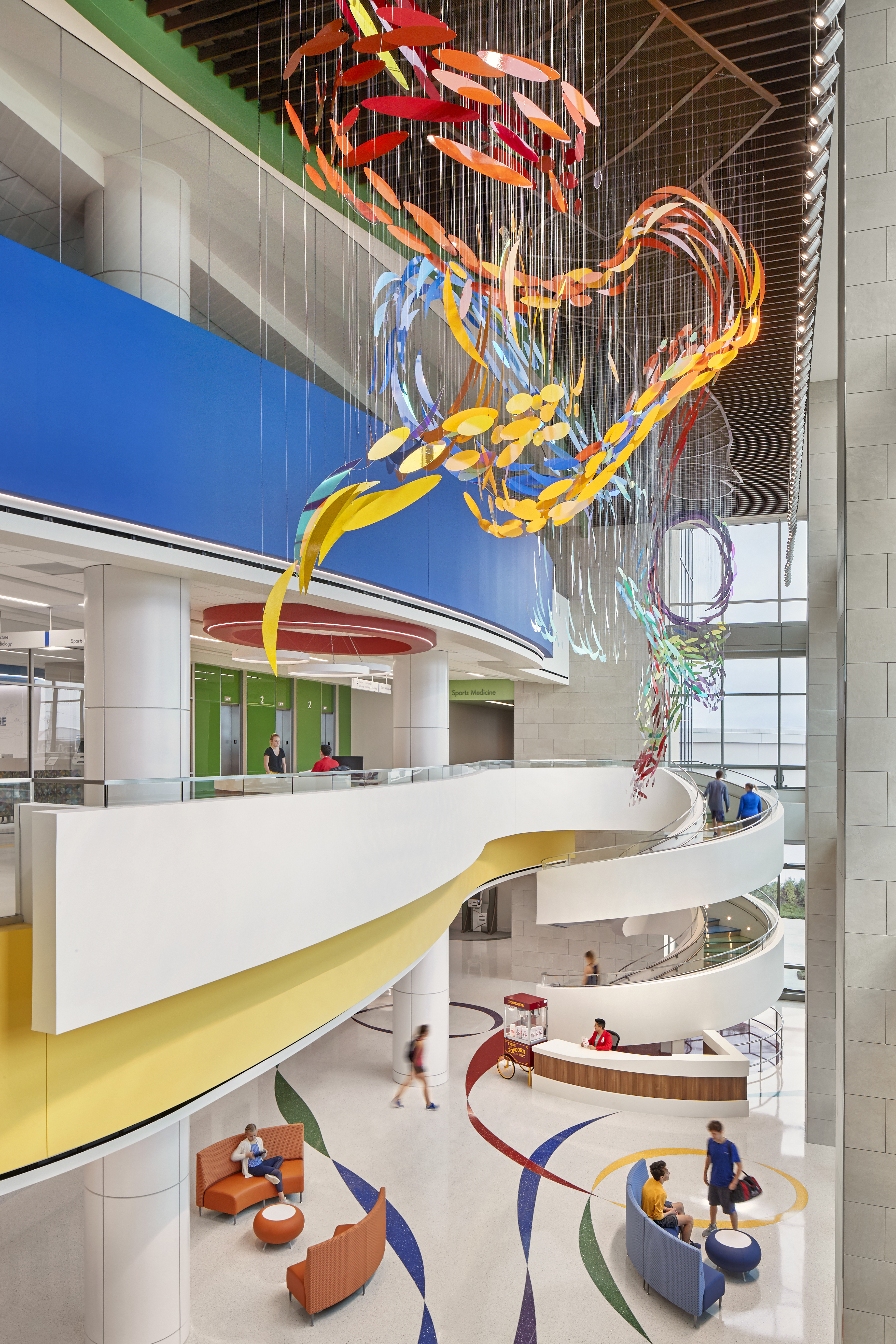 Garrett Rowland
A  commissioned artwork, "Rainbow Dragon" by Daniel Goldstein, hangs in the main lobby and demonstrates the facility's core concept of movement and color.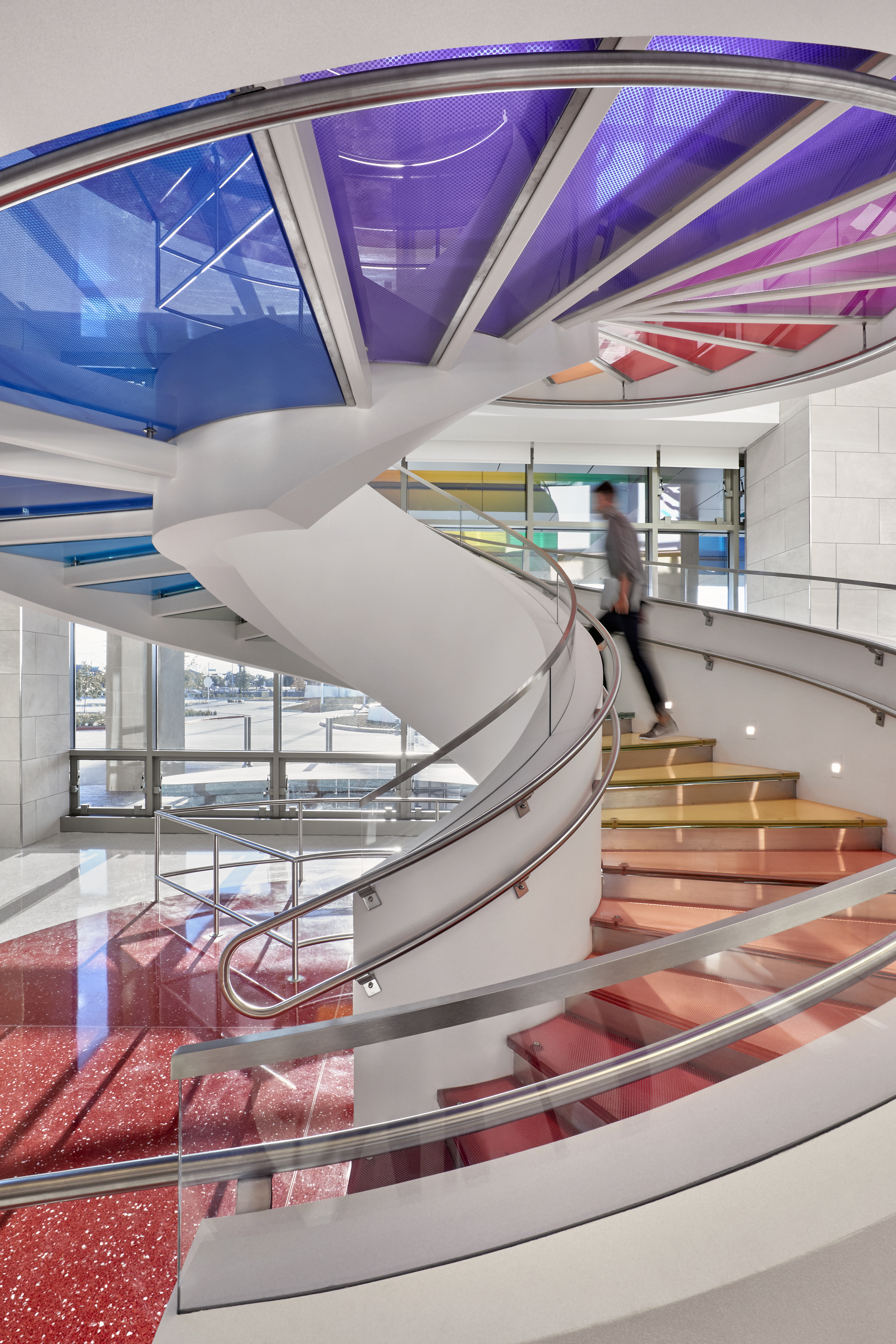 Garrett Rowland
Designers turned the staircase into a vivid color display of colors to encourage patients and families to use the steps connecting the main lobby to the first two floors of the building. Color is also used in the elevator area with LED panels alternating to the corresponding palette for each floor's dedicated clinic space.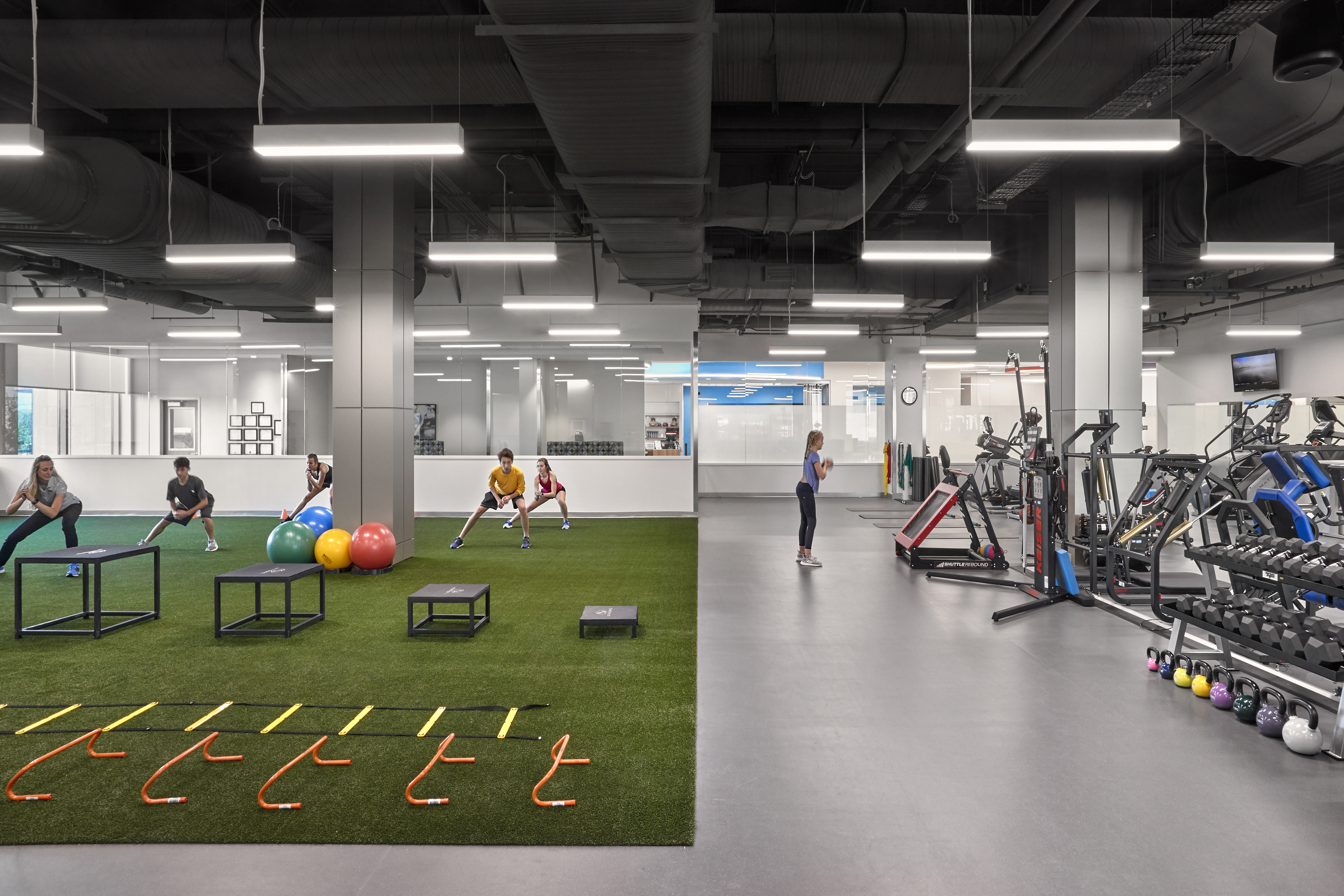 Garrett Rowland
The facility's sports therapy gym, where therapists can work one-on-one with young patients and athletes, was designed with viewing areas for parents to stay checked in on a patient's progress.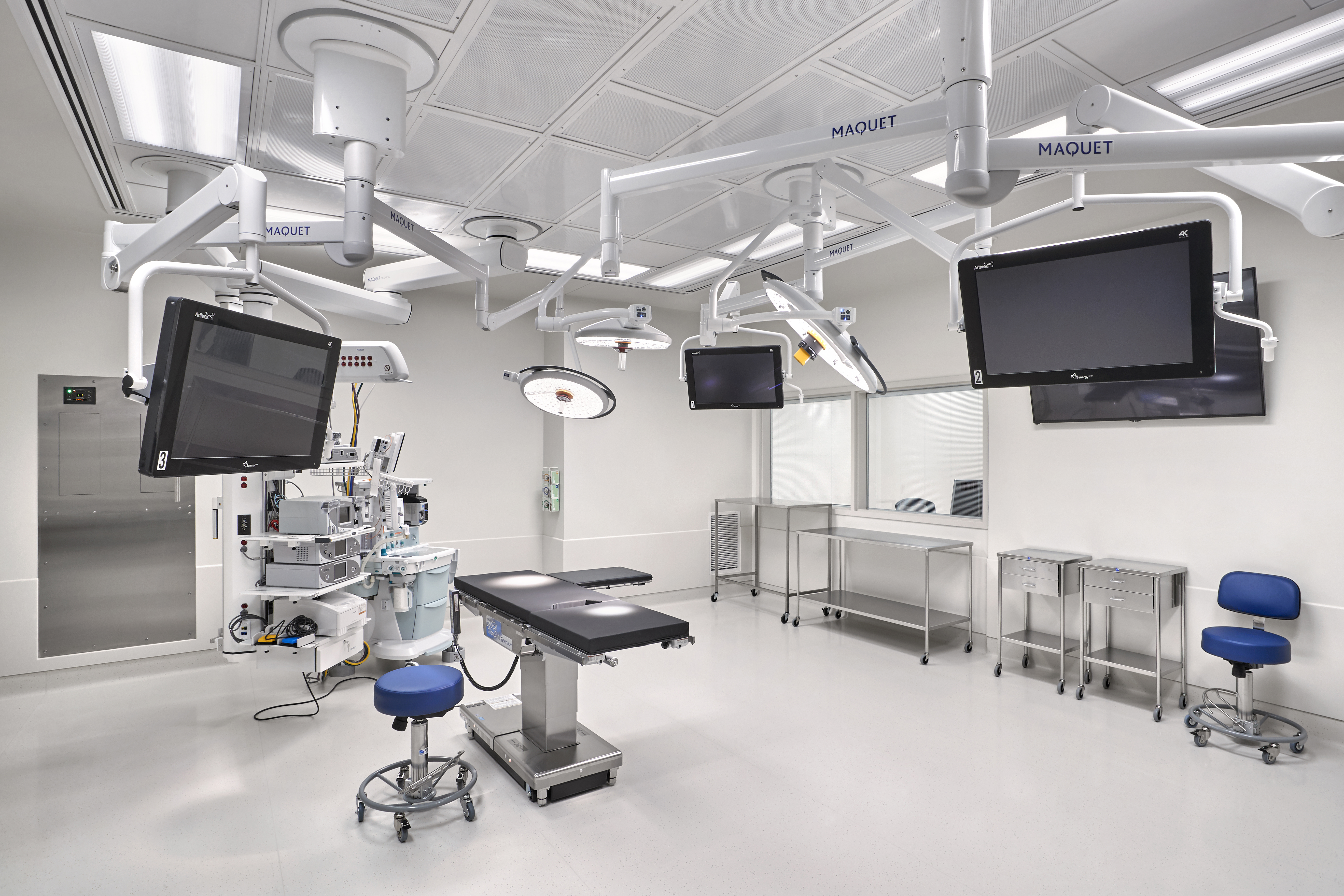 Garrett Rowland
As a teaching facility, the orthopedic ORs feature observation areas for students, visiting doctors, and orthopedic experts.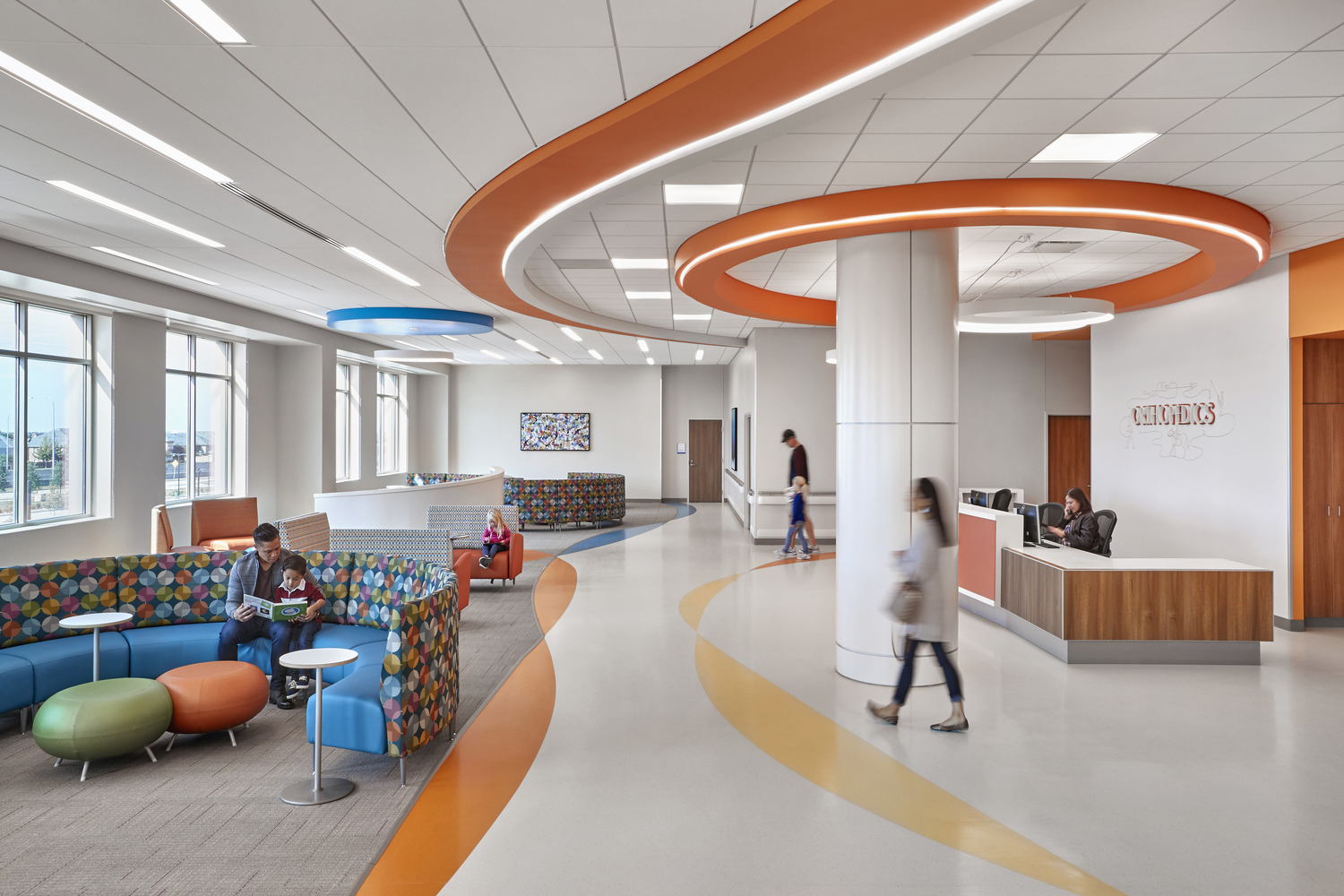 Garrett Rowland
The shared clinic waiting area is filled with natural light and was designed for use by multiple specialties, including psychology, spine, hand, hip, foot, neurology, and arthritis.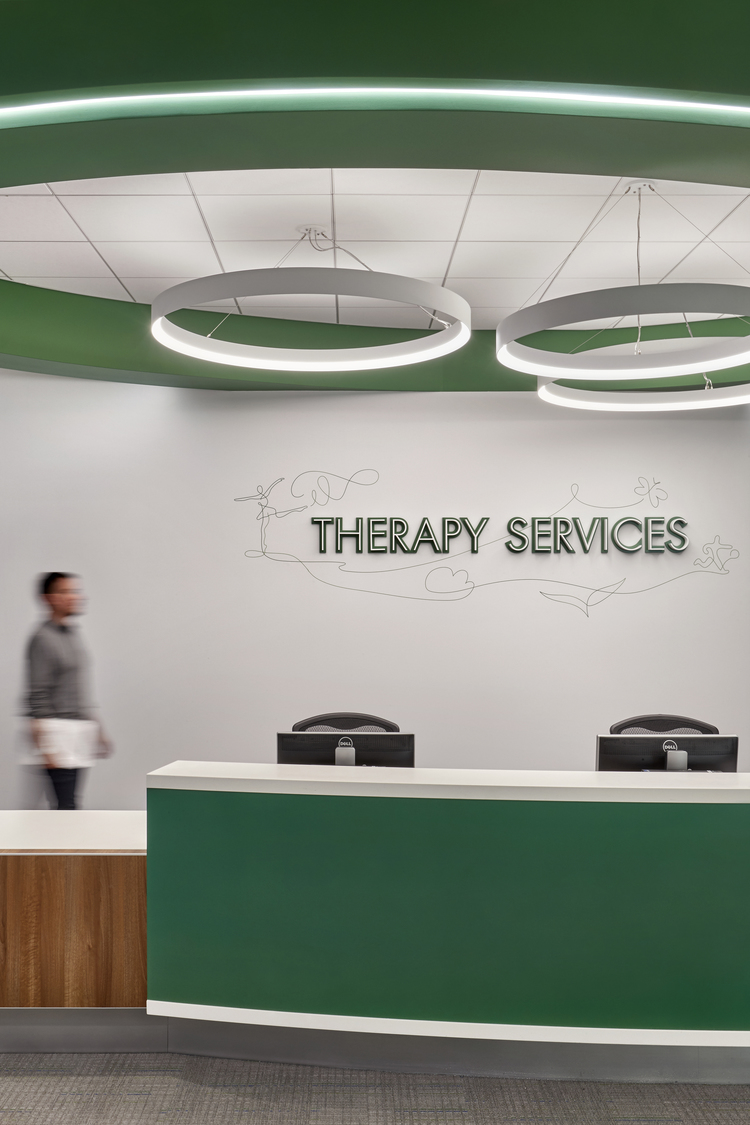 Garrett Rowland
Throughout the orthopedic and sports medicine Center, stylized graphics depicting activity and motion match with the Scottish Rite branding campaign that was developed simultaneously with the facility. These design elements have now been added to the original Scottish Rite Hospital campus in Dallas for cohesiveness.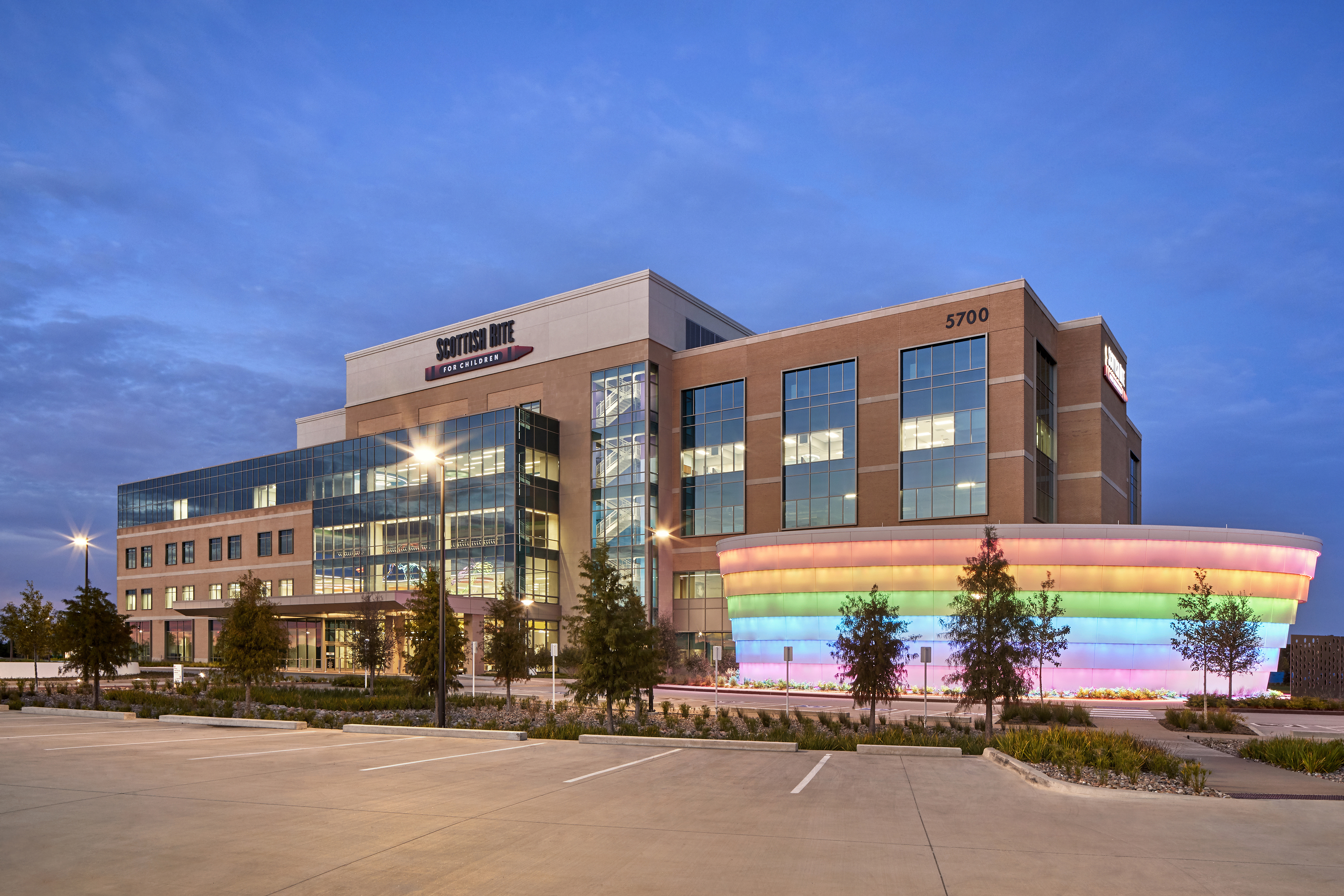 Garrett Rowland
As night falls, color-changing LEDs illuminate the exterior of the Movement Science Lab.
---
Texas Scottish Rite Hospital for Children has called Dallas its only home for 97 years. When the nonprofit hospital made the decision to expand its services, Frisco, Texas—recently named America's fastest growing city by the U.S. Census Bureau—was a natural choice.
The 345,000-square-foot Scottish Rite for Children Orthopedic and Sports Medicine Center, which opened in October 2018, was designed by HKS with an emphasis on movement and color. Key features include orthopedic outpatient clinics; a fracture clinic, which accepts walk-in patients with no physician referral; a Movement Science Lab with specialized capabilities for sport-specific training and testing; state-of-the-art physical therapy gyms; orthotics and prosthetics labs; and two operating rooms for day surgeries, as well as shelled space for future ORs and additional growth.
On-site radiology services are available as well as dedicated space for psychology, an infusion lab, and other ancillary patient services to support Scottish Rite Hospital's care model, which focuses on treating the whole child, rather than simply the condition.
Scottish Rite anticipates the new center will record 22,000 clinical visits as well as 13,000 visits for physical therapy in its first year. With a nod to its community focus, the five-story facility also makes its conference center available to local schools and non-profit organizations at no charge.
Walking and running trails, a playground with adaptive play equipment, and a U-11 soccer field for injury prevention demonstrations and coaching clinics round out the facility, setting a new standard for pediatric sports medicine.
Project source list:
Facility name: Scottish Rite Hospital for Children Orthopedic and Sports Medicine Center
Location: Frisco, Texas
Completion date: October 2018
Owner: Texas Scottish Rite Hospital for Children
Total building area: 345,000 sq. ft.
Total construction cost: N/A
Cost/sq. ft.: N/A
Architecture firm: HKS
Interior design: HKS
Engineering: WSP (MEP), HKS Inc. (structural), Halff Associates (civil)
Construction: Beck
Landscape: Talley Associates