FIRST LOOK: Rutgers Cancer Institute of New Jersey Jack and Sheryl Morris Cancer Center
---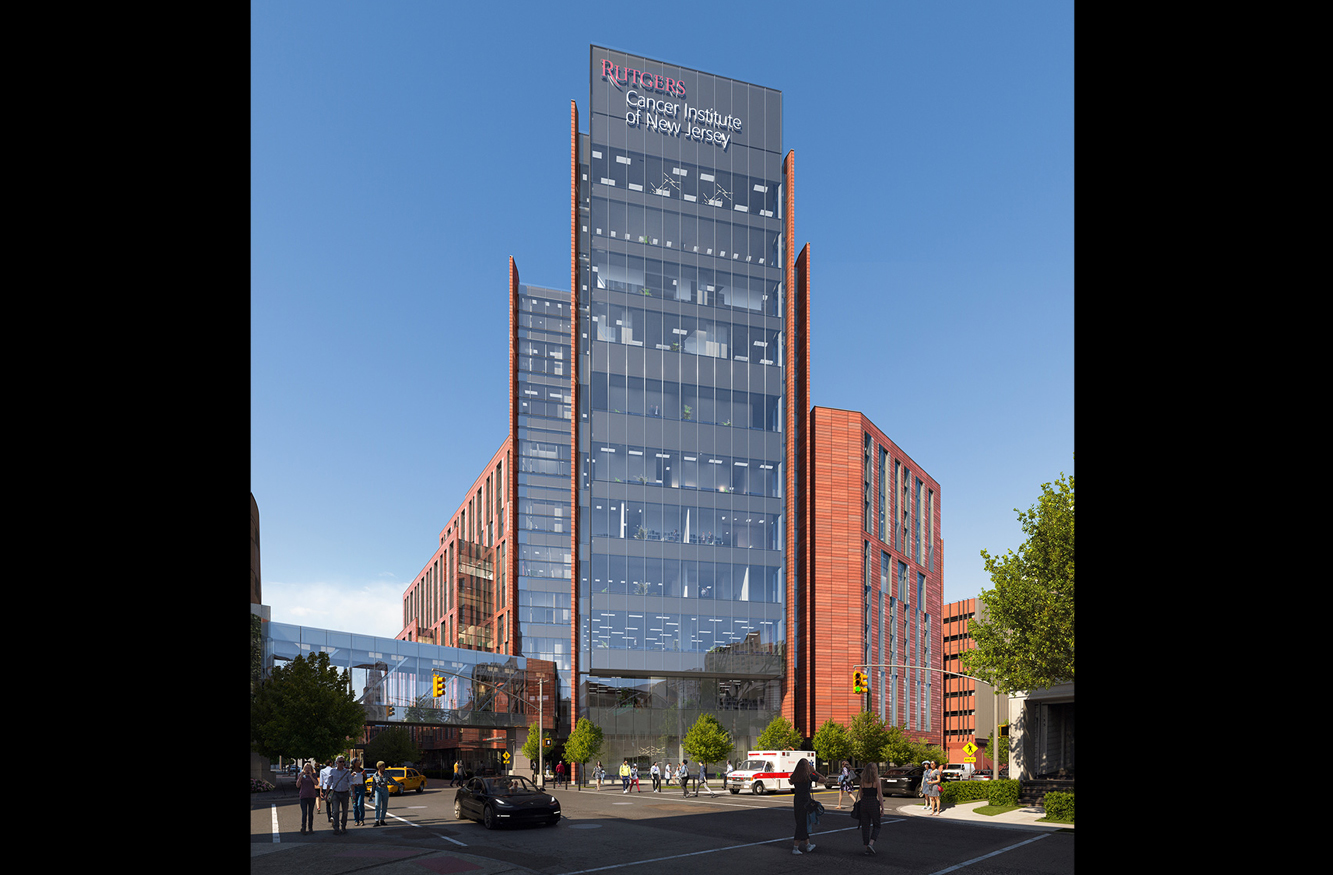 HOK
The building is designed to respond to the scale and character of the existing RWJBarnabas campus while accommodating a diversity of clinical and research programming. The terracotta mimics surrounding buildings but the glazing and dynamic form modernize the new facility.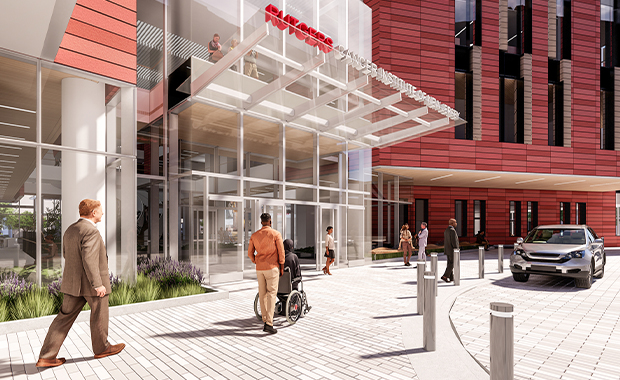 HOK
A large four-story atrium links the building's two main entrances.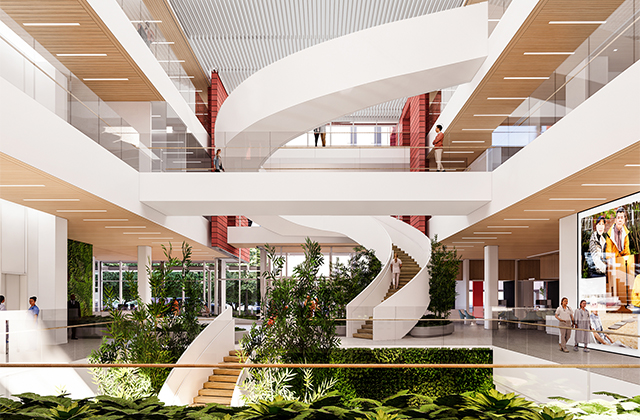 HOK
Serving as the "town square," a four-story atrium lobby spans the full depth of the building. The atrium is designed to create a biophilic, healing environment that introduces natural light and lush plantings into the heart of the building.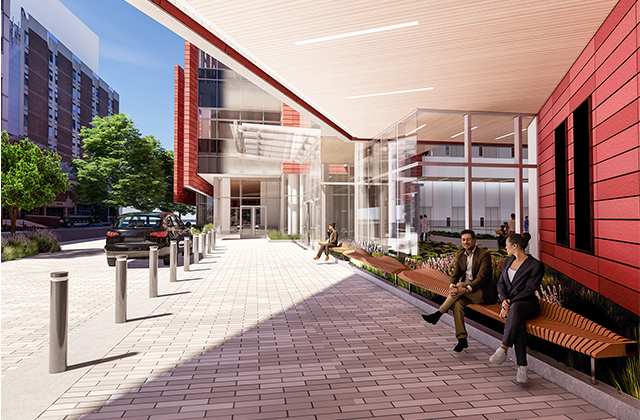 HOK
The site's extensive outdoor planting continues into lobby.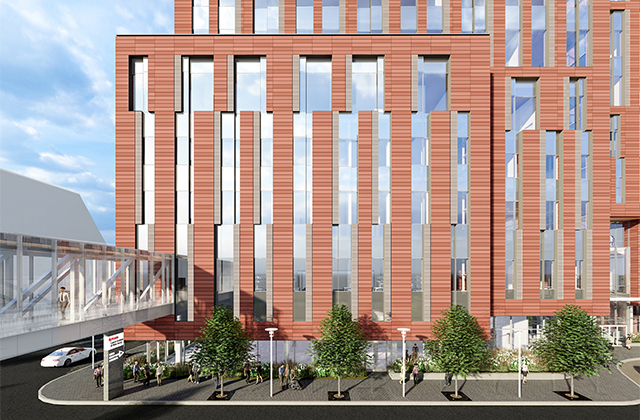 HOK
The design features a bridge connecting the cancer pavilion to the existing cancer institute and Robert Wood Johnson University Hospital, facilitating access for both patients and staff.
---
The Rutgers Cancer Institute of New Jersey (New Brunswick, N.J.) and healthcare system RWJBarnabas Health are planning a new cancer treatment pavilion in New Brunswick, N.J., to significantly expand service offerings to people living in a state with one of the highest rates of cancer. In New Jersey, approximately 50,000 new cases of cancer are diagnosed each year. By housing research in the same building, physician-scientists will be able to more rapidly translate scientific findings from laboratory bench to patient bedside.
The 510,000-square-foot project will house research laboratory space, outpatient clinics, infusion/chemotherapy suite, radiation oncology, imaging, surgery and inpatient services.
The terracotta and glass building has been designed to sensitively respond to the scale of the existing RWJBarnabas hospital campus and surrounding neighborhood. Its diversity of uses are expressed as rhythmic patterns on the building's facades. The ground floor engages the street with active uses and transparency. A large four-story atrium links the building's two main entrances and serves as the building's center, providing patients, staff, and visitors a light-filled entry experience. The site's extensive outdoor landscaping and greenery is pulled into this lobby, where a gracefully curved stair allows occupants to traverse vertically through the building's lowest four floors. The primary corner of the building extends 11-stories above the street level and is capped with a large illuminated glass volume, which will serve as a beacon for the new pavilion.
The facility will be organized into three primary components:
Outpatient care, including 84 infusion bays, 74 exam rooms, advanced radiology including four linear accelerators, diagnostic equipment (CT, MRI, mammogram), pharmacy facilities, and outpatient urgent care.
Inpatient care, including 96 inpatient beds on three floors, a dedicated floor for surgical and procedure rooms (up to 11 total), a central sterile processing area, and inpatient support spaces.
Research, including wet lab facilities and equipment to support 10 research teams, clinical trial office, and faculty offices.
Project details:
Facility name: Rutgers Cancer Institute of New Jersey Jack and Sheryl Morris Cancer Center
Location: New Brunswick, N.J.
Expected completion date: June 2024
Owner: The Rutgers Cancer Institute of New Jersey and RWJBarnabas Health
Total building area: 510,000 sq. ft
Total construction cost: Confidential
Cost/sq. ft.: $799/sq. ft.
Architecture firm: HOK
Interior design: HOK
Construction Manager: Confidential
Engineering: AKF (MEP), O'Donnell & Naccarato  (structural)
Builder: NA