March Online Focus: Clinic Design
---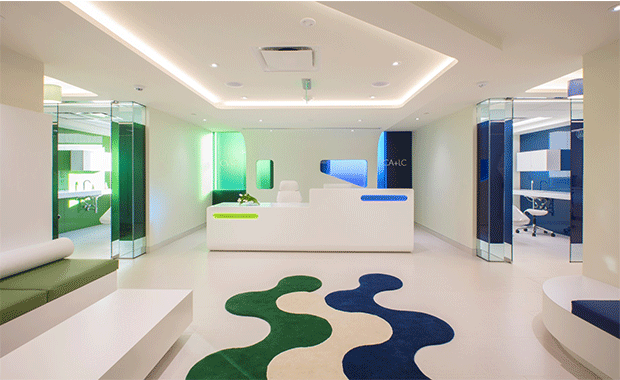 A strategic use of color and unusual layout bring two sister clinics, Capital Aesthetic + Laser Center/ Comprehensive Woundcare Services, together in one 2,000-square foot office in Washington, D.C. Read more about the project below.
---
Clinic and ambulatory buildings are accounting for more and more of the projects completed each year by healthcare organizations and their design and construction partners. The factors fueling the trend are vast, including goals for population health management and wellness initiatives to improve access by taking care into the communities served. Additionally, more and more care, treatment, and procedures can be delivered outside of hospital walls, allowing costs to be contained in clinic and outpatient environments.
On the design side, specifically, factors frequently addressed include bringing disparate clinics together under one roof, creating team stations and collaborative work areas, building in flexibility through modularity and adaptable building components, and—of course—patient experience.
The less-stringent codes of clinic environments often allow designers to "have some fun," introducing bolder designs and palettes while using hospitality- and retail-inspired public spaces that deliver on consumer desires for comfort and service.
Below, find some recent trend stories and project profiles covering clinic design from Healthcare Design.
Getting Clinic Design Right
Clinic growth isn't going anywhere, at least not for a while, fueled by increasing demand for primary care services.
PHOTO TOUR: Kettering Health Network Middletown
The 66,000-square-foot outpatient center, opened in August 2018, houses an ED, attached MOB, and shell space to expand services in the future.
PHOTO TOUR: Palos Health South Campus
The 123,000-square-foot project, which opened in October 2018, includes a new ambulatory care center and 316-car parking deck.
Having It All: New Trends In Clinic Design
It's no secret that healthcare organizations across the country are shifting more and more services out of acute care settings. The move makes sense on a number of fronts, not least of which is the ability to reduce costs and improve outcomes all while increasing access and growing market share.
PHOTO TOUR: Capital Aesthetic + Laser Center/ Comprehensive Woundcare Services
A strategic use of color and unusual layout bring these two sister clinics together in one 2,000-square foot office in Washington, D.C.
PHOTO TOUR: Medicine Hat Regional Hospital Ambulatory Care Building
The 245,000-square-foot expansion includes 40 treatment spaces with patient-centric design features, open public spaces, and access to natural light for both patients and staff.
Brooklyn Health Center: At Your Service
Brooklyn Health Center offers hotel union members a place to receive care that's fitting of their profession and the building's neighborhood.
Main Attraction: Nexus Health Care
Neighborhood Health Association consolidates some scattered clinics into a new more accessible facility in downtown Toledo.
PHOTO TOUR: Mazzoni Center
Opened in summer, the new Mazzoni Center offers a new home for comprehensive health and social services delivered to Philadelphia's LGBTQ community.
All Together Now: POE Insights Into Clinic Design
The operations of many new outpatient clinics are designed to support the Patient-Centered Medical Home (PCMH) model. Principles include care coordination, physician-directed teams, and whole-person orientation, among others.
PHOTO TOUR: Le Bonheur Children's Outpatient Clinic
The 30,880 square-foot facility takes architectural cues from the region to create a homelike setting as it expands its presence in Jackson, Tenn.
PHOTO TOUR: Legacy Community Health
Legacy Community Health's 29th clinic in southeast Texas was designed to offer affordable, high-quality healthcare to low-income patients while also serving as an extension of the neighborhood.
PHOTO TOUR: NYDG Integral Health & Wellness
A New York City loft is transformed into a therapy center that's replete with custom design features to deliver a soothing, upscale environment for medical and holistic services.
Bridging The Gap  
Integrating behavioral health and primary care requires more than just bringing providers together.
Clinic Design Wants: How Do Boomers And Millennials Compare?
Millennials have replaced baby boomers as the largest population segment in the country, putting them at center stage when it comes to how the healthcare sector markets its services.
Customer Service: Seattle Children's South Clinic
Adaptive reuse of a former big-box store opened the door for Seattle Children's newest clinic, bringing convenient care closer to where patients live.